Easy & Powerful WordPress XML Sitemap Generator
Take full control and unlock better rankings and higher conversions with customizable XML sitemaps.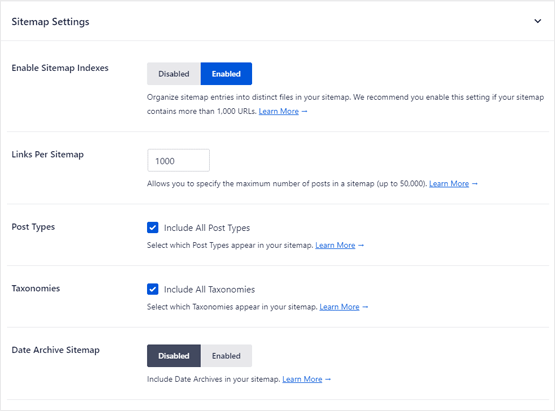 WORDPRESS SITEMAP GENERATOR
Automatically generate XML, RSS, and HTML sitemaps and notify search engines of changes.
Dynamically generated sitemaps are always up-to-date
Google and Bing are automatically notified
Make sure all your important posts and pages are indexed properly
Support for all types of WordPress content, including custom post types and taxonomies
COMPLETELY CUSTOMIZABLE
Edit your sitemap for higher SEO rankings with just a few clicks.
Easy customization with no code required
Eliminate Google Search Console errors by removing your no-indexed content
Reduce keyword cannibalization by excluding irrelevant content types
Prioritize your top-converting pages to make sure they get crawled and indexed
Choose the best sitemap format for you: RSS, XML, or HTML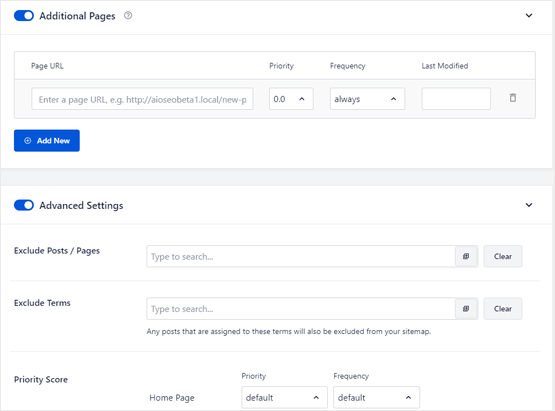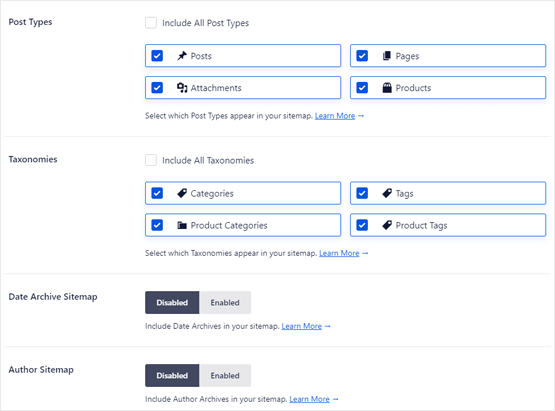 SEAMLESS WOOCOMMERCE INTEGRATION
Unlock the highest possible revenue with easy WooCommerce sitemaps.
Make sure all products are crawled and indexed in search results
Properly use product tags and categories to boost your WooCommerce SEO
VIDEO AND GOOGLE NEWS SITEMAPS
Boost your traffic by appearing in Google's video and news carousels.
Easy, customizable video sitemap generator
Display rich snippets in search results to boost your click-through rate
Submit your articles to Google News Feed
Automatically notify search engines of new videos and news articles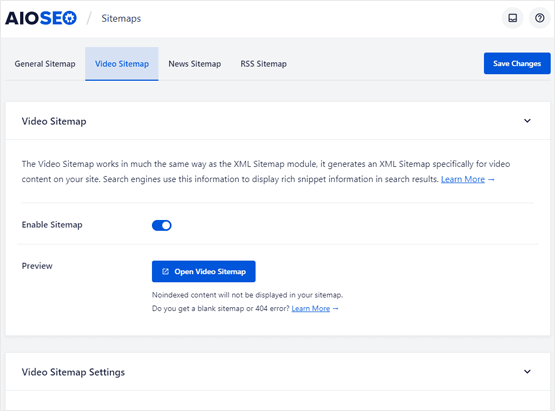 All-in-One SEO is a great product. I have been using it on all my WP sites for several years. I highly recommend it.
Robust without nagging or bloat. All-in-One SEO has been my go-to SEO plugin for over a decade. It was the first one I used, though I later tried some others. But I've come back to All-in-One time and again.
No muss, no fuss, All-In-One SEO is about as "set-it-and-forget-it" as you would want. But lots of options if you want to fuss with it. Excellent product, highly recommended.
Explore all
SEO Sitemap

Features

All in One SEO includes all the sitemap tools you need to submit content to every search engine.
See All Our
Powerful SEO

Features

All in One SEO is the best WordPress SEO plugin. Check out all our features.
Improve your WordPress SEO Rankings with AIOSEO
Get the most powerful All in One WordPress SEO plugin and improve your website search rankings today.
(Instant Download)
Even more powerful SEO features
Easily add title, meta description, keywords, and everything you need for on-page SEO optimization
Complete support for Google Knowledge Graph and Schema rich snippets
Easily connect with Google Search Console, Bing, Yandex, Baidu, and Pinterest webmaster tools
Advanced eCommerce SEO support for WooCommerce, so you can optimize product pages, product categories, and more.
Automatically notify search engines like Google and Bing about changes to your site.
XML Sitemaps: Frequently Asked Questions
Do you have a question about All in One SEO Sitemaps? If your question is not listed here, then please contact us.
Do I need a sitemap?
Sitemaps help Google and other search engines to find all the pages of your website.
An XML sitemap is a simple list of all the content on your website. Your XML sitemap file is hidden from your human visitors, but search engines like Google can see it. The sitemap helps search engine bots to easily see all the content on your site in one place.
Without a sitemap, some of your web pages may never be included in Google search results, and won't get any traffic.
Sitemaps also help you tell Google which pages you DON'T want included in search results. This can help with duplicate content issues, and keyword cannibalization.
Sitemaps can also help you avoid a thin content penalty by telling Google not to crawl pages with little content.
As part of your SEO strategy, a sitemap can help you to improve your domain authority and unlock more traffic from Google.
Does WordPress generate a sitemap?
WordPress includes a basic sitemap without a plugin, which includes your posts, post types, categories, tags, and archive pages. This includes anything you might have no-indexed, which can cause errors on your site.
Unfortunately, there's no way to customize the default sitemap without knowing PHP code.
Need a better solution?
All in One SEO's XML sitemaps are easy to use, and they also offer all the features you need to optimize your site for maximum traffic. With All in One SEO, you can make sure that Google knows which pages are the most important on your site, and only ranks your high-quality content.
Why Use All in One SEO Sitemaps instead of the default WordPress sitemap?
If you want more control over your sitemaps, All in One SEO is the way to go.
All in One SEO allows you to customize your XML sitemaps so you can boost your traffic and prevent errors in Google Search Console.
You can automatically generate a custom sitemap and submit it to Google, Bing, Yahoo, Yandex, and other search engines. All in One SEO will also automatically notify each one whenever you publish, update, or delete content on your site.
You get to choose to include or exclude:
images and galleries
password-protected posts
custom post types
media attachment pages
archive pages for tags, categories, authors
and more
Plus, your sitemaps will always be dynamically generated. That means that your sitemap is always up to date whenever it's visited.
Does All in One SEO include video sitemaps?
Yes, with All in One SEO you get 1-click support for video sitemap, so you can rank in Google's video carousel widget and grow your traffic.
See Video Sitemaps for more details.
How do I add my sitemap to Google News?
Google News sends 6 billion clicks per month to publishers all around the world, so you don't want to miss out on this traffic.
All in One SEO has a Google News Sitemap feature to make it easy to create the correct sitemap.
With this feature enabled, Google is informed of all news articles listed on your site within the last 48 hours, so they show up in the Google News Feed as quickly as possible.
Who should use AIOSEO?
All in One SEO is perfect for business owners, bloggers, designers, developers, photographers, and basically everyone else. If you want to optimize your WordPress SEO, then you need to use All in One SEO Pack.
What's required to use AIOSEO?
All in One SEO is a WordPress Plugin. In order to use All in One SEO pack, you must have a self-hosted WordPress site. That's all.
Do I need coding skills to use AIOSEO?
Absolutely not. You can optimize your WordPress SEO without any coding knowledge. All in One SEO is one of the most beginner friendly WordPress SEO plugin.
Will All in One SEO slow down my website?
Absolutely not. All in One SEO is carefully built with performance in mind. We have developed everything with best practices and modern standards to ensure things run smooth and fast.
Is All in One SEO translation ready?
Yes, All in One SEO has full translation and localization support. All in One SEO has been translated into 10 languages so far with many more on the way.
Does All in One SEO work on non-WordPress sites?
No. All in One SEO is a WordPress SEO plugin, so it will NOT work on sites that do not use WordPress. Additionally, All in One SEO is not compatible with the WordPress.com platform. You must be using a self-hosted version of WordPress to utilize All in One SEO.
Can I use All in One SEO on client sites?
Yes, you can use All in One SEO on client sites in two ways. Either you can purchase the Pro / Agency license OR purchase an appropriate license for each client sites. You can also refer your clients to purchase directly from our site using your affiliate link to earn a 20% commission.
What types of sitemaps does AIOSEO offer?
In addition to our "Smart XML" sitemaps, we also offer RSS and HTML sitemap generation.