Notice: There is no legacy documentation available for this item, so you are seeing the current documentation.
By default, All in One SEO creates two sitemaps. The first is an XML Sitemap which you can learn about in our guide to XML Sitemaps. The second is an RSS Sitemap.
What is an RSS Sitemap?
An RSS Sitemap is important because search engines check it much more frequently than an XML Sitemap. This means that content listed in an RSS Sitemap can appear in search results much faster than if you only have an XML Sitemap.
An RSS Sitemap includes only the latest changes to your site. It's much smaller and requires less resources from search engines to crawl it.
Viewing Your RSS Sitemap
First, let's make sure you can view your RSS Sitemap.
To get started, go to Sitemaps in the All in One SEO menu.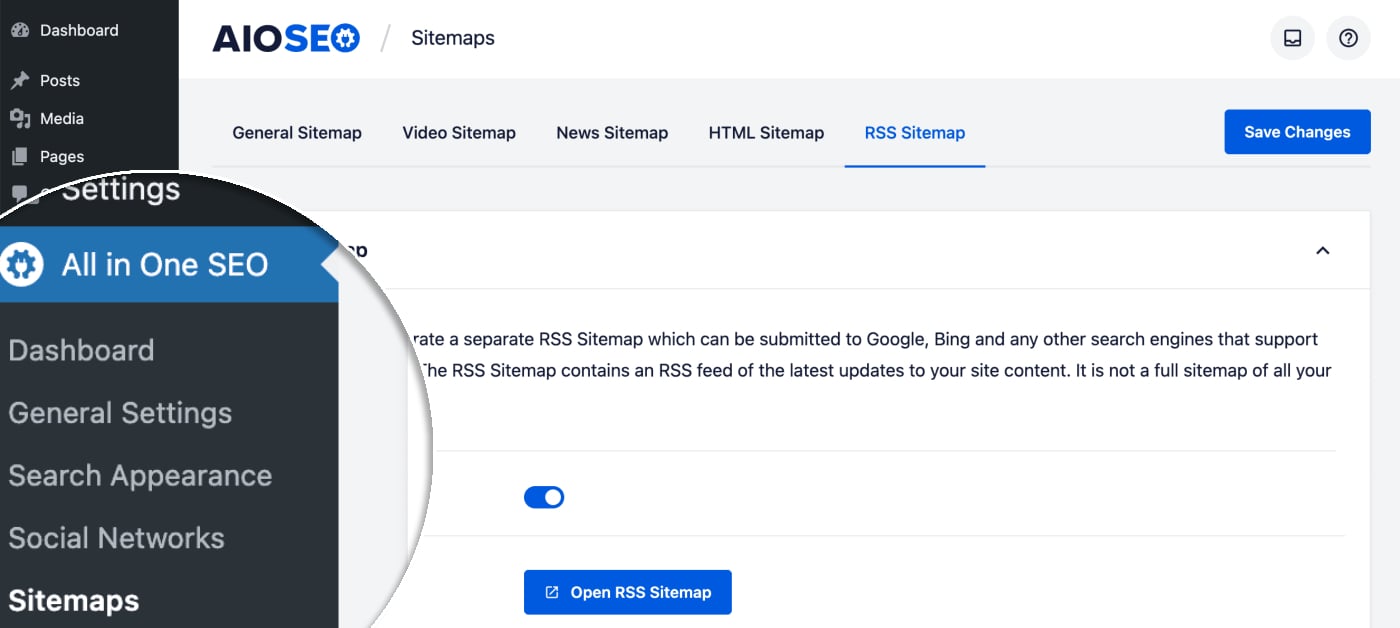 Now click on the RSS Sitemap tab at the top of the screen.

You'll see the RSS Sitemap screen and you should see that Enable Sitemap is on. If it's off, you'll want to turn it on.
Click the Open Sitemap button to view your RSS Sitemap.
Now that you know how to view your RSS Sitemap, let's look at the basic settings.
Configuring the RSS Sitemap
Let's start by deciding how much content you want included in the RSS Sitemap. By default, All in One SEO will only include 50 posts in the RSS Sitemap. You can change this in the Posts Per Sitemap setting.

Important:
The RSS Sitemap is meant to be small and only contain the latest content. This is why the Posts Per Sitemap is set so low.
Next, we're going to decide what content we want to include in our RSS Sitemap.
There is a setting for Post Types which is set to Include All Post Types. You can remove specific post types from the RSS Sitemap by unchecking the Include All Post Types check box.
When you uncheck this setting, you'll see a list of all your post types and can select which to include in your RSS Sitemap.
Congratulations! You now know how to configure and view your RSS Sitemap.