Are you wondering what a sitemap is and how to create a sitemap in WordPress?
A sitemap helps search engines easily navigate through your website content. It gives them a list of all your content in a machine-readable format.
In this post, we'll explain what a sitemap is and how to create a sitemap in WordPress the easy way.
Here's a quick overview of what we'll cover in this post. Simply click on these quick links to jump straight to different sections.
What Is a Sitemap?
A sitemap is a file or a special webpage that lists all your website content in an XML format, so that search engines like Google can discover and index your site's content.
Sitemaps used to be in HTML format, and could be viewed as a list of all pages included on a website.
Nowadays, the usage of sitemaps has evolved and they are published in an XML format instead of HTML with search engines as their target audience. Not people like in the past.
Simply put, a sitemap is a way for website owners to tell search engines about all existing pages on their website.
It also tells search engines which links on your website are more important than others, and how frequently you update your website.
While sitemaps won't directly boost your search engine rankings, they allow search engines to better crawl your website. This means that they can find more content and start showing it in search results, which can result in higher rankings and more traffic to your site.
Without an XML Sitemap, it would take longer for your content to appear on or be removed from search engines.
Why You Should Create a Sitemap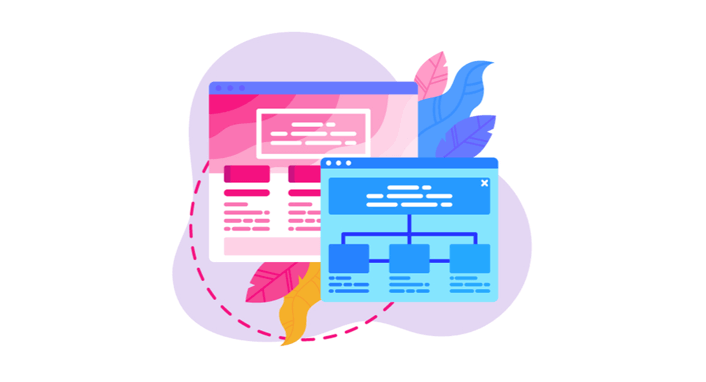 Like mentioned, sitemaps are used to ensure that search engines can easily crawl your website.
Sitemaps are important from a search engine optimization (SEO) perspective. If you want to learn more about SEO, please check out our ultimate WordPress SEO guide.
With that said, simply adding a sitemap doesn't affect search rankings. But if there's a page on your site that's not indexed, then a sitemap provides a way to let search engines know about that page.
Help Search Engines to Discover Your Content
Sitemaps are also extremely useful when you first start a blog or create a new website because most new websites don't have any backlinks. The lack of backlinks makes it harder for search engines to discover all new content.
For instance, search engines like Google and Bing allow new website owners to submit a sitemap in their webmaster tools, so that search engine bots can discover and index recently published content on their sites.
Sitemaps are equally important for established and popular websites. They allow you to highlight which pages are the most important, more frequently updated, and so forth. In this way, search engines can visit and index your content accordingly.
Now that you know why you need a sitemap, you might be wondering how to create one. But first, let's explain what the automatically generated WordPress sitemap includes and why it's a good idea to create your own sitemap.
Does WordPress Automatically Generate a Sitemap?
Yes, WordPress includes a basic sitemap without the use of a plugin.
This automatically generated sitemap includes your posts, post types, categories, tags, and archive pages.
However, it also includes anything you might have no-indexed, which can cause errors on your site. There's no way to customize the default WordPress sitemap without knowing PHP code.
If you feel that coding isn't for you, we have the perfect solution!
But if that still didn't convince you, please check out our post about whether you should use a WordPress sitemap or create your own.
Create a Sitemap in WordPress (The Easy Way)
There's an easy way to create a sitemap in WordPress using the most powerful and user-friendly WordPress SEO plugin in the market: All in One SEO (AIOSEO).
With AIOSEO, you can make sure that Google knows which pages are the most important on your site, and only ranks your high-quality content.
The XML sitemaps are easy to use and you can customize them, so that you can optimize your site for higher rankings and maximum traffic.
You get to choose to include or exclude:
Images and galleries
Password-protected posts
Custom post types
Media attachment pages
Archive pages for tags, categories, authors
and more
Better yet, AIOSEO will also automatically notify search engines whenever you publish, update, or delete content on your site.
You also have the option to include video sitemaps and Google News sitemaps. For more details, please visit our post on how to submit your WordPress site to Google News.
Now, let's show you how to create a sitemap in WordPress the easy way. You can either watch the video or continue reading the text. The sitemap is enabled by default, so you only need to install AIOSEO, and it's set!
But if you're a more advanced user, we'll show you how to customize your sitemap in a few easy steps.
Customizing Your Sitemap
To get started, go to Sitemaps in the All in One SEO menu, and click on General Sitemap in the top main navigation menu.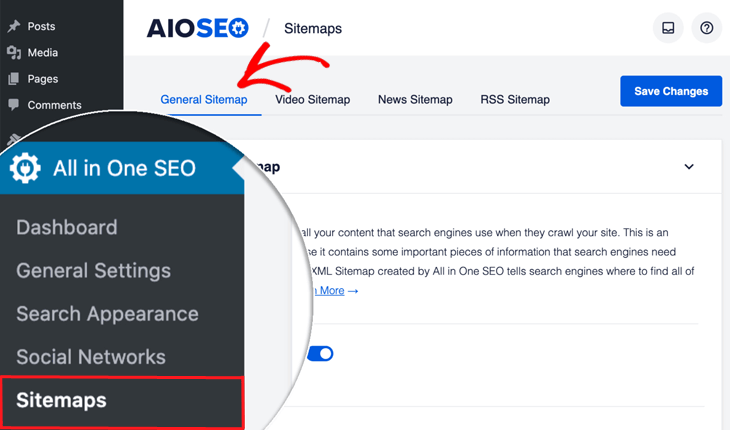 This will open the General Sitemap window, where you can see that Enable Sitemap is set to on.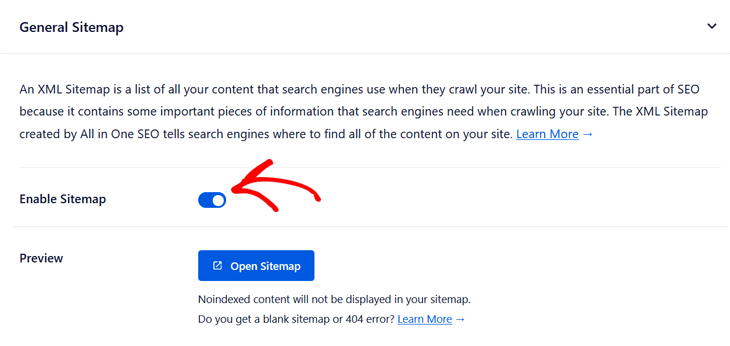 After that, you can go ahead and click on the Open Sitemap button to view your XML sitemap.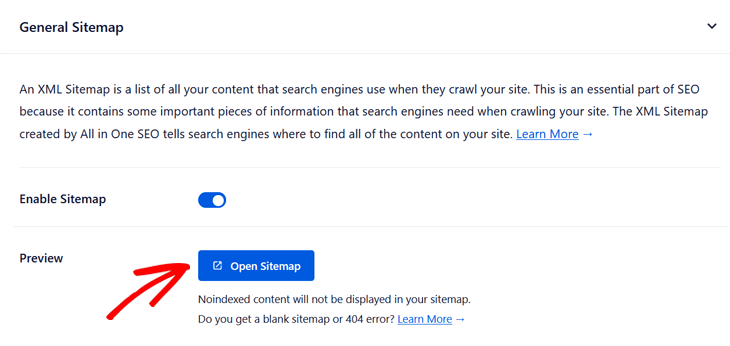 Once you've opened the sitemap, you'll see an index page for your XML sitemap that looks like this: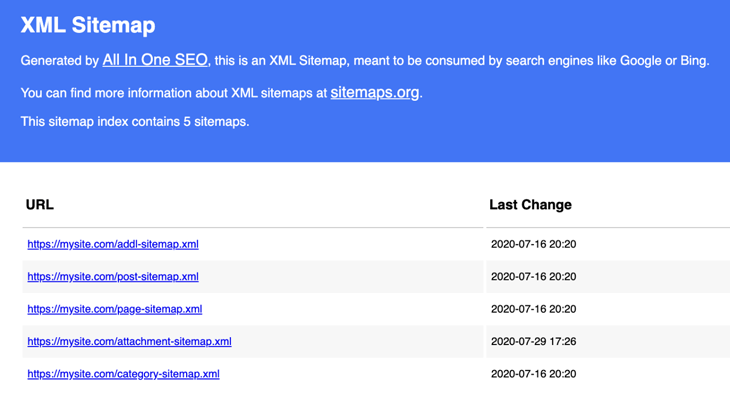 The index page lists all the sitemaps for your site, and each sitemap contains a different type of content.
For example, you can see there are different sitemaps for posts, pages, attachments, etc.
Click on each WordPress sitemap URL in the index overview to view a list of that specific content.
Configuring Your XML Sitemap
Now, that you know how to view your XML Sitemap, let's move on to the basic Sitemap Settings.
Let's start by deciding whether you want to have an index page for your sitemap.
If you have a small website (less than a few hundred URLs), you don't really need an index page, and you can set the Enable Sitemap Indexes button to Disabled.
If you're in doubt, just leave it in the Enabled mode.
Next, you can change the Links Per Sitemap setting if you need to, but most users should leave it as-is.
After that, you need to decide what content you want to include in your sitemap. There are 2 settings to consider, Post Types and Taxonomies.
If you want to include all content, you can leave the Include All Post Types and Include All Taxonomies check boxes checked.
On the other hand, if you uncheck these boxes, you'll see a list of all your content post types and taxonomies and can select which ones to include in your sitemap.
Note: Any content that has been set to be excluded from search results or set to no index in Sitemap Settings won't appear in this list.
Finally, you have the option to decide whether to include Date Archives and Author Archives in your sitemap.

Date and Author Archives are automatically created by WordPress when you publish news posts on your site.
We recommend that you don't include these in the sitemap and leave them in the Disabled mode since they have little value in search results. But if you still want to include these, you simply click on the Enabled button so it turns blue.
As simple as that!
We hope this article helped answer all your questions about WordPress XML sitemaps and how to easily create a sitemap for your WordPress site.
You may also want to check out our guide on how to do an SEO competitor analysis so that you can find out where you stand in relation to your competitors and what keywords they're using.
And if you still have issues getting those sweet conversions, you can check out our post on 5 reasons your website traffic isn't converting into customers.
Now, let the best WordPress sitemap plugin do the heavy lifting for you!