In March's release of All In One SEO 3.4, we released a variety of updates to help you improve your website. And since then, we've been busy behind the scenes preparing more features to boost your site's SEO.
Today we're excited to announce the News Sitemap feature, more link attribution settings for the WordPress block editor, and more.
Let's look at those releases in more detail.
News Sitemaps for Google News Feed
Did you know Google News sends 6 billion clicks per month to publishers all around the world? That's a huge amount of potential traffic you could be missing out on.
But getting your articles added to the Google News feed is challenging. You need a whole separate sitemap dedicated to the task. And setting it up yourself is hard without help from a developer, if you don't know any code.
That's why we added the News Sitemap feature for Pro customers with Business and Agency plans to make it easier to submit your news articles to Google News.
With this feature enabled, Google is informed of all news articles listed on your site within the last 48 hours, so they show up in the Google News Feed as quickly as possible.
You can easily select which post types or pages to include in your Google News Sitemap, including any custom post types you may have on your site.
Then, Google News publishers will be able to view their new sitemap with all articles published within the last 48 hours: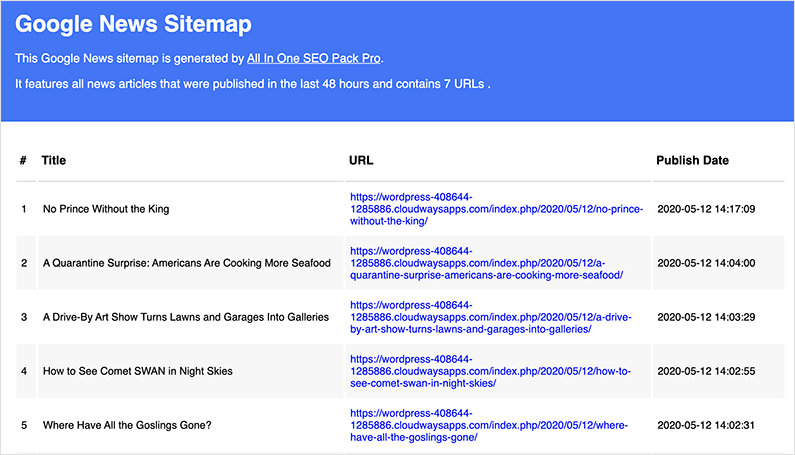 For step by step instructions, see our documentation on how to set up your Google News sitemap.
One-Click Title & UGC Link Attributes
With the last update of All in One SEO, we added the option to control nofollow and sponsored link attributes with a single click.
In today's release we've added the ability to enable the user-generated content (UGC) attribute on a per-link basis for free AND pro accounts.
This means you can let Google know that your link is within user-generated content such as user comments and forum posts, making it easier to inform Google the content isn't a form of advertising.
Not only that, but you can also add a title attribute right in the WordPress block editor.
We've also added a bunch of bug fixes and improvements that you can find in the changelog here.
There are always exciting things happening at All In One SEO as we continually strive to create the best SEO plugin for WordPress. Keep your eyes on the blog for future updates!
Not using All in One SEO yet? Click here to get started today!