You asked for it, and it is here!
AIOSEO now has full Emoji support for your SEO meta titles and descriptions, as well as your social media titles and descriptions.
Additionally, I'm super excited to share that we have revamped our WordPress multi-site SEO workflow to help you save time while boosting your rankings across your network of sites.
Let's quickly look at how you can utilize these new features to maximize SEO rankings and time savings.
NEW SEO Emoji Picker to Boost Visibility and Engagement
Adding emojis to SEO titles and social media titles was a popular request from many of our users. That's why we're super excited to announce that we've finally added a brand new emoji picker in All in One SEO.
This is a powerful SEO tool that allows you to add emojis to your SEO fields quickly. Examples of fields you can add emojis to include your SEO title, meta description, as well as social media open graph for Facebook, Twitter, etc.
Having an emoji in your SEO fields, like your SEO title, for example, can help your website stand out in Google search results. As a result, you get higher click-through rates (CTRs).
And higher CTRs have been proven to improve SEO rankings, so this will be a game changer for your SEO.
Since AIOSEO also lets you customize your social media titles and descriptions for Facebook, Twitter, and others, you can use the emoji picker to also improve your CTR and social media engagement.
Multisite WordPress SEO Made Easy with Our Powerful Multisite Module
Running a multisite network?
Then you know how complex and laborious SEO can be.
Fortunately, AIOSEO 4.2.6 will make things much easier for you.
One of the first changes you'll notice right off the bat is the Domain Activations section, which you can find by going to AIOSEO » Network Settings.
We made it easy for you to activate or deactivate your AIOSEO license on any sub-site in your WordPress multi-site network with a simple click of a button. This is a huge time saver as you can now manage all your license activations on a single screen.
Easily Edit and Manage Robots.txt Files
Another powerful change we've made to our multisite SEO support is the capability to edit the robots.txt file of every subsite individually right from the network admin panel. To do that, go to your Network Admin Dashboard » AIOSEO Dashboard » Network Tools.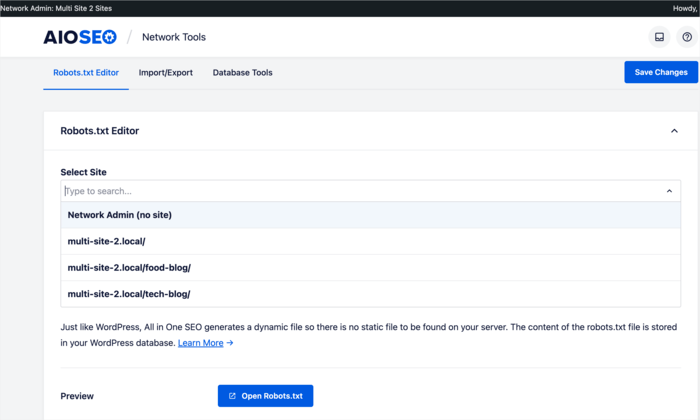 Select a site, and you will instantly see a preview of its robots.txt file. You can also change the robots.txt rules for that site right from the network admin area.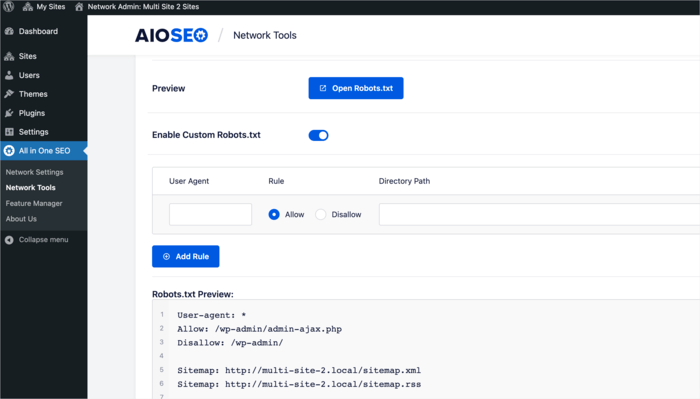 You can also set rules that apply to all your subsites by selecting the Network Admin option.
Managing your robots.txt files from a central location gives you more control over how search engines crawl your sites and index your content.
And doing it from AIOSEO's Network Tools page simply makes it way easier, even if you have multiple subsites.
Import and Export SEO and Plugin Settings
Setting up a single website's SEO can be time-consuming. The challenge is only compounded when you're running a multisite setup.
That's why we've made it easy for you to import and export SEO settings from one site in your network to another.
You can do that by clicking on the Import/Export tab in the Network Tools section.
If you're adding a new site to your network, importing the SEO settings of a site that is already optimized is also easy. Simply add a new site as you normally would, then select the site which you'd like to import the settings from.
This helps speed up the process of setting up any new sites, enabling you to rank faster across your WordPress multisite network.
Aside from the two big updates above, we also made notable improvements to many of the features you already love. You can see those in our full product changelog.
What are you waiting for?
Update your site to AIOSEO 4.2.6 to unlock these new powerful features.
And if you're not yet using AIOSEO, make sure to install and activate the AIOSEO plugin today. Our SEO plugin will help you outrank your competitors.
If you have questions about these features, please comment below or contact our customer support team. We're always ready to help.
Our commitment to making AIOSEO the easiest and best WordPress SEO plugin is only getting stronger as we continue to win together with our customers.
We're so grateful for your continued support, feedback, and suggestions. Please keep those suggestions and feature requests coming!
We hope you enjoy using these new SEO features as much as we enjoyed creating them.
-Benjamin Rojas (President of AIOSEO).