Do you want to know how to create a Google News sitemap?
A Google News sitemap is one of the primary requirements for being featured on Google News. Having one is a great way to boost your visibility and drive traffic to your site.
In this article, we'll show you how to create a Google News sitemap. And it's easier than you think.
What is Google News (And Why Should You Care)?
Google News is Google's news aggregator launched way back in 2002. It shows the latest news and stories on the internet in the past 30 days and can be viewed in the "News" tab in Google.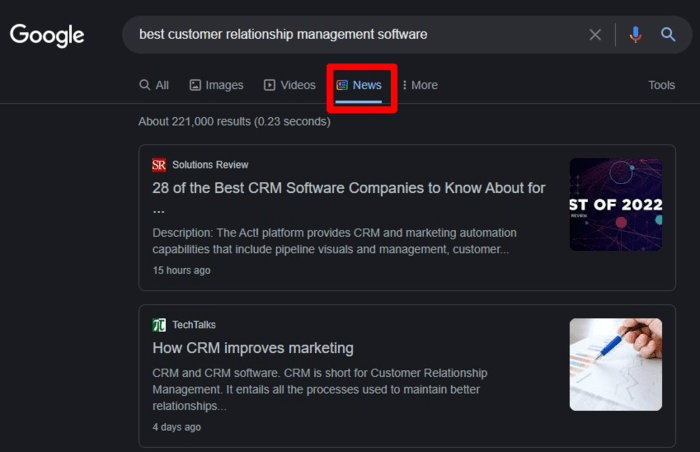 Getting your site featured in Google News is an excellent way to drive tons of targeted traffic to your website traffic. It can also help you:
Reach new audiences
Build credibility and authority
Drive brand awareness
The bottom line is that getting your site on Google News can help grow your business and boost your revenue.
How do you create a Google News sitemap that will help you be featured on Google News?
It's easier than you think.
What is a Google News Sitemap?
A sitemap is a file containing detailed information about the specific types of content on your website. A Google News sitemap, therefore, is a file that enables you to control the content you submit to Google News.
What if you already have a sitemap for your website?
Even if you have a general sitemap for your website, you'll need to create a separate Google News sitemap for your news articles.
That's because a news sitemap only includes news articles, and that's the only content Google includes in their news search results. Also, Google only aggregates news articles at least two days old.
This means every time you publish a news article you'll have to add it, right?
Not at all.
You can automate the process by creating a Google News sitemap with the right tool.
How to Create a Google News Sitemap in a Single Click
Creating a news sitemap used to require technical knowledge, particularly coding.
It isn't anymore, thanks to powerful SEO tools like AIOSEO.
To get started creating your Google News sitemap, head over to your AIOSEO dashboard and click on "Sitemaps." A page will open, showing you five sitemap options:
General Sitemap
Video Sitemap
News Sitemap
HTML Sitemap
RSS Sitemap
Of course, you'll want to select the News Sitemap option in this case. When you do, you'll be presented with a page asking you to activate the News Sitemap.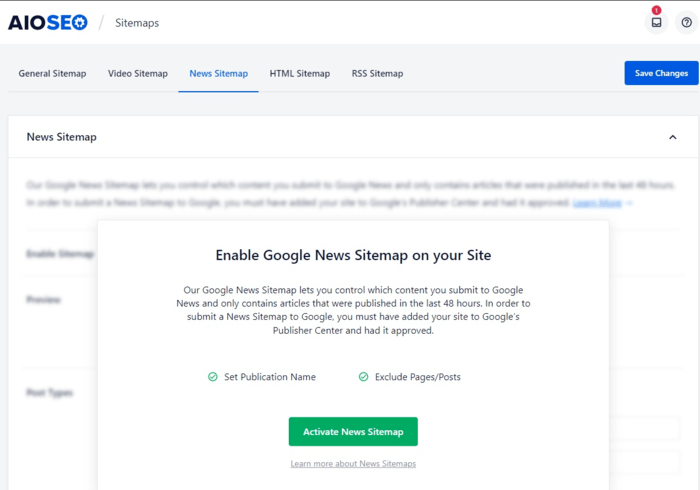 Once enabled, the tool will take you to the News Sitemap settings page. This is where you'll set the publication name and define the content to include in the sitemap.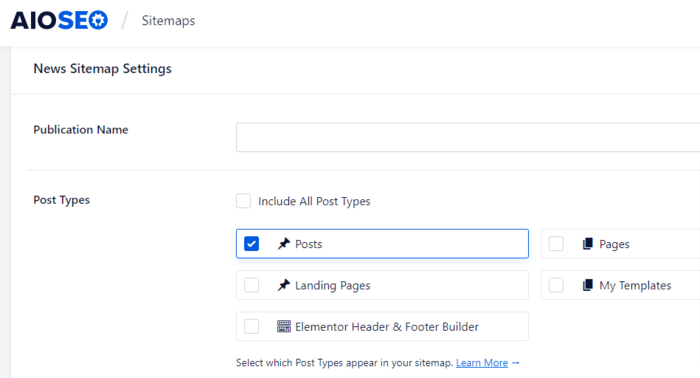 If you don't enter your publication name in the Publication field, AIOSEO will use your Site Title as the publication name.
Next, select the post types you want to include in your news sitemap by ticking the appropriate boxes in the Post Types settings. Be sure the posts you choose are news articles as these are the only posts Google aggregates into their news feed.
Once you've configured your settings, make sure to save them.
That's it! You've created a Google News sitemap.
However, this isn't the end of the road. You still have to submit your news sitemap to Google. To do that, you must have added your website to the Google Publisher Center and had it approved first.
Create a Google News Sitemap and Increase Your Chances of Visibility
Creating a Google News sitemap is an excellent way of increasing your content distribution channels. By publishing news articles and creating a Google News sitemap, not only will you have an opportunity to feature on the primary SERPs, but you also get to be featured in the news results. In addition, doing it this way increases the chances of your brand being seen by your target audience.
SEO is a multidisciplinary field that requires you to take advantage of every facet that can give you a leg up. One such is creating a Google News sitemap. But, as you've seen, it's easy to do if you have the right tool. That's why we created AIOSEO, to make it easier for small businesses to succeed at SEO without spending tons of money.
If you haven't yet, go ahead and download AIOSEO and power your SEO strategy.