Do you want to know how to add multiple URLs to your sitemap?
Sitemaps are an essential SEO element that helps search engines discover the important pages on your site much faster. However, manually adding each URL is time-consuming and laborious for large websites.
This article will show you how to add multiple URLs to your sitemaps easily. And it will only take you a few minutes.
What is a Sitemap?
A sitemap is a file created to provide information about your website's pages, media, and other files. It also shows the relationships between them. Sitemaps are essential assets on a website as they tell search engines:
Which pages to prioritize
When a page was last modified
Alternate language versions of your content (if any)
And much more
Sitemaps also help you provide information about specific types of content on your website. Examples include news content, video content, images, and more.
All this is valuable information that results in optimized crawl efficiency.
As your website grows, there will be more URLs you must add to your sitemap. Also, when you build landing pages and other assets outside of WordPress, you may want to include them in your sitemap for indexing. This may require you to add multiple URLs to your sitemap.
That's why we want to show you the easy way of adding multiple URLs to your sitemap.
How to Add Multiple URLs to Your Sitemap
The first step to easily adding multiple URLs to your sitemap is installing and activating All In One SEO (AIOSEO) on your WordPress website. AIOSEO is the best WordPress SEO plugin on the market and boasts over 3 million downloads.
Smart website owners use AIOSEO to help improve search rankings as it comes with powerful features you need to set up your SEO settings correctly such as schema markups, the ability to build strategic internal links on autopilot, and much more. It also comes with one of the best WordPress sitemap generators on the market.
By default, AIOSEO will automatically include all your WordPress posts, pages, and custom post types in the sitemap.
But the plugin can also help you easily add multiple other URLs to your sitemap without having to tinker with any code or technical aspects of your site. This is really helpful if you're using WordPress as your main site, but have your store on Shopify or BigCommerce, and you may want to add those links in your main sitemap.
To get started, the first thing you need to do is install and activate the All in One SEO plugin. For more details, check out our installation guide.
Once you've installed the plugin, it's easy to add multiple URLs to your sitemap, thanks to our powerful Additional Pages feature under the Sitemaps settings tab. To get started so, go to Sitemaps » General Sitemaps.
Next, scroll down the page where you'll find the Additional Pages section. Enabling this feature will open up a window that gives you options for adding multiple URLS by importing a CSV file containing the URLs you want to add.
Clicking on the Import from CSV button will open another window with a field for uploading your CSV file.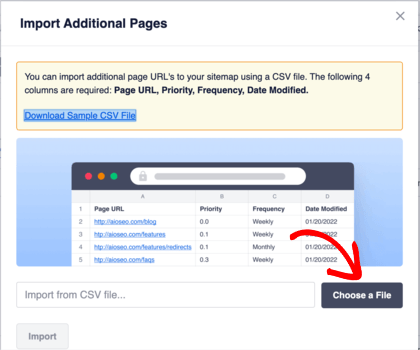 After choosing and uploading your CSV file, click the Import button. Doing so results in all the URLs in your CSV file being added to your sitemap.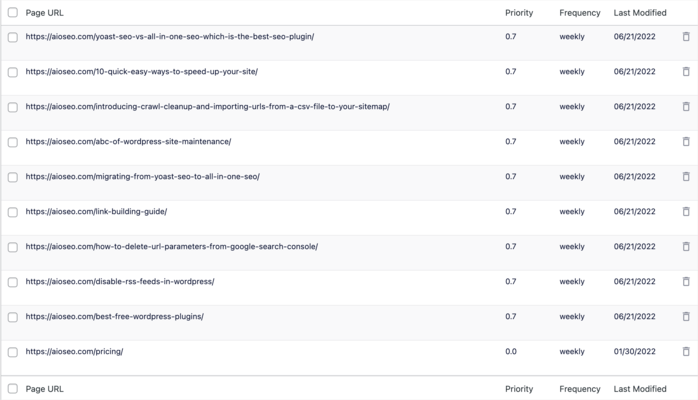 Once your URLs have been added, click Save, and that's it!
Now search engines will know which pages to prioritize as they crawl your site.
We hope this article has helped you learn how to add multiple URLs to your sitemap. You may also want to see our beginner's guide to WordPress SEO or see our ultimate link building guide to improve your SEO rankings.
If you found this article helpful, then please subscribe to our YouTube Channel. You'll find many more helpful tutorials there. You can also follow us on Twitter, LinkedIn, or Facebook to stay in the loop.