Have you spent time, effort, and money into creating a video but no one seems to find it in the search results? If so, you need to help Google to find your video by creating a video sitemap.
Video is something you can't ignore as a marketing and SEO tool. In fact, 87% of video marketers say video has increased traffic to their website, and 80% say it directly helped to increase sales.
This is why you need to make sure your videos are found by search engines. So in this post, we'll show you how to create a video sitemap in WordPress using the best video sitemap generator plugin on the market.
Here's a quick overview of what we'll cover in this post. Simply click on these quick links to jump straight to different sections:
Before we dive into how to create a video sitemap, let's take a quick look at why you should use video on your website to boost SEO.
Why Should You Use Video to Boost SEO?
Video is vital to your business's growth and for gaining brand recognition online. If used correctly, video can be an extremely powerful form of content and make a significant contribution to your overall SEO strategy, in more ways than one.
Did you know that you're 53 times more likely to show up first on Google if you've got a video embedded on your site? Google will also crawl your page faster if it sees you have a video on it. 
One thing's for sure; video isn't going anywhere. By 2021, Cisco says, video will represent 82% of all internet traffic.
Apart from these amazing stats, adding video to your website can also help with:
Increasing Your CTR (Click Through Rate) — including video on your site drives a 157% increase in organic traffic.
Lowering Your Bounce Rate — people spend over twice as long on a page with video than without.
Help You Get More Quality Backlinks — the higher the quality of your content, the more likely you are to get quality backlinks.
This is all great, but if your videos aren't popping up in search results, what can you do?
That's what we're going to show you after we've first explained what a video XML sitemap is and why you should create one.
What Is a Video XML Sitemap?
First things first: what's a video XML sitemap? And what does it do?
A video sitemap is a specially formatted file that lists all pages on your website that contain videos. It's generally made for bots, not people.
With a video sitemap, you can inform Google of the category, title, description, running time, and audience for each video that you've added to your site. This helps Google know about all video content on your site, which greatly improves your chances of improving rankings in the video search results.
In other words, video sitemaps allow search engines to better index and crawl your site for video content.
Why Should You Create a Video Sitemap?
The answer to why you should create a video sitemap is pretty self-explanatory. Let's start by the fact that 93% of online experiences start with a search and Google's algorithms increasingly prioritize websites with video content.
Like you probably understand, it's then crucial that search engines find your videos, and the faster the better. That's where a video sitemap comes into the picture.
However, we do need to clarify that search engines can still index your video content and show it in search results even if it's not included in your video sitemap. It just makes the process a lot faster than waiting on Google to naturally find your video content.
Now that you know why you should create one, let's show you how to create a video sitemap in WordPress the easy way so that you can show up faster in the video search results.
Use the Best Video Sitemap Generator Plugin AIOSEO
Using a video sitemap generator plugin for WordPress like All in One SEO (AIOSEO) is the best way to automatically create a video sitemap.
AISOEO will notify Google of all new video content added to your site, which will help you rank higher in video search on Google.
Best of all, it's super easy!
In fact, if you have the Pro version the video sitemap is enabled by default and there's very little configuration needed.
Not to mention, with AIOSEO you'll get access to many advanced SEO tools to help you improve your SEO and increase rankings in search engines.
With that said, let's show you how to easily create a video XML sitemap that'll be automatically sent to the video search results on Google.
Enable Your Video Sitemap
To get started, go to Sitemaps in the All in One SEO menu, and then click on the Video Sitemap tab.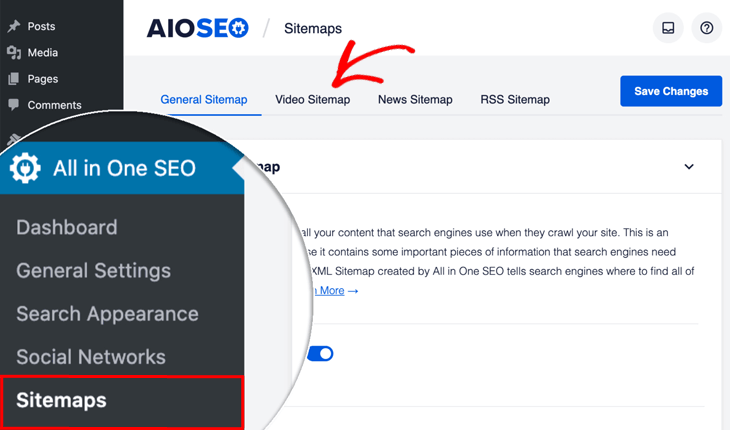 Here you'll see the video sitemap screen, and you need to make sure that the Enable Sitemap button is set to on.

The blue button means you're all set.
View Your Video Sitemap
Next, if you want to view your video sitemap, you can click on the Open Sitemap button.
Once you've opened your sitemap, you'll see an index page for your video sitemap that looks like this:
This index page lists all of the video sitemaps for your site. And each video sitemap contains a different type of content. For example, from the above screenshot you can see video sitemaps for posts and pages.
In addition, you can click on each link in the index to see a list of your video content for that post or page.
Now that you know how to view your video sitemap, let's take a look at how to include and exclude content of your video sitemap.
Include Content in Your Video Sitemap
To start with, you need to decide what content you want to include in your video sitemap.
However, if you want to include all your content, you can leave the Include All Post Types and Include All Taxonomies check boxes set to checked.
On the other hand, if you uncheck these boxes, you'll see a list of all your content Post Types and Taxonomies and can select which to include in your sitemap.
Exclude Content from Your Video Sitemap
If you want to exclude content from your video sitemap, you can do this by navigating to the Advanced Settings tab.
Here you can choose which posts or pages you don't want to include in your video sitemap. Simply enter the title of any post or page and a drop down will appear that shows matching content.
Click on the content you want to exclude and it will be removed from your video sitemap.
Note: Any content that's been set to be excluded from the Show in Search Results in Search Appearance won't show up in this drop down list.
Now, you're almost finished!
Just two more things…
Enable Sitemap Indexes
If you have more than 1000 URLs in your sitemap, we recommend that you set the Enable Sitemap Indexes option to Enabled.
This will help organize your sitemap entries into distinct files in your sitemap.
And if you've included your videos using custom fields, you can see how to add them to your video sitemap here.
That's all!
We hope this blog post helped answer all your questions about video sitemaps and how to easily create a video XML sitemap for your WordPress site. Before you know it, your videos will start ranking higher in the video search results on Google.
One last thing before you go…
Is your site too slow? If so, you may also want to check out WPBeginner's guide on how to boost WordPress speed and performance.
Now, let the best WordPress sitemap plugin do the heavy lifting for you. If you're still not sure which SEO plugin to choose, you'll know after reading our Yoast SEO vs All in One SEO post.
Stay tuned for AIOSEO's new features and improvements.