Yoast SEO vs. All In One SEO, which is the best plugin for you?
If you are looking for the best SEO plugin for WordPress, then you've likely narrowed your choice down to the two most popular WordPress SEO plugins: All in One SEO (AIOSEO) and Yoast SEO.
Both of these SEO plugins help you optimize your WordPress website and improve your rankings in search engines.
But which one is better?
Don't worry. We'll help you to figure this out!
In this post, we'll compare Yoast SEO vs All in One SEO, and show you the major differences that matter. We'll also give you our verdict on which of the two is the best SEO plugin for WordPress.
But first, let's explain what an SEO plugin is and why you should use one.
What Is an SEO Plugin?
SEO plugins allow website owners to optimize their sites for search engines easily. You can easily add metadata and more advanced SEO features, such as:
These, and other features, help improve your rankings and drive more traffic to your website.
Yoast SEO and All-in-One SEO are some of the best SEO plugins for WordPress. That means you install them as plugins on your website, and they let you optimize your site for SEO.
AIOSEO offers a free version, as well as 4 paid versions. It's one of the top 14 most popular WordPress plugins on WordPress.org with over 2+ million active installations.
We're going to look at the similarities and major differences between Yoast SEO vs All in One SEO next.
Yoast SEO vs All in One SEO: SEO Plugins Compared
Since this is a comprehensive post, feel free to use our table of content to jump to the sections you want:
Are you new to SEO, particularly SEO plugins?
Let's look at how easy it is to get started with these two popular SEO plugins.
Getting Started with Yoast SEO vs All in One SEO
To get started with an SEO plugin, they have so-called configuration or setup wizards that help you with your SEO settings. Let's take a look at the differences in the configuration for both contenders.
Installation Wizards Compared
One of the most important aspects to consider when looking for an SEO plugin is the ease of use, particularly the installation process. Let's quickly look at how easy it is between our two contenders in the Yoast vs. All In One SEO showdown.
Installing Yoast SEO
Yoast SEO has a 12-step installation wizard, and it gets pretty overwhelming. It throws the beginner into a complicated and cluttered dashboard with more technical information than necessary when just starting out.
This is what you'll see after installing and activating Yoast SEO. It's an overview of the Yoast SEO Dashboard, and so far it looks okay.
Under the General settings tab, you can find a first-time SEO configuration wizard. It's after clicking on this wizard that you get a knot in your stomach.
While Yoast SEO's configuration wizard has 12 steps and feels technical and complicated, AIOSEO's setup wizard only has 4 steps that are easy to follow. It looks much cleaner and is straightforward and beginner-friendly.
Installing AIOSEO
AIOSEO has outdone itself in simplifying things and making it easier for users to set up their SEO settings. Let's take a look at the setup wizard next.
After installing and activating AIOSEO, you'll see the General Settings tab in the All in One SEO menu.
Here you can see an overview of the AIOSEO Dashboard, and you can launch the Setup Wizard with a single click. There's also a video to watch that helps users understand the setup process before they start.
In General Settings, you have the option to switch between three more tabs. The Webmaster Tools tab is especially useful since it allows you to submit your site to search engines such as Google, Bing, Yandex, etc. You can also use it for instant indexing of your content on platforms that support the IndexNow protocol. This is a protocol Yoast has said they aren't interested in adopting, giving SEO plugin users like AIOSEO an edge.
Next, you're able to categorize your site, as well as set up the Home Page Title and Meta Description. AIOSEO makes this easy and beginner-friendly.
In contrast to Yoast SEO, All in One SEO has lots of pre-installed tags with different variables that you can use for your homepage's title and description.
For example, if you'd choose the Site Title smart tag, the name of your site will be added to the SEO title. It lets you choose between 22 variables, such as Author Last Name, Author First Name, Post Day, Post Date, and much more. These are options that Yoast SEO doesn't have.
Not to forget, the + Current Year tag, which is an incredible feature to easily add the year to your SEO title.
As you can see, AIOSEO has many more great SEO features, which help make the optimization process easier. In this regard, AIOSEO is leaps ahead of Yoast SEO.
Now, to something even more exciting! The SEO audit checklist tool in AIOSEO.
SEO Audit Checklist
The SEO audit checklist is a fantastic tool and is something that's unique to All in One SEO! Yoast SEO doesn't have anything like it.
This is what will take your SEO efforts to another level. Best of all, it's a great tool for beginners who don't know that much about SEO.
It lets you analyze your website in seconds and identifies critical errors that could inhibit rankings in search engines. And it also gives you the ability to analyze your competitors' SEO, so you can find out what keywords they're using.
To clarify, the SEO audit checklist lets you:
Follow its SEO audit checklist to optimize your website's settings
Identify any critical errors that could be harming your rankings
Get recommended SEO improvements
To get started analyzing your site, you simply visit the All in One SEO menu and go to the SEO Analysis tab.
From here, you can check your SEO site score.
And if you scroll down to the Basic SEO section, you'll find the whole analysis and recommendations on what you need to improve.
For example, from the above screenshot, it looks like this website is missing alt attributes in some images. Now that you know this, you can fix them and raise your SEO score.
The optimization process can't get much easier than that!
Did you think this was it? Far from it!
AIOSEO takes this a step further and is offering an Advanced SEO analysis as well.
This tool checks for advanced SEO factors like the use of canonical link tags, noindex tags, header or meta tags, www and non-www URL redirects, robots.txt files, etc.
As you can see, AIOSEO already has one up on Yoast SEO with this great tool. With that said, let's move on to looking at how both WordPress SEO plugins handle on-page optimization.
On-page Optimization
Image Source: freepik
On-page optimization is an ongoing process, and each new post or page you add to your site will have its own SEO score.
This means you'll be using your SEO plugin to optimize your content for search engines as you add it. For more details, check out our checklist on how to optimize your blog posts for SEO.
SEO Meta Box
Both plugins come with an SEO meta box to edit the SEO settings on a post-by-post basis. They automatically use your post or page's title as SEO Title and excerpt as Meta Description, but you can also enter your own.
As we showed you earlier, AIOSEO makes this super easy with lots of different variables you can use to optimize your metadata, while Yoast SEO only has variables for the title, page, separator, and site title.
The SEO meta box in Yoast SEO also looks a bit cluttered and feels outdated since it starts with the Focus keyphrase option that's not really important for SEO anymore.
In contrast to Yoast SEO, All in One SEO's meta box begins with a Snippet Preview of your post or page's SEO. This is very helpful so that users can see how their Post Title and Meta Description will look in search results.
You can write the Post Title and Meta Description manually or use the tags with different variables.
For this reason, AIOSEO's meta box is more logical. It starts with the most important element you should be optimizing and ends with less important factors like the Focus Keyphrase.
However, if you still want to check your Focus Keyphrase, AIOSEO even gives you a score of how well your keyphrase is optimized and recommendations on how to improve it.
While Yoast SEO briefly includes this feature in the content analysis tool, it doesn't analyze it separately.
On-Page Content Analysis
The content analysis feature for both SEO plugins analyzes your content against SEO best practices. For instance, it checks the keyword density, readability, and the number of internal and external links.
It also checks if you've used your focus keyphrase in the title, meta description, and first paragraph of your content.
In the past, Yoast SEO was ahead of AIOSEO in regards to this feature. But AIOSEO later caught up with flying colors. We'll show you exactly why next.
While Yoast SEO provides a fairly detailed analysis of the page content and recommendations on how to improve your SEO, AIOSEO also does this, and more!
In fact, AIOSEO even analyzes your Title and gives you immediate results on what you need to improve.
It analyzes a few different factors in your title, including title length, if it includes a number, and if it's using any power and sentiment words. By optimizing your title, you can rest assured that it has all the elements that entice your visitors to click on it.
Under the Basic SEO tab, you'll find a clear overview of the page analysis tool. As well as your overall post or page's SEO score in the top right corner of your page.
Readability Analysis
One of the most important factors for SEO is readability. Blog posts that are easier to read often rank higher than posts that are difficult to read.
When it comes to the Readability feature, both contenders are pretty similar.
They both offer a detailed Readability analysis and give suggestions on what to improve.
So when it comes to on-page content analysis tools, AIOSEO is the best around. It's much easier to navigate and will help you crush it in search engines.
Now, we'll move on to an important SEO factor, which is XML sitemaps. Let's see if there are any major differences between our contenders with reference to this feature.
XML Sitemaps
Before you can rank on Google, your content needs to be indexed. If the search engines aren't indexing your site, no amount of SEO can save you. That's why XML sitemaps are important for SEO.
Both Yoast SEO and AIOSEO offer built-in XML sitemap functionality that's enabled by default. But in contrast to Yoast SEO, AIOSEO also offers an RSS sitemap, which is automatically submitted to search engines. It's an important SEO tool because search engines check it much more frequently than an XML sitemap.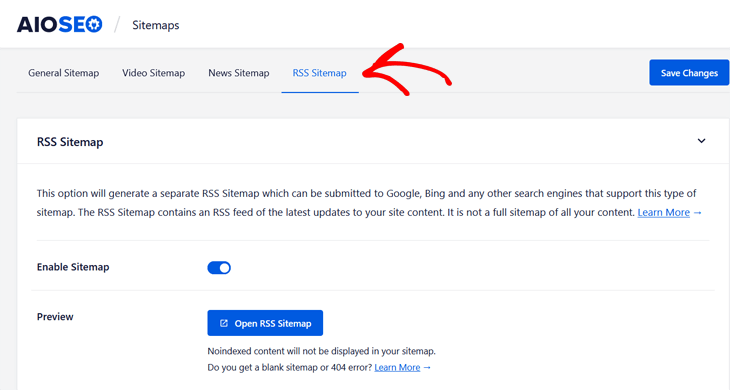 An RSS sitemap includes only the latest changes to your site, which can then show up much faster in search results than the content of an XML sitemap.
Additionally, AIOSEO's Pro version allows you to customize your sitemap and also includes video sitemaps, Google News sitemaps, etc. When it comes to Yoast SEO, these features are offered as addons.
For more details, please visit our post on how to create a sitemap in WordPress or how to submit your WordPress site to Google News.
Next, let's move on to comparing additional SEO features for both plugins.
Additional SEO Tools and Features
SEO is a comprehensive process, which is why both of these plugins come with additional tools and features aside from just meta tags. Anyway, social media integration is one of these features that we'll look at for both plugins next.
Social Media Integration
Optimizing your social media is important because it can strengthen your brand. You'll gain more visibility and can generate more leads for your business.
AIOSEO lets you add up to 11 social media profiles, whereas with Yoast SEO, you can only add 8 profiles.
Now, let's show you how to add your social media profiles for both plugins, starting with AIOSEO.
To do this in AIOSEO, you simply navigate to Social Networks in the All in One SEO menu.
This will open a window, where you can add all your social profiles.
For Yoast SEO, you'll find the social profiles in Social and the Accounts tab.
As you can see, Yoast SEO has 3 fewer social media accounts to submit your links to.
And looking more closely, there are also differences in how you set your Facebook thumbnail and Twitter Cards for both plugins.
With AIOSEO, you can set your Facebook thumbnail and Twitter Cards from the Social Networks tab, but you can also do this from your individual posts or pages.
For example, if you're editing your blog post or page, you can go directly to the Social tab in the AIOSEO Settings, and edit your Facebook thumbnail or Twitter Cards for each individual post and page. If you want to learn how to do this, you can check out our guides on how to add Twitter Cards in WordPress and how to fix the wrong Facebook thumbnail.
It gives you a beautiful preview of how your content will look when it's shared on Facebook or Twitter. You can also edit your title and description, as well as upload a featured image.
In Yoast SEO, the settings look more basic and the preview snippet doesn't look as nice as in AIOSEO.
To summarize, both plugins offer similar social media integration. But AIOSEO gives you the option to tell Google about 3 more of your social media profiles. It also comes with a better social network window that's easier to navigate and simply looks better.
But are those all the SEO tools and features offered by both plugins? Of course not!
Let's also take a look at more advanced SEO tools for both contenders.
Advanced SEO Tools
Advanced SEO tools help you further optimize your site for search engines without having to install any additional plugins.
To start with, both SEO plugins offer key features like:
Built-in robots.txt and .htaccess editor
XML Sitemaps
Import and export SEO data
Breadcrumb navigation
Canonical links
Redirection manager
Apart from these tools, AIOSEO also offers User Access Control, which is an awesome tool. It allows you to manage access to important SEO features without handing over control of your website. Please check out the video if you want a sneak peek at how it works.
You can probably understand why this is important when running a big business with many employees that all have different roles within the company.
In addition, AIOSEO also comes with advanced eCommerce SEO support for WooCommerce to optimize product pages, product categories, and more. As well as Local SEO to help you rank on Google maps, and easily submit your business name, logo, address, and phone number to search engines.
Other notable tools AIOSEO users enjoy include:
Limit the modified date of updated posts
Standalone headline analyzer
For Yoast SEO, you have to buy these features as extra functionalities, meaning separate plugins. Or you'd have to buy the full Yoast SEO package including all SEO plugins, which is quite expensive. That's why, if you're looking for a Yoast alternative that comes with advanced features, AIOSEO is it.
Paid Plans and Pricing
As your site grows, you'll want to improve your SEO so that you can climb the rankings on Google.
While the free versions come with minimal features, premium versions give you more control over your website's SEO.
With that said, deciding on a plan can be confusing. We'll try to break down the important facts about these 2 plugins.
Free Plans for 1 Single Website
When you're just starting out, you'll want to start with the free version of your SEO plugin to try it out. Both AIOSEO and Yoast SEO offer a free version.
AIOSEO's free version has over 3+ million active installations and 1142 five-star ratings. In other words, over 2 million smart website owners use AIOSEO to properly set up WordPress SEO, so their websites can rank higher in search engines.
Paid Plans for Several Websites
If you feel you want to use more advanced SEO tools on a single site, you can start with AIOSEO's Basic plan for as little as $49 per year.
However, if you want to take your SEO efforts to the next level, you should consider buying the Plus version for $99.50 per year (up to 3 sites) or the Pro version for $199.50 per year (up to 10 sites).
Better yet, the Elite version is for business owners with up to 100 sites. And the Pro and Elite versions also offer 1 year of professional priority support.
Yoast SEO is priced higher than AIOSEO for all its versions. Pricing for a single site license starts at $99 per year and moves up to $169 per year (for up to 5 sites). And yet, these plans don't even include many of the advanced SEO tools that All in One SEO offers.
Instead, you have to buy the different SEO features separately, which gets quite expensive since most are $79 per year (for each addon).
And if you want to include all features, the price increases to $229 per year (for the single site license.
Did we say that you can get up to 100 websites (all features included) for only $299.50 with AIOSEO's Elite version?
That pretty much summarizes which of the SEO plugins should be your one and only choice!
More importantly, to give you that extra sense of security, AIOSEO also offers a 14-day no-risk money-back guarantee. So if your plan isn't a good fit, you can get your money back. You don't even need to give a reason for the refund.
Finally, let's take a look at the support you'll get from the Premium and Pro versions of both SEO plugins.
Yoast SEO vs All in One SEO Support
Even though both plugins are fairly easy to use and come with extensive free documentation and video tutorials, your free support options are limited.
Support for Free Versions
Both SEO plugins offer support for free users through WordPress forums.
As of writing this Yoast SEO vs All in One SEO post:
AIOSEO has resolved 101 out of 122 support threads (83%)
Yoast SEO has resolved 609 out of 666 support threads (91%)
The response time is 1-3 working days for both plugins.
Support for Paid Versions
If you pay for either of these plugins, you can access ticket support as well. Within 1 day, you can expect a response to the support tickets from both Yoast SEO and AIOSEO support teams.
Best of all, AIOSEO gives you extensive documentation on how to configure all different SEO tools in its Documentation.
If you don't find what you're looking for, you can also search for it with the search tool.
Having all of these different support options makes it easy to get help whenever you need it.
Yoast SEO vs All in One SEO: Which Is Best?
Image Source: Lipperhey
All in One SEO and Yoast SEO are both great plugins. They are developed with the same goal – to make SEO tasks easy and straightforward for WordPress websites. And they are both doing that exceptionally well!
However, as you've probably understood by now, AIOSEO has passed Yoast SEO with flying colors and is absolutely the best WordPress SEO plugin on the market. For instance, it offers more advanced SEO tools like user access control, the option to customize your sitemaps, and much more.
Not to forget, the awesome on-page SEO audit checklist tool. As well as the option to analyze your competitors' SEO. These are great tools to get ahead of your competitors and gain an edge. And totally unique for All in One SEO!
Undeniably, AIOSEO also comes in neater, tidier, and altogether more user-friendly packaging. When it comes to setting up SEO for individual posts and pages, AIOSEO makes this easier too.
Best of all, AIOSEO is a lot cheaper than Yoast SEO. Besides, it even allows you to add up to 100 websites in contrast to only 20 sites for Yoast SEO. Now that's value for money!
And did we tell you that if you're running a news site, you can automatically submit it to Google News?
Mentioning all the features you get with AIOSEO would take up a lot of space and time, so we won't do it here. However, if you're interested in knowing every feature you get from the plugin, check out our features page.
Is Migrating from Yoast to AIOSEO Easy?
If you're looking for the best Yoast alternative, look no further than AIOSEO.
It's definitely one of the best WordPress SEO plugins on the market. One reason users love it is the simplicity and ease of use it affords. This makes it possible for users to DIY most of their SEO without having to enlist the help of a professional.
With all that being said, you're probably wondering how easy it is to migrate from Yoast to AIOSEO. The good news is that it's a pretty straightforward process. Plus, you get to keep all your SEO data and settings from Yoast. For the exact procedure, check out this post.
B
The AIOSEO setup wizard will walk you through the steps of setting up the plugin on your site. One of the steps includes importing data from other plugins you use, including Yoast. This makes the migration from Yoast to AIOSEO seamless. It's also fast so you don't experience any downtime on your site.
Yoast vs All In One SEO: Boost Your Rankings with the Winning SEO Plugin
With the added features, functionality, and power you get with AIOSEO, making a decision is a no-brainer. While Yoast covers most basic SEO requirements, AIOSEO offers more to ensure that you have an edge over the competition.
AIOSEO is not just a WordPress SEO plugin. It's an SEO toolkit you can use to fine-tune your site's SEO and get better rankings.
Speaking of rankings, you may also want to check out our ultimate WordPress SEO guide or blog post SEO checklist to learn how to boost rankings even more.
We hope this comparison of Yoast SEO vs All in One SEO helped you find the best WordPress SEO plugin for your site.
Thank you, as always, for supporting the best SEO plugin for WordPress!