Research shows that 75% of searchers don't click past the results on the first page. And the first 5 results for a given search account for 67% of all clicks. That's why it's essential to rank on the first page of Google.
In this SEO best practices checklist, we'll give you 20+ ultimate SEO tips that'll help boost rankings and drive more organic traffic to your website at record speed.
Since this is a comprehensive list, you can click on these quick links to jump straight to the different sections:
SEO Best Practices: 20+ Tips to Help You Boost Your Search Rankings
Ready to supercharge your SEO, boost your rankings, and drive more traffic to your site?
Let's dive into our list of the best SEO hacks to help you do that.
1. Use the Right SEO Plugin
One of the first steps to winning at SEO is to use the right SEO plugin. For WordPress users, it doesn't get better than All In One SEO (AIOSEO).
AIOSEO is a powerful yet easy-to-use SEO plugin that has been downloaded over 100 million times. Millions of smart bloggers use AIOSEO to help them boost their search engine rankings and drive qualified traffic to their blogs. That's because the plugin has many powerful features and modules designed to help you properly configure your SEO settings. Examples include:
Search Statistics: This powerful Google Search Console integration lets you track your keyword rankings and see important SEO metrics with 1-click, and more.
Next-gen Schema generator: This no-code schema generator enables users to generate and output any schema markup on your site.
Redirection Manager: Helps you manage redirects and eliminate 404 errors, making it easier for search engines to crawl and index your site.
Link Assistant: Powerful internal linking tool that automates building links between pages on your site. It also gives you an audit of outbound links.
SEO Preview: This gives you an overview of your search and social snippets and general SEO so you can improve your optimization.
IndexNow: For fast indexing on search engines that support the IndexNow protocol (like Bing and Yandex).
Sitemap generator: Automatically generate different types of sitemaps to notify all search engines of any updates on your site.
The best part about AIOSEO is that it's a no-code SEO plugin. This means you can use it to perform most SEO tasks even if you don't have any technical or coding knowledge.
For step-by-step instructions on how to install AIOSEO, check out our installation guide.
Check out our article on the best WordPress SEO plugins for more tools.
2. Perform Keyword Research
Keyword research is one of the key aspects of SEO. You want the keywords on your page to be relevant to what people are searching for so that Google will rank your content on them.
Think about which words and phrases represent your website and business the best. What do you do? What products and services do you offer?
For example, you might come up with "best protein powder" as 1 of your keywords if you sell fitness supplements. Or, if you're running a local plumbing business, you may consider "plumbers in Lake Worth, Florida."
To find the keywords that boost your SEO and drive relevant traffic to your site, you'll need to use a keyword research tool. These help you analyze your keyword's popularity and search volume. That way, you can see how many people are searching for that particular keyword and how easy or difficult it is to rank for it.
Luckily there are several tools available to help you get accurate data on any keyword. You can use a free tool like Google Keyword Planner or paid services like Semrush and Ahrefs. Check out our list of expertly curated keyword research tools for more information.
And if you're stuck on where to start, you can always check and "steal" your competitors' keywords.
3. Understand Search Intent
Since search intent is one of the most important ranking factors in search engines, your first step is understanding your target keyword's search intent.
Fortunately, for most keywords or keyphrases, the search results on Google will tell you everything you need to know about that keyword's search intent.
For example, take a keyword like: "keto supplements". Users searching for that keyphrase could want to buy keto supplements, or maybe they just want to learn more about it.
And according to Google's first page for that keyword, most people searching for "keto supplements" are looking for the best keto supplements and information on their effects.
So if you want to target this keyword's search intent, you need to create content that offers the best possible information about keto supplements. You can consider creating a listicle of the best keto supplements or an informative article on all the important information readers would like to know on the topic.
Remember to always use your main focus keyword or keyphrase in the first paragraph of your content, as well as in the SEO title and meta description. We'll show you how to add that next.
4. Add Your Focus Keyword or Keyphrase
You can easily add your focus keyphrase (your main keyword or keyphrase) using AIOSEO. The plugin will also analyze how well you've optimized your content for it.
Adding your Focus Keyphrase is super easy when using AIOSEO.
To get started, simply scroll down in the post or page you're editing to the AIOSEO Settings and click on the General tab.
Here you can write your focus keyphrase and then click the Add Focus Keyphrase button. This allows you to see how effectively you've used it in your blog post.
It'll double-check so that you've added your focus keyphrase in the first paragraph of your content, SEO title, and meta description.
Now that you know how to figure out a keyword's search intent and how to add your focus keyphrase, we'll move on to why it's a good idea to use long-tail and medium-tail keywords in your content to increase organic traffic.
5. Use Long-Tail and Medium-Tail Keywords
Did you know that long-tail keywords make up 70% of search traffic? So if you want to get more organic traffic, you should definitely use long-tail keywords in your content.
Long-tail keywords are phrases people enter into search engines when they're looking for something specific. Often, they're 3 or more words.
Even though they tend to have low search volume, they're easier to rank for since they have a more specific intent and are more likely to answer users' queries.
If the search volume is too low, you can always aim for mid-tail keywords instead. They're 2 to 3 words long and often have higher search volume. However, they can be more difficult to rank for, since there's more competition for mid-tail keywords.
With AIOSEO, you can add long-tail or mid-tail keywords and even get an SEO analysis of how well you've optimized them in your content. All you need to do is enter your keywords in the Focus Keyphrase field and press Enter.
As you can see, it gives recommendations to add your focus keyphrase in the URL, and also shorten it a bit.
As simple as that!
Now, let's take a look at how you can improve your content and boost your SEO rankings even more.
6. Improve Your Content With Related Keywords
We already know the importance of optimizing your keywords on search intent, but it's also crucial to use the right variations of keywords if you want to increase your organic traffic and climb in rankings on Google.
That's why you need to focus your efforts on creating easy-to-read and high-quality content that also uses related keywords.
This helps Google to better understand the search intent behind your content and match it with more searches.
Best of all, the more keyword variations you use in your content, the more searches you can rank for and the more traffic you'll unlock!
You can easily find more keywords using AIOSEO's Semrush integration. It will give you suggestions for additional keywords and even give you the search volume and trends straight from the screen.
To get started, simply scroll down in the post or page you're editing below your Focus Keyphrase, and click on the Get Additional Keyphrases button.
This will open a new window where you can view suggestions for Additional Keyphrases.
With a single click on the Add Keyphrase button, the new keyphrase will be added to your content.
This will help your content flow better and keep visitors on your page i.e. lower your bounce rate. As well as help you rank for more keywords.
This goes hand in hand with readability, which we'll take a look at next.
7. Use the Readability Analysis Tool
Readability is also an important factor for search engines. Content that's easier to read often ranks higher than content that's difficult to read.
That's why you should always break up your content with shorter sentences, subheadings, images, quotes, and bullet lists—anything that will keep the reader glued to your content and stay on your site.
Fortunately, that's easy when using AIOSEO!
In fact, AIOSEO automatically analyzes readability issues and makes suggestions on how you can improve your content in the Page Analysis section. Simply click on the Readability tab, and it will show a list of what you've done well and what needs to be improved.
Here you can see that this blog post has 4 readability errors that need to be fixed and recommendations on how to improve your content.
It can't get much easier than that to improve readability and boost SEO for your content!
Now, let's move on to an important SEO best practice that can drastically increase your rankings and CTR (Click-Through-Rate) if used correctly.
8. Optimize Your SEO Title or Title Tag
The SEO title or title tag is one of the most important factors that Google uses to decide what your content is about and whether to show your site in the search results or not.
Even if your site ranks well, a good title can be the make-or-break factor in determining whether someone clicks through to your website or not. Also, users can instantly see what your page is about from the search results and determine if your content will meet their needs.
The SEO title is important for 3 main reasons:
It helps Google and other search engines understand what your content is about
It helps you rank for your keyword or keyphrase
It spikes people's interest and makes them click through to your site
In other words, writing captivating titles and using your main keyphrase at the beginning of your SEO title can help improve your CTR.
Here are 2 examples of SEO titles on Google when searching for "best keto recipes":
Judging by the above results, you'd probably click on the first option since it's optimized better and includes more information.
With AIOSEO, you can easily optimize your SEO title manually or by automatically adding one using our ChatGPT-powered AI Title/Description Generator.
How to Manually Add an SEO Title in WordPress
You can manually add an SEO title in WordPress by either using pre-installed smart tags with different variables or by typing in your own title.
Let's show you exactly how easy it is!
To get started, scroll down to the AIOSEO Settings in the post or page you're editing and to the Post Title section. You'll first see a Preview that shows an example of how your content may look in the search results based on the Title and Meta Description you enter.
You can either click on one of the smart tags or type in your own SEO title. Alternatively, you can also click on View all tags or type the hash character ( # ) in the field to display a list of available tags to choose from. For example, if you click on the + Site Title tag, you'll get a drop-down with different variables you can use for your site title.
Or you can type in your own SEO title in the Site Title field. And if you're editing one of your posts, you'll enter it in the Post Title field instead.
AIOSEO will give you the recommended characters for your title. It's recommended to use a maximum of 60 characters. If you use more than that, Google will cut off your SEO title in the search results and show an ellipsis, "…" to imply that your SEO title has been cut off.
Best of all, AIOSEO even analyses your title and lets you know if it's properly optimized.
To check your title analysis, you simply scroll down to the Page Analysis section, and click on the Title tab.
As you can see, this title doesn't include power words, which are recommended to create impactful SEO titles that drive clicks.
Using AI to Add SEO Titles in WordPress
Manually adding SEO titles to your posts and pages can be laborious. That's why you should consider speeding it up by using AIOSEO's AI Title/Description Generator. This powerful module scans your content and crafts an SEO title based on the main theme.
All you have to do is click on the robot icon in the Post Title field, and the title generator will give you 5 suggestions.
Simply select the one you want to add it as your SEO title. You can even edit it if necessary.
For more details on using this revolutionary tool, check out this tutorial.
9. Write a Well-Crafted Meta Description
Writing a well-crafted meta description can compel users to click through to your website. And it also lets Google know what your page is about.
A good meta description should:
Describe your page's content
Answers users questions
Include a call to action
Be unique and interesting
Include your main or focus keyphrase
That being the case, here's an example of a meta description in the search results on Google:
Google doesn't always use your meta description and sometimes adds its own based on your content. But in case it does, you should write as descriptive and compelling meta descriptions as possible.
AIOSEO makes this easy as 1-2-3!
In fact, you can easily write your meta descriptions directly in the Meta Description field.
Don't forget to add your main or focus keyphrase early in the meta descriptions to optimize it for SEO rankings.
You can also use any of the pre-installed smart tags to insert different variables. For example, the + Post Excerpt automatically adds your post's excerpt to your meta description.
And just like when you added your SEO title, AIOSEO gives you the max recommended characters for your meta description to avoid it getting cut off in the SERPs (Search Engine Result Pages).
Again, you can also use the AI Title/Description Generator to speed up the process of creating optimized meta descriptions.
Check out this tutorial for step-by-step instructions on how to do that.
10. Crush It in Visual Search
Did you know that articles with images get 94% more views than those with no visuals? And 32% of marketers say visual images are the most important form of content for their businesses.
That being the case, optimizing your images is crucial if you want to crush it in visual search on Google and other search engines. And to do this, you should ensure you add additional information about your images, so search engines can understand what they're about.
For instance, Google tends to pull Google Lens image results from pages with an average of 1600 words. That's because the text is also important for image SEO.
So to best optimize your images, you need to:
Add descriptive image file names
Write SEO-friendly alt text
Use image caption when needed
Consider if you're SEO title and description are relevant to your images
Choose the right image format
Define your image dimensions
Compress your images
These are just a few of the SEO best practices for images. For more details, you can check out our image SEO guide with tips on optimizing your images in WordPress.
Not to forget…
…make sure that your website is mobile-friendly. Google won't show your content in image search if your site isn't optimized for mobile. Google now has a mobile-first index and may only rank mobile-friendly content, which we'll look at in the section: prepare for mobile-only indexing.
That said, let's move on to how to add additional information to your content and get featured in the rich results on Google.
11. Use Schema Markup and Rank for Featured Snippets
You've probably seen those nice-looking rich search results on Google with additional information, such as star ratings, prices, cooking time, questions and answers, etc.
Google rich snippets can help you unlock the highest rankings and traffic for your site. They allow you to add additional information about your pages, as well as look more appealing in search results.
For example, this is how rich snippets for 'best keto recipes' can look like on Google:
As you can see, the 2 rich snippets to the right show a nice image, title, star ratings, and cooking time. They give users the sneak peek they need to decide whether they want to check out your recipe or not.
Best of all, your listings get more noticeable in searches, which means that you're likely to drive more organic traffic to your site and grow your business.
Here are other examples of product rich snippets for Apple watches:
Users can see the price, star ratings, and where to buy these Apple watches. They also look extra good in search results.
Plus, with AIOSEO's next-gen Schema Generator, you can any schema type to your content.
You can also add custom schema if your particular schema type isn't available in the schema catalog.
For detailed instructions on adding schema markup in WordPress, check out our detailed tutorial.
12. Create an XML Sitemap
An XML sitemap is a list of every new and important URL on your website. In other words, it helps Google and other search engines to find and crawl your new content.
This may sound a bit intimidating, but don't worry…
…AlOSEO automatically generates an XML sitemap for you and sends it to all popular search engines. All you need to do is check if it's enabled by navigating to All in One SEO menu » Sitemaps, and click on the General Sitemap tab.
This will open the General Sitemap window, where you can see that the Enable Sitemap option is set to on.
That's it!
Now you can rest assured that Google will get all your new updates and will index and crawl your site. So let's move on to how to optimize your video content to rank in video search next.
13. Optimize Your Video Content for Video Search
Video content is something you can't ignore as a marketing and SEO tool. 87% of video marketers say video has increased traffic to their website, and 80% say it directly helped to increase sales.
Adding videos to your content can help with:
Increasing Your Organic Traffic — including video on your site drives a 157% increase in organic traffic.
Lowering Your Bounce Rate — people spend over twice as long on a page with video than without.
Help You Get More Quality Backlinks — the higher the quality of your content, the more likely you are to get quality backlinks.
Also, if you publish YouTube videos, you'll own more Google real estate since Google owns YouTube. That's why you need to make sure your videos are found by search engines so that they'll rank your videos in video search.
And the best way to do this is by creating an XML video sitemap, which is a specially formatted file that lists all pages on your website that contain videos.
And to use a video sitemap generator plugin for WordPress like AIOSEO is the absolute easiest way to create a video sitemap.
AISOEO will notify search engines of all new video content added to your site, which will help you rank higher in video search on Google.
Best of all, it's super easy!
In fact, if you have the Pro version, the video sitemap is enabled by default, and there's very little configuration needed. 
Like you did for your XML sitemap, you simply go to Sitemaps in the All in One SEO menu, and then click on the Video Sitemap tab.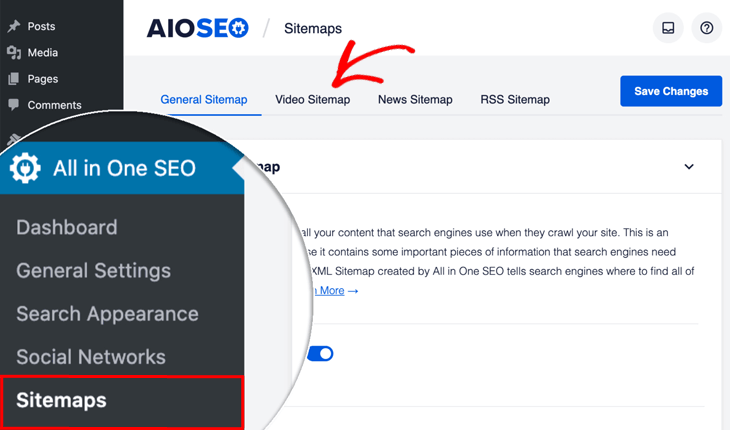 Here you'll see the video sitemap screen, and you need to make sure that the Enable Sitemap button is set to on.

The blue button means you're all set, and AIOSEO will send your video content to Google.
Easy peasy!
That said, even the simplest things are important if you want to boost your SEO. Let's show you how to use an SEO-friendly URL structure next.
14. Use an SEO-Friendly URL Structure
A study conducted by Backlinko found that short URLs tend to outperform long URLs in search results. That being the case, using an SEO-friendly URL structure makes it easier for both search engines and users to understand what your page is about, as well as provides a good user experience.
Your URLs should not only be on the shorter side but also describe the page using keywords that are easy to read for both Google and your visitors.
Always include your target keyword in your URLs to increase your chances of ranking better in search results. And try to make them look clean and short.
For example, this is how an SEO-friendly URL can look like:
https://www.example.com/how-to-make-a-website
This URL is short, organized, and easy to read. Both Google and users can tell what the page is about.
Unoptimized URLs, on the other hand, are random and hard to read or remember. They usually include numbers, letters, and special characters.
Like this one:
https://www.example.com/?p=10467
To make sure your URLs on your WordPress site are SEO-friendly, simply head over to Settings » Permalinks, and mark the Post name option.
For more details on an SEO-friendly URL structure, check out this article on our site.
One last thing…
…don't put dates or years in your URLs. This makes it more difficult to re-feature old content, and users may think your content is old even after updating it.
15. Link Internally and Externally
Internal linking is another important SEO best practice that helps boost rankings and traffic. For instance, it can help visitors navigate your site and search engines like Google to discover your new content. 
There are 2 main methods for building a good internal link profile:
Always include relevant internal links in your content whenever publishing a new piece of content
And on a regular basis (weekly or monthly), update your older content by adding links to newer content
To make this process easier, you can use AIOSEO's Link Assistant. This powerful feature will automatically generate a Links Report with internal linking opportunities for both your new and old posts.
You can automatically add the internal link suggestions to your posts in 1-click. No need to edit posts individually.
Don't forget to link externally as well. When you link to relevant external content, it creates a relevancy signal which helps Google to better understand the topic of your content.
With internal and external linking, you'll help your readers and Google discover how all your content is related.
Also, remember to write descriptive anchor texts to ensure Google knows about all your links and ranks your content.
Keep this in mind…
…the more information you give search engines, the better!
16. Find and Fix Broken Links
Broken links are links on your site to another webpage on your site (or other websites) that are no longer accessible. These result from many issues, including typos in the URL, deleted pages, a page being moved but no redirect implemented, and more.
Broken links negatively impact your SEO because they cause crawl errors and poor rankings. This also leads to a loss in traffic as users can't access the URL.
And that's why you need to scan your site for broken links regularly. If you're a WordPress user, this is easy with AIOSEO's Broken Link Checker.
This powerful plugin scans all the links on your site and lists all broken links. It also provides an easy way to fix all the broken links it finds.
You don't even need to open any web pages!
Just click Edit URL to replace a broken link – right inside the plugin. You can also edit the anchor text at the same time.
The best part is that the Broken Link Checker plugin automatically scans your site every 3 days. This ensures that you don't miss any broken links.
Check out this article for detailed instructions on using this game-changing tool.
17. Boost Your Site Speed
Google has confirmed that site speed is in fact a ranking factor, so it's important that your website is loading fast enough. If not, visitors may give up on your website and move on to the next one.
In fact, studies have shown that 75% of users wouldn't re-visit a site that took longer than 4 seconds to load. And this means that Google may see your website as less relevant and won't favor it in search results.
We don't want that to happen to you!
Anyhow, to increase your site speed, we recommend that you:
Install a cache plugin that stores your larger files in the user's web browser
Compress your images to reduce their file size
Use a CDN (Content Delivery Network) to serve a cached version of your site from the server closest to your geographical location
Switch to a faster hosting provider
To learn more about how to best optimize your website for site speed, you can check out our post on 30 SEO hacks guaranteed to grow your traffic. It'll give you lots of actionable hacks you can use to boost your SEO at record speed.
18. Make Sure Your Website Is Secure
Website security has always been a top priority for Google since it wants to protect users' privacy.
And that's why Google recommends implementing SSL / HTTPS on all websites. SSL is an industry-standard security measure that creates an encrypted link between each visitor's browser and your website. This adds an additional security layer to your WordPress site.
Once you install SSL on your site, a padlock sign will appear in the address bar, showing your visitors that they're on a secure page. In addition, your URL will begin with HTTPS instead of just HTTP.
Take, for example, MonsterInsights. It has a lock next to its URL and an 's' after HTTP. This means the site is encrypted.
So when users log in to your site or buy a product, the SSL certificate will better protect their information. For more details, you can check out WPBeginner's ultimate WordPress security guide.
Alright, let's move on to something that's extra important for business owners who want to increase rankings in local search.
19. Optimize for Local SEO and Rank on Google Maps
If you're running a brick-and-mortar store or offering services in a specific location, you should create a Business Profile in Google My Business. As well as add local business schema markup to your site.
First of all, a Google My Business profile is important for SEO because it lets you be more visible in local search and Google Maps where your potential customers can find your business.
Second of all, to increase your chances of getting featured on Google Maps or Google's Knowledge Panel, you can add local business structured data or schema markup to your pages.
For instance, it can look like this when users search for "publix in west palm beach":
Google may show a Knowledge Graph card with the nearby locations for Publix in West Palm Beach, which is possible when multiple location schema markup is added to your site.
With AIOSEO's Local Business SEO addon, you can easily set this up and start increasing your rankings in the local search results, on Google Maps, and on the Knowledge panel in no time. For more details, please visit our local business SEO documentation.
If you want to learn more about optimizing your website for local search, you can check out our local SEO checklist.
20. Prepare for Mobile-Only Indexing
Research shows that over 65% of web traffic comes from mobile traffic. This means if your site isn't optimized for mobile, you're losing out on most of the traffic you could be getting.
If your site isn't optimized for mobile, Google will still show it. But it'll rank mobile-friendly sites higher because of its mobile-first index.
The easiest way to make your site mobile-friendly is to use a responsive WordPress theme that adapts to different screen sizes and devices. To find a responsive theme, check out our in-depth reviews of the best WordPress themes for SEO.
If you already have a responsive WordPress theme, you can check out Google's Mobile-Friendly Test to see how your site performs on mobile devices.
21. Optimize for Voice Search
Studies show that Google Assistant usage has increased by 400%. This means voice search is quickly becoming one of the most popular ways consumers search for products and services online.
It's now more convenient for people to simply talk into their phones or smart speakers instead of opening Google whenever they have a question. So your website needs to follow this trend to stand a chance of ranking in voice search.
Fortunately, it's not as difficult as it may sound. You can start with the following 2 steps:
Try and figure out what a consumer will likely say, instead of type — strangely enough, these two things are often different, so choosing the right keywords for voice optimization is important
Focus on publishing content that's conversational on your site and write as you believe users will speak
This and adding your main keywords to the content will take you far.
Now to something exciting and our final SEO tip: How to check your SEO site score and fix critical errors to maximize your SEO rankings.
22. Check Your SEO Site Score and Fix Critical Issues
You won't know how your SEO is doing and what to improve without analyzing your site. With AIOSEO's SEO Audit Checklist, you can find out your site's critical issues and fix them before they hurt your rankings
This unique feature lets you analyze your website in seconds and gives you an easy-to-understand checklist to help you improve your website's overall SEO score.
To get started analyzing your site, simply go to the SEO Audit Checklist tab in the SEO Analysis settings.
From here, you can check your SEO site score. The general rule of thumb is to aim for a score of 60 and above.
If you end up with a low score, then you can scroll down to the Complete SEO Checklist section and look for recommendations on how to improve your score.
In the Basic SEO section, you'll find a list of critical issues that need fixing to maximize your rankings, as well as what you've done well.
This is extremely valuable information if you want to find out how to maximize your website's SEO!
You check out our SEO Audit Checklist feature page to learn more about this fantastic SEO tool that's unique for AIOSEO.
23. Monitor Content and Keyword Performance
Once your content is live, you should track its performance on SERPs. This is important as it:
Helps you see if your SEO strategy is working
Spot and combat content decay
Gives you insight into content that needs better optimization
All this can be done right from your WordPress dashboard using AIOSEO's Search Statistics module. This is AIOSEO's Google Search Console (GSC) integration and gives users valuable SEO data to help monitor campaign performance.
Some reports you get from this powerful module include:
SEO Statistics
Keyword Rankings
Content Rankings
These give you a lot of metrics you can use to gauge your performance, identify issues like content decay, and give you insights into how to improve your campaigns. All these will help you boost your SEO, traffic, and engagement.
For more information on how to use Search Statistics to boost your SEO, check out this guide.
24. Redirect Your Old URLs and Avoid 404 Errors
When managing your website's content, it's a natural process to delete or change your URLs. But it's important to avoid 404 errors and dead-ends since it can confuse search engines and users. Even worse, it can hurt your SEO.
Luckily AIOSEO's powerful Redirection Manager allows you to redirect old URLs to your new relevant pages easily.
Best of all, you don't have to be a web developer or constantly monitor your site because AIOSEO automatically redirects users to your new URLs.
It also allows you to set redirects at the server level, which significantly speeds up the redirect process. Plus, you can also add redirects in bulk.
Check out our detailed guide for step-by-step instructions on adding redirects in WordPress.
Put These SEO Best Practices to Use and Watch Your Rankings Soar
We hope this post helped you discover some SEO best practices to help you optimize your site for optimum performance. These tips will also help boost your search rankings and revenue. You may also want to check out other articles on our blog, like our DIY SEO tips and our guide to using AI SEO software to boost your rankings.
If you found this article helpful, then please subscribe to our YouTube Channel. You'll find many more helpful tutorials there. You can also follow us on Twitter, LinkedIn, or Facebook to stay in the loop.