A local search strategy is incredibly important. Instead of targeting a global audience, it's all about reaching people who live in a specific area close to your business.
We decided to create a complete local SEO checklist with the goal of helping you rank higher in local search and on Google Maps so that you can get more visibility online, organic traffic, leads, and sales.
But before we walk you through the checklist, we're first going to answer two important questions: what's local SEO and why is it important.
What's Local SEO?
Local SEO is a term for strategies businesses use to improve their online visibility to reach a location-specific audience. The main difference between local SEO and "regular" SEO is basically how you target customers.
For instance, business owners that have brick and mortar stores or offer local services like plumbing use the internet to promote their brands and reach their local target audience.
And since customers across all industry types are searching for the best products and services near them, they want local answers fast. That's why and when you want your local business listing to show up on the first page on Google.
Why Is Local SEO Important?
Local SEO is important because one-third of all searches mention specific locations and 97% of people learn about local companies online more than anywhere else.
In fact, 70% of mobile searchers call a business directly from the search results, and 28% of local business searches eventually turn into a sale.
Also, the terms "where to buy" and "near me" increased 200% over the past 2 years, and search queries for "(store) near me" have grown 250%.
This should make you excited about getting your local SEO strategies in check!
When done right, local SEO allows people to find information about your business quickly and easily, putting them one step closer to purchasing from you.
But with the growing number of search results features – like image carousels, maps, lists, FAQs, "people also ask" dropdowns, etc. – it's getting harder to rank high on Google. Your company must also win these featured snippets to have a chance of competing for customers, which we'll show you how to do in section: use local business schema markup.
Here's our local SEO checklist with 10 tips that'll help you rank higher in local search and on Google Maps. Since this is a comprehensive list, you can click on these quick links to jump straight to different sections:
Let's start by taking a closer look at local on-page SEO and how to optimize your title tags.
1. Optimize for Local On-Page SEO
Optimize Your Title Tags
The first step in local on-page SEO is to optimize your title tags. They need to include the keywords or keyphrases you want to rank for.
More importantly, you'll want to target keywords that use words that focus on location. For example, if you have a sports bar, you'd want to use a keyphrase like "sport bars near me".
You can easily optimize your title tags using the best WordPress SEO plugin, All in One SEO (AIOSEO). We'll show you exactly how easy it is next.
After installing and activating AIOSEO, simply scroll down on the page or post you're editing to the AIOSEO Settings, and type in your title in the Page Title section.
The Snippet Preview will show a preview of your Page Title and Meta Description. You can also add a Focus Kephrase, which should be your main keyphrase for your page or post.
Don't forget to include your location in the Page Title, Meta Description, and Focus Keyphrase. If you want to optimize your page for multiple keywords, you can add Additional Keyphrases as well. For more details, please check out our guide on how to add multiple keywords in WordPress.
Best of all, the content analysis feature gives recommendations on how to improve your SEO. Simply scroll down in the AIOSEO Settings and click on the Basic SEO tab, and it'll show you a list of what you've done well and recommendations of improvements.
It even analyzes your Title for length, power and sentiment words, and gives an Overall SEO Score in the top right corner of your WordPress editor.
These are all powerful tools to help you optimize your title and meta tags to improve your local SEO.
Structure Your URLs
Well-optimized URLs are important for both SEO and user experience. Search engines factor many variables into what pages to rank, and URLs are high on the list.
Let's show you the difference between an optimized and not optimized URL:
Optimized URL:
https://example.com/blog/local-seo-checklist
Not optimized URL:
https://example.com/blog/?p=4633
The optimized URL is clean, and it's easy to understand what it's about. The not optimized URL has different letters and symbols that don't make sense. You need to consider the usability, which is a key component to URLs and all aspects of SEO.
Also, don't forget to include your main local keyword in the URL.
Optimize Your Images
Images are indexed by search engines just like your website content. So optimizing them for image search is an essential step in any SEO strategy.
Start with compressing your images, since heavy images will decrease your page load speed. This can also increase your bounce rate because your visitors won't have the patience to wait for your site to load, which isn't optimal for Google either.
In fact, Google favors sites that load fast.
You can use free services to compress your images, such as TinyPNG for PNG & JPG files or CompressJPEG for JPG files.
Next, you'll need to:
Include descriptive filenames for all your images
Write alt texts, which describes them and includes your main local keyphrase
That's it!
Let's move on to the importance of having consistent NAP details next.
Have Consistent NAP Details
NAP means your Business Name, Address, and Phone number. Plus other important information about your business. Having the same NAP details for all your listings across the internet is crucial for local SEO.
Google scans all these listings when searching for information about your business. The data is then stored and used when determining ranking.
Also, incorrect information in NAP citations can confuse your prospective customers and give them a bad user experience.
A good solution is to create a contact us page with all the NAP details of all your business locations. Then, add it to business directories, social media pages, citation sites, and so forth. If you'd like to include a contact form on your page, you can check out WPBeginner's guide on how to create a contact form in WordPress.
Create an XML Sitemap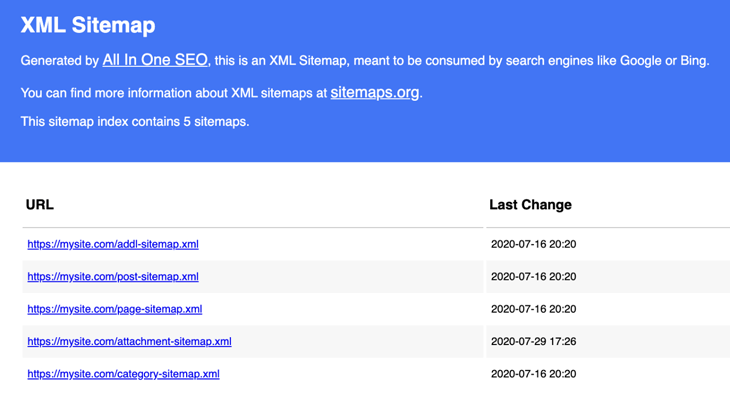 An XML sitemap helps search engines easily navigate through your website content. It gives them a list of all your content in a machine-readable format.
While sitemaps won't directly boost your rankings, they allow search engines to better crawl your website. This means that they can find more content and start showing it in search results, which can result in higher rankings and more traffic to your site.
AIOSEO automatically generates an XML sitemap for your site and sends it to Google, plus the other search engines.
The only thing you need to do is make sure it's enabled.
To get started, simply navigate to Sitemaps in the All in One SEO menu, and click on the General Sitemap tab.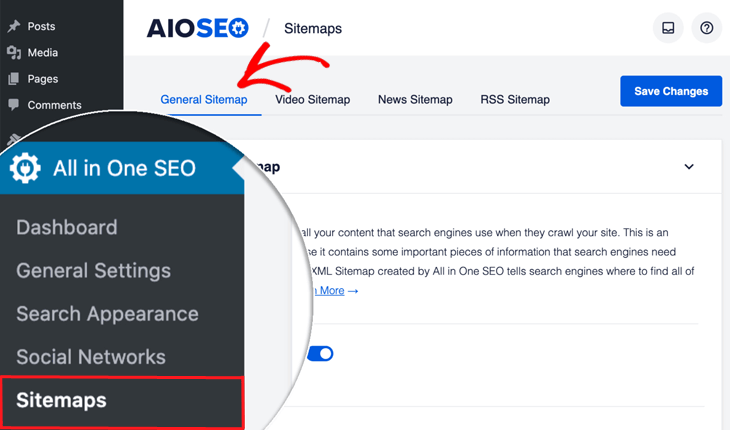 Once in the General Sitemap window, you only need to double check so that the sitemap is enabled.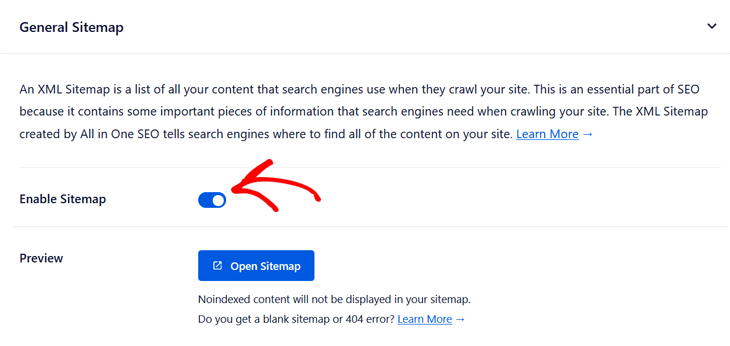 It can't get any easier than that to generate an XML sitemap for your website and make sure Google gets all your new updates.
With AIOSEO, you can customize your sitemap and also create a video sitemap or Google News sitemap. For more details, please visit our guide on how to create a sitemap in WordPress.
Perform an SEO Audit
One important aspect of improving the local SEO for your site is to identify issues that are hurting your rankings and reducing the traffic you get from SERPs (Search Engine Result Pages).
But what's even more important is to find out what you can do to improve this.
AIOSEO is a complete WordPress SEO plugin and unique in many aspects. And especially for its SEO Audit Checklist tool. It helps you detect critical errors and gives suggestions on how to improve these.
The SEO Audit Checklist tool analyzes your site and gives you an Overall Site Score.
In this example, the score is above 80, which is an excellent SEO score. You should get a bit concerned if your score is below 60.
The Complete SEO Checklist shows your site's critical issues and recommendations on how to improve them.
As you can see, it detected 4 critical issues that need to be fixed to be able to maximize rankings on Google.
The SEO Audit is a fantastic tool to help you improve your local SEO without having to be an SEO expert. As a bonus, it also lets you analyze your competitors' SEO, so you can find out what keywords they're using and gain an edge. If that spiked your interest, you can check out our guide on how to do an SEO competitor analysis the easy way.
2. Get Listed on Google My Business
The next thing you should check off your local SEO checklist is to create a Business Profile in Google My Business.
Business Profiles are specific to businesses that serve customers at a particular location or within a designated service area.
Why Is a Google My Business Profile Important for Local SEO?
A Google My Business profile is important for local SEO because it lets you be more visible in local search and on Google Maps, where your potential customers can easily find your business.
You'll have your own profile and you can add your business's information, photos, and showcase reviews. Right in the search results.
Best of all, this will increase the click through rate to your site and likely lead to more sales for your business.
To set yours up, either add your business or claim your existing business on Google Maps. Google offers instructions with a helpful video:
Don't forget to enter the correct information, since a detailed Business Profile listing can help visitors pick your business over competitors. No one likes to guess your opening hours, products or services, and so forth.
Select Business Categories Carefully
One important step in this process is to choose the most relevant category for your business.
In terms of local SEO, choosing this category is like choosing your site's main target keyword that describes your product or service.
There are close to 4,000 categories you can choose from to label your business. And you'll want to choose a category that not only applies to your business but will also be a popular search term. In addition, you can also add additional categories to rank for more keywords.
In conclusion, your checklist for Google My Business is:
Create your page
Claim/add/verify your profile
Choose the category that best suits your business
Optimize your profile with images and information related to your business
Remember this: the more information you give to Google, the more likely it is to show your business in the local search results. In fact, Google gives you a score of how complete your business profile is, so try your best to get this up to 100%.
3. Build and Optimize Your Citations
Citations are important because they help Google to trust your business. If Google sees consistent citations of your business name, address, and phone number, it counts it to be trustworthy information. Conflicting info about a business can negatively impact your SEO.
The first thing is to make sure that your business information is displayed on your site where it's easy to find. For instance, it can be on your homepage, in your footer, or on a contact us page.
To avoid inconsistency when adding citations to other websites, it can be good to use a Listing Management solution like Semrush offers.
Just enter your business information and Semrush will do the rest to make sure your business info appears consistently on every major citation site on the internet (including Facebook, Google My Business, Yellow Pages, and more).
To improve your local SEO even more, you should check where your competitors are and get on those sites as well. And don't forget to remove duplicate citations since they can push your rankings down due to inconsistencies in data.
4. Submit Your Site to Local Directories
Submit your site to local directories, such as Yelp and Bing. For instance, Yelp is one of the most popular sites for business discovery and reviews. And getting listed on Bing can help you earn more leads for your business.
Did you know that local directories also include social media sites? Even if you're not a fan of social media, it will help boost your SEO.
To make it easier to know what directories to look for, you can check out HubSpot's local business directory list.
It's also good to get listed on niche-specific or industry-specific directories so that your business can be found by more prospective customers in your nice. To find these, you can simply use the Google giant and search for: "your niche or industry, plus business directory."
Overall, the best thing is to try and identify the local directories where your customers are and add your business to them.
Don't forget to keep your business information consistent on all directories to be trusted and favored by Google.
5. Use Local Business Schema Markup
Adding schema markup or structured data to your site, and especially Local Business schema, can help your business show up in special SERP features like carousels and answer boxes.
With AIOSEO's Local Business SEO addon, you can tell Google about your business hours, different departments within your business, reviews for your business, and much more.
Here's an example when Local Business schema is added to your site:
When people search for a business (for example, "NYC animal shelter" like in the above screenshot), Google shows a Knowledge Graph card featuring businesses related to their search, putting your company right at the top of the results.
But adding structured data to your website isn't easy if you're not a developer. You need to insert specific properties to your site's code in the right way. If you don't know what you're doing and add it to the wrong place, it might not work. Even worse, you could mess up your code, breaking your website.
That said, with the Local Business SEO addon to AlOSEO, this process is easy and doesn't need any coding skills.
You simply enter your business information and opening hours into the Local Business Schema section and press 'save'.
AIOSEO makes it easy to get your business featured in search results!
Rich Snippets Increase CTR
Local Business rich snippets will increase the click through rate to your site since they look more appealing and give additional information about your business.
And like you know, more clicks will eventually lead to higher rankings and more conversions as well. It's a great way of boosting your SEO, getting more organic traffic, and increasing sales.
With AIOSEO, you can also add schema markup to:
Products
Articles
Apps
FAQs
Recipes
Courses
Breadcrumbs
Sitelinks Search Boxes
To learn how to easily add schema markup to your site, check out our guide on how to add rich snippets to WordPress.
6. Develop a Social Media Strategy
The impact of social media on local SEO often gets swept under the rug. That's because the connection between social media and rankings on Google hasn't always been crystal clear.
But the truth is that more and more consumers use social media to research products and services. Also, social profiles often show up on the first page on Google when people are searching for businesses.
That's something to consider and take advantage of!
For example, when searching for "sports bars in davie florida", Google lists Wunderbar Sports Bar & Grill's Facebook page.
Better yet, if you have Facebook reviews, they'll show up alongside your business name in a Google search. You should take advantage of your reviews and post them on your website. And also use them in other forms of marketing, such as direct marketing, email marketing, etc.
Don't Get Overwhelmed
So what's a good social media strategy?
First, you need to identify social media sites that are popular with your customers and target audience.
However, to not be overwhelmed by choosing between all social media sites, such as Facebook, Twitter, Pinterest, LinkedIn, Instagram, etc., you should only consider sites that are relevant to your business.
For example, if your business doesn't generate a lot of photos, it wouldn't make sense to be on Instagram that's solely based on posting pictures.
You get the point!
More importantly, get someone to monitor your social media sites and who's responsible for posting new content, answering comments and reviews.
It's never good to let your social profiles get stagnant. Or even worse, if a question would go unanswered, it wouldn't look good for your business.
Leverage User Generated Content
Another good strategy is to share and leverage user-generated content. This means any type of content that's been created by users, contributors, or a better word: your fans.
For instance, Smash Balloon is a great social media feed plugin that will help you showcase user-generated content on your website. Doing so will boost engagement, subscribers, and sales, as well as increase the click-through rate to your site and improve your rankings.
Best of all, user-generated content is free marketing!
Also, people tend to trust user-generated content more than content that brands produce themselves. You should definitely leverage this for your business. For more details, please visit how to add ugc links attribute in WordPress.
7. Encourage Customer Reviews and Testimonials
The next step to check off on your local SEO checklist goes hand in hand with developing a social media strategy since it also includes taking advantage of customer reviews.
Not only can reviews help your website rank higher in search engines, but the star ratings next to your business name will also help your business stick out from the crowd on Google's Knowledge Graph card or Google Maps.
Like on this example for the grocery store Aldi:
The reviews can be seen straight from the search results. So if your business has good reviews, people know they can trust you and want to buy from you.
Google itself has this to say about reviews on Google My Business:
"High-quality, positive reviews from your customers will improve your business's visibility and increase the likelihood that a potential customer will visit your location."
How to Get More Customer Reviews?
To get more customer reviews, the first thing you can do is to simply ask for them from your customers. You can also offer them an incentive to write a review, like participating in a drawing for an exciting give-away or such.
Google actually offers a Marketing Kit where you can get free stickers, posters, and more to encourage people to review you on Google. Or you can also give your customers a direct link to a page where they can leave a review.
Monitor and Respond to Reviews Regularly
When you start to get reviews, it's important to respond to show you're engaged with your customers. Let them know you appreciate their positive reviews and have an answer or apology for any negative reviews.
Replying to reviews can help you build a relationship with your customers. Even if the reviews are negative, customers can still choose your business depending on how well you respond to them.
Don't forget to showcase good reviews from your existing customers and post them on your website, plus all other marketing channels to improve your credibility.
You should be proud of them!
8. Develop a Backlink and Content Strategy
Links are a key ranking factor for any website, which makes link building an essential SEO practice. Getting backlinks from local blogs, neighboring businesses, or other sites in your specific niche or industry could go a long way in boosting your local SEO.
One of the most important aspects of links is the quality since that's what builds authority online. If you get backlinks from well-respected websites, Google sees your site as trustworthy, which increases rankings.
And high-quality content usually results in high-quality links, so focus on creating content that other sites in your niche will want to link to.
For instance, a good tip is to create illustrative infographics that other sites are allowed to publish with a link back to credit your site. This will give your site good link juice or link equity (meaning votes for your site).
Anyhow, the basics of link building come down to simply making connections. Don't be afraid to ask website owners in your niche if they can link to your site in exchange for a link back.
Get Voice Ready
Voice search is quickly becoming one of the most popular ways consumers find out about local businesses, as well as brands around the world. It's now more convenient for people to simply talk into their phones or smart speakers instead of opening Google every time they have a question.
Did you know that 45 million people use voice assistants every single day, and Google Assistant usage has increased by 400% in the last year?
What's great for local SEO is that mobile voice searches are 3x more likely to be based on a specific location. So you should definitely take the necessary steps to improve your rankings on Google's voice search.
Optimizing your site for voice search means understanding what a consumer will likely say, instead of type. Strangely enough, these two things are often different, so choosing the right keywords for voice optimization is crucial.
We understand this can sound a bit intimidating, but it doesn't have to be.
You should first and foremost focus on publishing content that's conversational on your site. This, together with adding your local keywords to the content will take you far.
9. Make Your Website Mobile-Friendly
Did you know that Google drives 96% of mobile traffic, and more than half of internet users are accessing the web via mobile devices? More importantly, 18% of smartphone users made a same-day purchase after performing a local search?
The rise of mobile devices has made failure to look after mobile SEO a death sentence. It can result in search invisibility.
You don't want that to happen to your business…
It's more important than ever to make sure your website is mobile-friendly, because:
There are more mobile searches than desktop searches
Google now has a mobile-first index and ranks mobile-friendly sites higher
Mobile searches where people are looking to buy have increased
That's all good facts, but how do you not risk being invisible online?
First of all, you'll have to think carefully about the experience you're providing for your mobile users.
For example, no one wants to visit a site that's been squeezed to fit into the smaller screen. Mobile-friendly sites need to have a simple and clear design that helps users access information easily without needing to zoom and scroll too much.
Also, you have to optimize your site for speed. Not only do visitors give up after only a few seconds of page loading, but Google also favors sites that load fast.
As mentioned earlier, one step to make your site load faster is to compress heavy images. Other options are to use cache plugins, such as WP Rocket or W3 Total Cache, or optimizing your robots.txt file.
Of course, there are more advanced things you can do to optimize your site for mobile usability, but these are a few of the simplest ways to start.
10. Track the Impact of Your Local SEO Efforts
Lastly, you'll need to track the impact of your local SEO efforts so that you know what's working or what's not, and where you need to make improvements.
However, if you think Google Analytics seems intimidating and slightly confusing, we have a better solution for you.
The easiest way to add tracking to your website is by using the best WordPress Google Analytics plugin on the market, MonsterInsights.
With MonsterInsights, you'll get access to real time analytics straight from your WordPress Dashboard.
And you can easily decide what metrics you want to track already in the Setup Wizard. It's very straightforward and easy to follow.
MonsterInsights even helps to find your most popular pages in just a few clicks. You can view a report of your Top Posts / Pages in your Dashboard.
You can also view the full report by clicking on the View Full Post / Page Report button. By knowing this information, you can work on creating killer content that resonates with your local audience.
There's a lot more you can track like referral traffic, exit pages, scroll depth, etc. It's all there to help you optimize your website so that you can improve rankings and drive more traffic to your site. For more details, please visit MonsterInsights guide on how to add Google Analytics to WordPress.
We hope this local SEO checklist gave you all the tools you need to increase your visibility online and rankings in local search and on Google Maps. Use these tips, and your business will climb the rankings in no time.
You may also want to check out our guide on how to add Google Search Console to your WordPress website. It's another good way of getting keyword ideas and checking your site's health.
Not to forget, if you're looking for even more ways to improve your overall SEO, we also have these great blog posts you should check out: blog post SEO checklist and ultimate WordPress SEO guide.