Do you want to know how to index your website on Google so it'll show up in search results?
When a user makes a search, Google uses its index to look for the most relevant content to match the search. This means that if your website isn't indexed, it doesn't exist in Google's search engine. And that would be bad news if you're looking to drive organic traffic to your site.
So in this post, we'll show you 9 quick and easy ways to index your website on Google. We'll also explain what Google's index is and how to check if Google has indexed your site.
What Is Google's Index?
Google's index is simply a list of all the web pages that Google has crawled and knows about. If Google doesn't index your website, it won't appear in search results.
No one would find your site, which wouldn't be good for business… Now you probably understand why indexing is crucial to rank on Google.
Since there are a lot of complicated words in this post, we'll start by defining a few key terms, so you know what we're talking about:
Indexing – the process of storing web pages in a Google index (database)
Crawling – the process of following hyperlinks on the web to discover new content
Googlebot/web spider – Google's software that systematically searches the web for new content by following links
Now that you know what these key terms mean, let's take a look at how to index your website on Google next.
How to Index Your Website on Google
Like mentioned, Google uses its index to look for and show the most relevant content when users are performing a search. This means that Google needs to be able to find your website to index and show it in search results.
Luckily, there are a few things you can do to make sure the search giant will index your site.
Since this is a comprehensive post, you can click on these quick links to jump straight to the different sections:
How to Check If Google Has Indexed Your Website
1. Check WordPress Settings for Search Engine Visibility
To begin, you need to make sure that your WordPress site is visible to search engines.
You can easily check this by going to the Settings » Reading page, and scrolling down to the Search Engine Visibility option.
Make sure to remove the check mark from this option, so search engines can index and crawl your website.
Now, let's move on to how to submit your website to Google next.
2. Submit Your Website to Google Search Console
Google Search Console, formerly known as "Google Webmaster Tools," is a free service available to all website owners.
It shows you how Google indexes and adds your site to Google search results so that you can make sure the right people are seeing your website.
You can easily submit your website to Google Search Console and check if your web pages are indexed using the best SEO plugin for WordPress, All in One SEO (AIOSEO).
To get started, go to General Settings in the All in One SEO menu, and then click on the Webmaster Tools tab.
Now, navigate to Google Search Console and copy the HTML verification tag. If you haven't added your site yet, you can check out our guide on how to add Google Search Console to your WordPress website.
Next, click on the Google Search Console block and paste the HTML tag into the Google Verification Code field.
Then, go back to Google Search Console and click on the Verify button.
Google Search Console will look for the HTML tag in your site's code and will show you an Ownership verified message.
You have now verified your website with Google Search Control and made sure it'll get indexed.
Note: If you don't see this message, then you need to clear your WordPress cache. It'll ensure that Google can get to the latest version of your site.
Now, all you need is a bit of patience since your site won't get indexed overnight. It'll take a little while, but there are ways to speed up the indexing process. Let's take a look at how to get your WordPress website indexed faster by search engines.
3. Create an XML Sitemap
A sitemap helps search engines easily navigate through your website content. It gives them a list of all your content in a machine-readable format.
It also tells search engines which links on your website are more important than others and how frequently you update your site.
Sitemaps are extremely useful when you first start a blog or create a new website because most new websites don't have that many internal links any backlinks yet.
So by creating an XML sitemap you can make sure that your new content, as well as all your important posts and pages, are indexed by search engines.
The easiest way to create an XML sitemap is by using AIOSEO, which we'll show you how to do next. Best of all, it automatically notifies search engines whenever you publish, update, or delete content on your website.
Also, the sitemap is enabled by default, so you only need to install AIOSEO and it's set!
Enable XML Sitemap in AIOSEO
To get started, go to Sitemaps in the All in One SEO menu. Next, click on General Sitemap in the top main navigation menu.
This will open the General Sitemap window, where you can see that Enable Sitemap is set to on.
After that, you can go ahead and click on the Open Sitemap button to view your XML sitemap.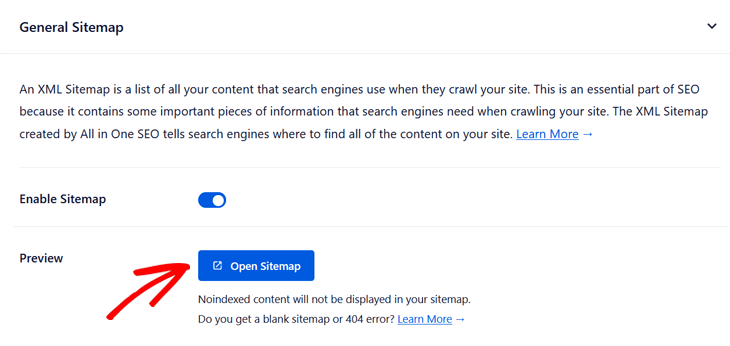 Once you've opened the sitemap, you'll see an index page for your XML sitemap that looks like this: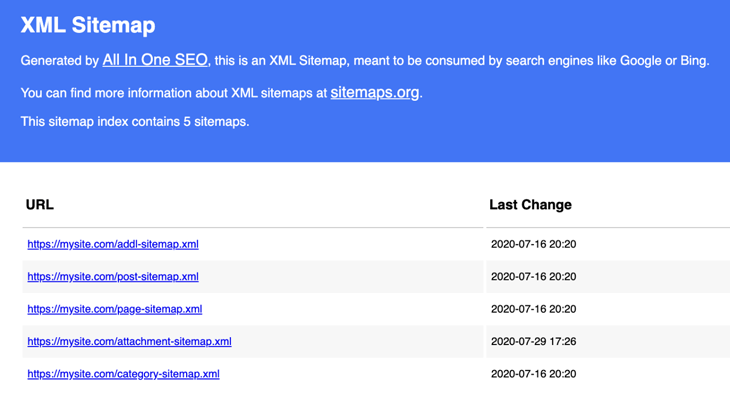 That's it!
Now you can rest assured that Google will know about all your web pages and can show them in search results.
For more details on how to customize your sitemap, you can check out our post on how to create a sitemap in WordPress.
4. Submit Your Sitemap to Google Search Console
The next step is to submit your XML sitemap to Google Search Console.
Simply login to your Google Search Console account and select your website.
Then, go to Sitemaps on the left side of the screen and add the last part of your sitemap URL (sitemap.xml) under the Add new sitemap section, and click on the Submit button.

As simple as that!
Once Google has crawled and indexed your site, you will start seeing reports in the search console.
5. Optimize Your Robots.txt File
A robots.txt file is a powerful SEO tool since it works as a website guide for search engine crawl bots or robots. As you may have guessed, it's important that your robots.txt gives Google permission to crawl the site.
On the other hand, it's common to disallow wp-admin pages since they aren't useful to your visitors and necessary for Google to crawl. Telling Google not to crawl unnecessary pages can help boost rankings in search engines and increase page speed.

But when it comes to indexing, you need to make sure your pages are crawlable and that you haven't disallowed any important URLs. Instead, you can tell Google bots to allow crawling them to prioritize these URLs.
For more details, please visit our post on how to edit a robots.txt file in WordPress.
6. Check Your Noindex Tags
Sometimes you may need to exclude a page from appearing in Google search results as it's not relevant to your website's content. Or you simply want to protect your privacy and keep away unwanted users.
That said, if certain pages aren't indexed, it may be that they have noindex tags.
The easiest way to check this is by using Google Search Console. Once you've logged in to your account, you simply go to the Coverage tab in the left menu and look for the message: Excluded by 'noindex' tag.
If you see this message, you need to go back to your WordPress Settings » Reading (like we showed you earlier) and check so the Discourage search engines from indexing this site setting is unchecked.
If this option is checked, you need to uncheck it and click on the Save Changes button.
But if that wasn't the case, the next step is to see if your URLs are nofollow. We'll explain why next.
7. Remove Nofollow Links
When Googlebot comes across nofollow links, it flags to Google that it should remove these links from its index. So you need to make sure to remove nofollow internal links.
Simply look for the rel="nofollow" link attribute and remove it. You can do this straight from the HTML code or by using the WordPress block editor. To learn more, please visit how to add nofollow links in WordPress.
8. Create Internal Links on Your Website
One of the most effective ways to encourage crawling and boost your website's indexation is through internal linking.
The paths that the crawling spiders take through the web are formed by links. When one page links to another page, the spider follows that path.
So you should focus on creating links to and from all of your most important pages. This tells Google, as well as your website visitors, about your new and important content.
To make internal linking super easy, you can use AIOSEO's powerful Link Assistant feature.
Go to Link Assistant in the All in One SEO menu and click on the Links Report. In this report, you can discover new linking opportunities and see which posts don't have any internal links at all (orphan posts).
You can add the internal linking suggestions to your content automatically by clicking the Add Link button.
No need to manually edit posts one by one. With the Link Assistant, you can build both outbound internal links and inbound internal links in minutes, without having to leave the page.
You can find more details in our post on how to same time on internal link building.
9. Build High-Quality Backlinks
Google recognizes that pages are trustworthy if they're regularly linked to by authority websites. In other words, backlinks also tell Google that a page should be indexed.
You can check out our post on 30 SEO hacks guaranteed to grow your traffic if you want to know how to build backlinks.
How to Check If Google Has Indexed Your Website
We're almost finished, but first, we'll show you 2 quick and easy ways to check if Google has indexed your site:
1. Inspect Your URLs Using Google Search Console
To begin, you can inspect your web pages using Google Search Console's URL Inspection Tool.
To do this, go to the URL Inspection tool.
Next, paste the URL you want to be indexed into the search bar and wait for Google to check the URL. If it's indexed, you'll see a green checkmark followed by the text "URL is on Google".
If the URL isn't indexed, click on the Request Indexing button, and that's it.
2. Use Google to See If Your Site Is Indexed
You can also use Google to see if your site is indexed. Simply go to Google and type in a search for site:yourwebsite.com.
Like in this example:
The number right below the search shows roughly how many of your pages Google has indexed.
And if you want to check the index status of a specific URL, use the same process, but use the full URL instead.
For example, site:yourwebsite.com/web-page-slug.
If the URL isn't indexed, no results will show up, and you can request indexing in Google Search Console.
And there you have it!
We hope this post helped you learn how to index your website on Google. Use these tips to help speed up the indexing process of your site and it'll show up in search results before you know it.
If you want to take your SEO efforts to the next level, we give tons of great tips on how to improve search engine rankings and optimize your blog posts. Also, don't forget to track your SEO rankings using Google Analytics.
That's all for today!
Not using AIOSEO yet? What are you waiting for?