Would you like to know how to do SEO for a new website?
If you plan on building and launching a new website, several things must be considered to ensure your website is optimized for search engines. Your SEO strategy doesn't start when you launch your website. Instead, it should begin before your site goes live.
In this article, we'll show you how to do SEO for a new website built on WordPress.
How to Do SEO for a New Website in 8 Simple Tips
For many small business owners and DIY marketers, SEO may seem daunting. However, if you know what to do, you can properly optimize your new WordPress site and compete with established sites quickly.
We'll show you how to do so in this article. You'll also learn what to balance when doing SEO so you don't over-optimize and get penalized.
So, let's dive into our top SEO tips for a new website.
1. Ensure You Lay the Right Foundation
When planning an SEO strategy for a new website, one of the first things to do is lay the right foundation. This means choosing the right tools, platforms, and software to help ensure your website is optimized correctly.
A few factors to consider here include:
Get SEO-friendly Hosting Service
Hosting is a service that enables you to house a website on the internet. Your hosting service determines many aspects of your site, including speed and reliability. This is why you must choose the best web hosting service for WordPress.
Use the Right Website Builder
A website builder is a software, program, or tool to create websites without manual coding. Choosing the right website builder, like SeedProd, ensures you have many customization options and can easily troubleshoot issues.
Plus, you don't need to hire a web designer or developer if you use a no-code site builder like SeedProd! Thanks to the drag-and-drop functionality, you can build your site just by placing blocks and elements where you want.
If you're looking for a website builder for your next project, check out our list of SEO-friendly site builder plugins you can consider using.
Pick an SEO-friendly Domain Name
A domain name is your website's name and serves as your web address. It's an essential aspect of your brand identity and greatly impacts your SEO. Choosing the right domain name should be a foundational part of your SEO. A few tips include making sure your domain name is short, memorable, and includes your keyword if possible.
If you need help coming up with a domain name, check out Nameboy, an AI-powered domain name generator.
2. SEO for a New Website Requires the Best WordPress SEO Plugin
Once you've laid the foundation for your website, installing the best SEO plugin is the next step to doing SEO for a new website. And for sites built on WordPress, it doesn't get any better than All In One SEO (AIOSEO).
AIOSEO is a powerful yet easy-to-use SEO plugin that has been downloaded over 100 million times. Millions of smart website owners and marketers use AIOSEO to help them boost their search engine rankings and drive qualified traffic to their sites. That's because the plugin has many powerful features and modules to help you properly configure your SEO settings. Examples include:
Search Statistics: This powerful Google Search Console integration lets you track your keyword rankings and see important SEO metrics with 1-click, and more.
Next-gen Schema generator: This no-code schema generator enables users to generate and output any schema markup on their sites.
AI Title/Description Generator: This AI-powered module automatically generates SEO post titles and meta descriptions that help increase your clickthrough rates and boost your SEO.
AIOSEO also has other powerful tools you can use to help your site rank and drive traffic. Plus, the SEO modules in AIOSEO are super easy to use, even without technical or coding knowledge. This makes AIOSEO the best blogging tool for beginner website owners and experts.
For step-by-step instructions on how to install AIOSEO, check out our installation guide.
3. Choose the Right Themes and Plugins
Another important factor to consider when optimizing a new website is the plugins you'll install. Plugins are software applications that extend the features and functionality of a WordPress website. They play a major role in helping you build websites with the features you want. And in most cases, you can do so without knowing a single line of code.
Despite plugins being beneficial, there's a caveat. Using too many plugins can slow down your website. Also, ensure you use plugins that have good support or those that get updated regularly.
Check out our expertly curated list if you need recommendations on the best WordPress plugins to install on your site.
A theme, on the other hand, is a folder of files that work together to create the aesthetic design of your website. A theme includes template files, stylesheets, images, and possibly JavaScript files. All those files change how your blog posts and pages are displayed.
In essence, themes determine how your website will look. Again, you have to be careful with the theme you use, as some may be bloated and slow down your website. Here's a list of some SEO-friendly WordPress themes we recommend if you want to build a fast website.
4. Make Sure Search Engines Can Index Your Content
One of the most important aspects of SEO is ensuring that search engines can crawl and index your content.
Crawling means parsing through all your web pages, while indexing refers to how search engines organize and store information about said web pages. The better search engines can crawl and index your site, the better your chances of ranking. A few ways to help search engines do this include:
Creating a sitemap
Optimizing your robots.txt
Using IndexNow
Create a Sitemap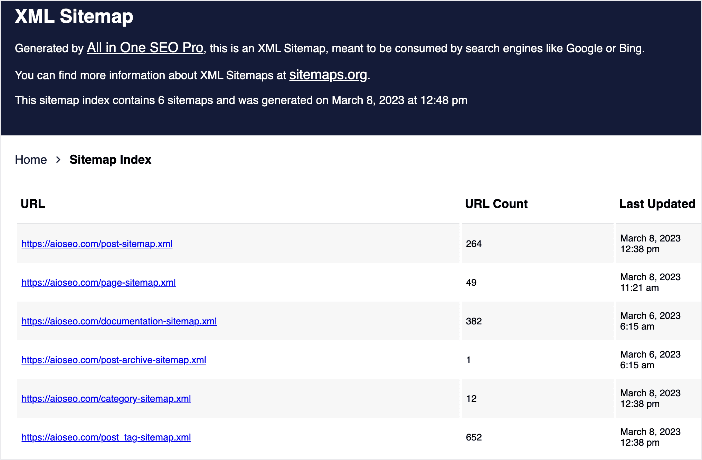 A sitemap is a file or a special web page that lists all your website content in an XML format so that search engines like Google can discover and index your site's content. For detailed instructions on creating a sitemap, check out this detailed tutorial.
Optimize Your Robots.txt
Another way to help ensure search engines efficiently crawl your website is by optimizing your robots.txt file. A robots.txt file tells search engines how to crawl your site — which pages to crawl and which to avoid.
Most search bots are configured to look for a robots.txt file on the server before reading any other file from your site. This is done to see if you've added special instructions on how to crawl and index your site.
Check out this tutorial for more information on optimizing your robots.txt file.
Use IndexNow
The IndexNow protocol is a powerful module that enables you to have your content instantly indexed by search engines that support the protocol. It works for both new and updated content.
For detailed instructions on how IndexNow works, check out this guide.
5. Have an On-page SEO Strategy
Before you launch a new website, you should invest effort and resources into developing an on-page SEO strategy. And to ensure that your on-page SEO is on point, there are certain elements you need to consider. Here are the top ones:
Keyword Research
Proper keyword research is the first step to ensuring that your on-page SEO strategy is impactful. Keyword research involves identifying the words and phrases your target audience uses to find your brand, products, or information you publish.
Also, you should know how to use your keywords strategically. Instead, you must strike a balance between proper keyword insertion and keyword stuffing.
Besides identifying the right keywords, you should also ensure you understand the search intent behind those keywords. Search intent refers to the main goal a user wants to achieve with the search query. These include:
Informational: Refers to the searches made to get information about a product or service.
Navigational: People with this type of intent are looking for a specific website or webpage.
Transactional: Users with this intent search to buy something at that moment.
Commercial: This type refers to searches made to buy in the near future.
While it may sound complicated, figuring out search intent is quite easy. Two of the best ways to do it are:
Using tools: keyword research tools like Semrush have a search intent feature that helps highlight the most common user intent behind a keyword.
Studying SERPs: Study the SERPs and see the type of content that ranks well.
Competitive Analysis
Conducting a competitor analysis is another aspect of developing a robust on-page SEO strategy. This is the process of identifying your main competitors and studying their SEO strategies. Doing so will help you replicate their winning strategies to fast-track your success.
For example, you can use an SEO competitor analysis to check and steal your competitors' keywords.
You can check out our SEO Competitor Analysis tutorial for detailed instructions.
6. Create SEO-friendly Content
One of the essential pieces of the SEO puzzle is content. You need to create content that search engines can easily find. Not only that, but it must add value to your readers. While kickstarting may be overwhelming, focusing on your foundational pages is the best way. These include your homepage, services/product pages, about pages, and other important static pages.
Once you've sorted out your foundational pages, you can create blog posts to power your content marketing strategy. A few tips for creating SEO-friendly content include:
For more tips on blog post SEO, check out our detailed guide.
Optimized content is one of the best ways to rank a new website, as it makes it easier for readers to share your content, resulting in a boost in relevant traffic. It also makes it easier to build relevant backlinks to your content. These signal to search engines that your content is valuable, leading to better search rankings.
You may also want to check out our ultimate guide to SEO copywriting.
7. Ensure Technical SEO is on Point
Despite sounding intimidating, technical SEO is not overly complicated if you use the right tools.
Technical SEO refers to optimizing the technical elements of your website and server that impact your performance and user experience. It encompasses any technical processes that can improve search visibility. These can include, among many others:
You can find out more technical SEO tips in this guide.
8. Have a System for Monitoring Performance
Data plays a huge role in running impactful SEO campaigns. After all, if you don't monitor your campaign's performance, you won't know whether you're achieving your goals. To help you do this, you need to keep tabs on your content performance, keyword rankings, and other metrics like average clickthrough rate, changes in search position, and more.
Thankfully, you can get all this information, and more, right within your WordPress dashboard with AIOSEO's Search Statistics module.
Once you have tabs on your vital metrics, you can devise a strategy to improve your SEO campaign. Here are some tips to help you do just that.
Besides helping you know how you're performing on search engines, monitoring your performance also helps you know where you stand concerning your competitors. This will help you develop an effective competitor analysis. Doing so will help you map out a plan to outrank your competitors.
SEO for a New Website: The Key to a Successful WordPress Website Launch
SEO is an essential digital marketing strategy to help your website appear in search results. And if you're launching a new website, it's super important that you set up your SEO correctly.
We hope this post helped you learn how to do SEO for a new website. You may also want to check out other articles on our blog, like our ultimate guide to WordPress SEO or our tutorial on how to do an SEO analysis on your website.
If you found this article helpful, then please subscribe to our YouTube Channel. You'll find many more helpful tutorials there. You can also follow us on Twitter, LinkedIn, or Facebook to stay in the loop.