Would you like to learn DIY SEO? Whether you're a blogger or a small business owner, taking a do-it-yourself approach to SEO can be rewarding.
Since SEO is foundational to modern business, you'll quickly learn what action steps are required for online success.
DIY SEO will not only help you achieve your site goals, it can also lay a foundation for a new career.
What is SEO?
SEO, or search engine optimization, is the practice of optimizing web pages so that they rank well in search engine results pages (SERPs).
We've all heard someone say, "I want to rank well in Google." Here, we need to ask: "Which web pages do you want to rank well and for what keyword?"
This is because search engine results appear after you type (or speak) a request into Google. (This request is called a search query or a keyword.)
Even though "keyword" is singular it also refers to phrases
For example, if we search for "growth consultant" this website below has the #1 ranking for that keyword.
So we can say that the above article ranks in the #1 spot for "growth consultant."
For a web page to "rank well" it needs to be targeting a specific keyword. (You'll learn more about targeting keywords, later in this article.)
As you move forward with DIY SEO, you'll:
Identify your most important web pages. (These may be product pages.)
Optimize your site and individual pages.
Create new content based on keywords you want to rank well for.
Types of SEO
Before we get to the fun part, let's take a brief look at different types of SEO.
On-Page SEO vs. Off-Page SEO
On-Page SEO refers to optimization actions you take on your website. And "off-page SEO" (or "off-site SEO") refers to marketing actions like social media posting or writing guest posts for respected websites.
You can think of off-page SEO as online reputation management: when other sites and people "vouch" for your website that can boost your SEO.
Technical SEO
Technical SEO usually refers to intermediate or advanced-level tactics like generating sitemaps or adding schema markup to your pages. (We'll address these shortly.)
WordPress site owners can use an SEO plugin, like All in One SEO (AIOSEO), to handle these tasks automatically or with a few button clicks.
Benefits of SEO
SEO is one of the few marketing strategies that can be used to reach a target audience at any stage.
Awareness: This is when they first learn about your site.
Consideration: At this stage they're exploring what you offer.
Action: Then they convert and buy from you.
Remember: the traffic acquired by SEO is free traffic. It's not paid advertising. In marketing, this free traffic is called organic traffic.
Even better, you can learn to select keywords (topics) to write about that are likely to lead to conversions.
For example: of these keywords below, which one indicates the searcher is ready to buy?
types of decks
outdoor deck ideas
hire a deck builder
If you picked the 3rd one, move to the head of the class.
As your optimized content rises in search rankings, it will increase your conversions and sales.
Download All in One SEO (AIOSEO) Plugin
To get started with your first WordPress DIY SEO projects, we recommend you download and install the All in One SEO (AIOSEO) plugin.
This SEO plugin is designed to be easy for beginners to use yet it's effective in producing professional results.
We recommend the Pro version of the plugin because it includes a Link Assistant that makes internal link-building easy.
Follow the instructions below to download and install the AIOSEO plugin.
Download the AIOSEO plugin. (It downloads as a zip file. Don't open the zip file.)
In your WordPress editor, go to Plugins » Add New.
Upload the zip file.
A setup wizard will walk you through some simple steps.
Questions? Follow this guide.
Project 1: Sitemaps
Sitemaps are maps of your web content designed primarily for search engines to read.
Here's an example of a sitemap: https://aioseo.com/sitemap.xml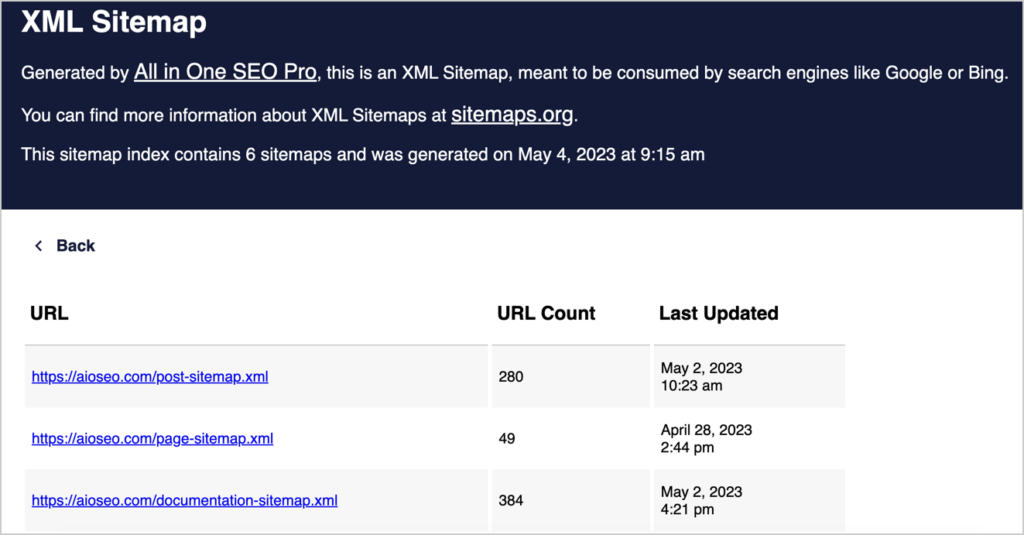 Your website should have a sitemap and it needs to be updated each time you publish or edit an article.
XML and RSS Sitemaps: Automatically Generated
Here's where the All in One SEO (AIOSEO) plugin saves you time. It automatically generates an XML and an RSS sitemap for you. And these sitemaps will update themselves.
Wondering how these 2 kinds of sitemaps differ?
XML sitemaps contain all URLs on a website.
RSS sitemaps notify search engines of recent updates.
There is one thing you'll need to do though: you'll need to submit your sitemap to search engines. This is easy and it's a one-time action.
How to Submit Your Sitemap to Search Engines
To submit your sitemap to Google and Bing you'll create a free account with Google Search Console and Bing Webmaster Tools.
Next, follow these instructions.
Optional: Add an HTML Sitemap
Unlike an XML or RSS sitemap, an HTML sitemap is designed for website visitors to read.
In addition to providing another way users can browse your content, an HTML sitemap can boost your SEO.
To add an HTML sitemap in All in One SEO, follow these steps.
Open your WordPress editor.
Go to AIOSEO » Sitemaps.
Click on HTML Sitemap then click Enable Sitemap.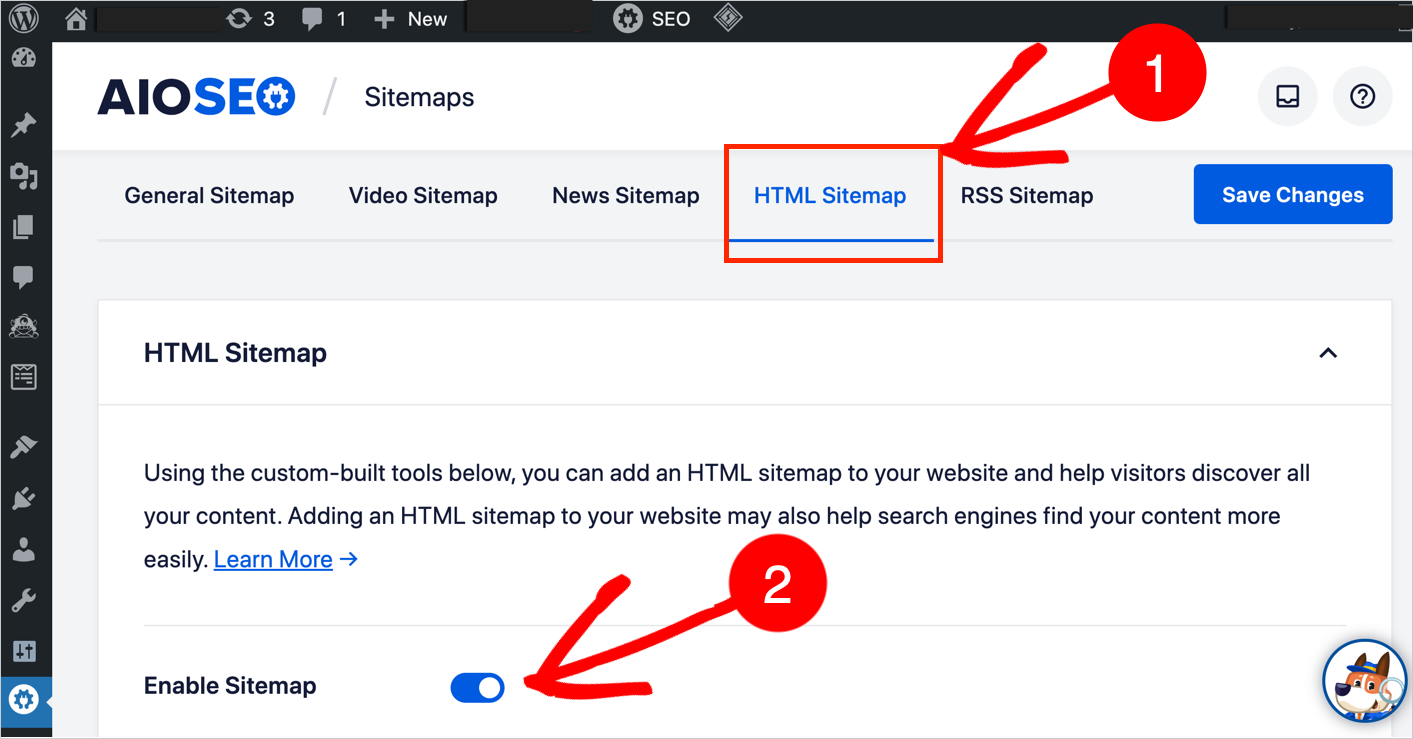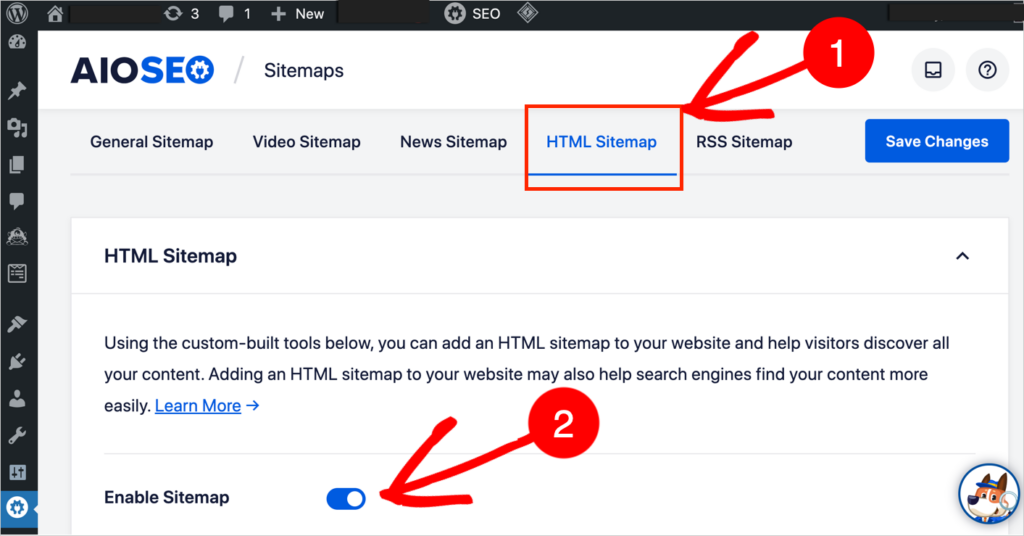 Read more about HTML sitemaps here.
Other Sitemaps Available in All in One SEO (AIOSEO)
Users of the Pro version of AIOSEO have the option to turn on a video sitemap or a Google News sitemap.
The latter is for journalism publishers that want their content to show up in searches in google.com/news.
Publishers need to apply to Google for approval before their content can be included in Google News.
Project 2: Local SEO (for Small Businesses)
If you own a small business, then you'll want to use the Local SEO feature in All in One SEO (AIOSEO).
In the WordPress dashboard, go to AIOSEO » Local SEO.
Now you'll see 3 tabs: Locations, Opening Hours, and Maps.
Click each tab and scroll down. You'll see prompts to fill in information.
Once you're done, click Save Changes.
For more information see the instructions for:
By activating the Local SEO features and filling out the form, schema markup will be added to your site.
This is code that enables Google to better understand your business information.
Local businesses can also sign up for a free Google Business Profile. This is important for boosting your rankings in local search results.
Now that we've handled sitemaps and gotten local SEO started, let's move on to web page optimizations.
Project 3: Optimize Content for SEO
Optimizing content for SEO begins with choosing a focus keyword that you want the page to rank for. It's best to choose the keyword before you create the content.
You can think of this keyword as the main topic of the article.
For this exercise, we'll assume you have a web page you want to optimize for a focus keyword (also called a focus keyphrase).
Once your article is complete, you'll want to check AIOSEO's recommendations for improvement.
To see these, in the WordPress dashboard go to AIOSEO » General.
Be sure to click on Focus Keyphrase and type your target keyword in.
You'll get an SEO score out of 100 along with simple suggestions for improvement.
These recommendations will cover use of your keyword and other basic SEO checks.
For instance, AIOSEO may recommend that you add your keyword to the article description.
Or if your article doesn't have any internal links, then you'll see a suggestion to add one.
All in One SEO will also do some readability checks on your article too. You'll get recommendations for readability, such as using shorter paragraphs and sentences.
As you follow the recommendations you'll see your score increase.
About Your SEO Score
Please note that the goal isn't to get a score of 100. It's to see the impact of improvements.
So consider a score of around 75-80 or above to be good.
As with all digital tools, use your own judgment when deciding whether to accept the recommendations.
A good rule of thumb is to always edit with the reader in mind, rather than for search engines.
Project 4: Optimize Titles and Meta Descriptions
Titles and meta descriptions are important for SEO. A simple principle is to include your target keyword in both.
In a standard search snippet (or search result) a web page looks like this.
We see a title, link, and description.
Good titles and descriptions are descriptive and precise.
In the example above, we learn that Kate Murtaugh Events & Design is located in New England, with offices in Boston and Watch Hill, and they design luxury weddings and other events.
That's an excellent use of the short space available for titles and meta descriptions.
How to Use the Snippet Preview to Optimize Titles and Meta Descriptions
In AIOSEO there's a Snippet Preview feature that shows you what your article may look like in Google search results.
To find the Snippet Preview, in your WordPress editor go to AIOSEO » General. Then click on Snippet Preview.
Before publishing an article, it's good to check this Snippet Preview and use its suggestions to optimize your title and meta description.
The recommendations in the Snippet Preview will be related to title and description length.
Title Length Considerations
Titles tend to get cut off by Google after 60 characters or so. So whatever you want searchers to see should be within the 60-character limit.
That said, Google doesn't care how long your title is. And it can be helpful to add another keyword or two after the typical cut-off point. This can cause your article to surface in more search queries.
For example, let's say you want to publish an article called:
"10 Ways to Grow Your YouTube Channel."
That's only 36 characters. We've got more we can use. So let's make our title more specific so readers have a better idea of what the article's about.
"10 Ways to Grow Your YouTube Channel to 1k Subscribers"
We're at 54 characters now. We only have 6 characters left. Not much. But let's say this article is for beginners. Let's go intentionally over the character limit, like this:
"10 Ways to Grow Your YouTube Channel to 1k Subscribers (Beginner's Guide)"
Now we're at 72 characters, but the most important part of the title will display in search results and people searching for a beginner's article may be likelier to find this one since the word "beginner's" is included in the title.
Learn more about the Snippet Preview features.
Meta Description Length Considerations
The Snippet Preview will flag any meta description that's over 160 characters. Unlike titles, it's best to always keep your meta descriptions within this limit.
More DIY SEO Projects
Congratulations! You've got a sitemap set up and you've learned the basics optimizing pages for SEO.
Where to go from here?
Learn How to Do Keyword Research
To get traction with SEO, learn how to do keyword research to plan content. Don't worry, there's an easy beginner's guide here to follow.
Let's cover some basics here though.
We mentioned that a focus keyword is similar to a topic. Creating content based on a target keyword is essential for SEO. But here are some important shortcuts to know that will keep you from wasting time.
Pick Long-Tail Keywords as Topics for New Content
Long-tail keywords are detailed and specific. They typically are not as hard to rank for as broader keywords.
While they also don't get as much traffic as broader keywords, if chosen well, long-tails convert at a higher rate. And in the end, it's conversions and sales that matter not the amount of traffic you got that didn't convert.
Marketers use SEO tools like Ahrefs and Semrush to find out what the average search volume is for a given keyword and how hard it is to rank for it.
Search volume is the estimated amount of monthly searches for that keyword.
Keyword difficulty is a numeric score that gives you an idea of how hard it is to rank for a keyword.
To grow your site, focus on long-tail keywords with low difficulty rankings and that are getting a decent amount of traffic.
Link Building and Metrics
Once you're comfortable with basic SEO and keyword research, consider exploring link building and metrics.
Link-building is a powerful SEO technique. There are 2 types of links involved in link-building:
Internal links (links within your website)
Backlinks (links from other sites to yours).
Here are 2 easy ways to get started.
Fix orphan pages. (These are pages with no links from your other web pages. Orphan pages are hard for people and search engines to find.)
Consider providing a guest article to a respected website in return for being able to include a link back to your site.
Measuring Success
Lastly, you'll want to start measuring your website performance.
All in One SEO (AIOSEO) automatically conducts an SEO audit and provides a score for your homepage.
Just like for your individual pages, you'll get an to-do list for improving SEO.
This video will walk you through the how-tos.
Google Analytics is the go-to tool for measuring traffic and SEO results. It's a free tool and Google also offers excellent training for beginners to get you up to speed.
That said, Google is so generous with the amount of free data it gives you, that some may find it overwhelming.
Try the interface out. If you feel it seems complicated, consider using the MonsterInsights WordPress plugin. It presents the most important numbers right in your WordPress dashboard.
More DIY SEO tips
As you read more about creating SEO-optimized content, keep these tips in mind.
Google rewards quality content. So don't get tied in knots about following a bunch of rules. Keep quality as your #1 principle.
Decide who your target audience is before writing.
Avoid keyword stuffing: this is an old practice of adding a target keyword to a page numerous times in hopes of boosting its ranking.
Learn how to add alt tags to images in this article.
Summing it Up
Congratulations! You've built the foundation for your SEO strategy, by setting up your sitemaps, learning about on-page optimizations, and learning how to use a WordPress SEO plugin.
You also got an introduction to some more advanced concepts like link building and metrics.
With SEO experts charging high fees, taking a do-it-yourself approach can save you a lot of money.
What's Next?
We hope this post helped you get started with some enjoyable DIY SEO projects.
Next, explore link building and check out our SEO for Beginners guide and this SEO tutorial.
If you found this article helpful, then please subscribe to our YouTube Channel. You'll find many more step-by-step tutorials there. You can also follow us on Twitter, LinkedIn, or Facebook to stay in the loop.