Are you looking for the best WordPress multisite plugins on the market?
WordPress multisite plugins help extend the functionality of your multisite network's features. They also make it easier to manage your sites.
In this article, we will show you some of the best WordPress multisite plugins you should consider adding to your WordPress multisite network.
What is a WordPress Multisite Network?
Multisite is a feature of WordPress that enables you to build and run multiple websites using the same WordPress installation. This makes it possible to manage several different WordPress sites from a single dashboard.
All sites within your network use the same resources and framework but have their own media repositories. They even use separate sections of the WordPress database.
Why Use a WordPress Multisite Network?
WordPress multisite networks are an excellent option if you want to manage separate WordPress websites from a central dashboard.
Multisite networks are usually used by large corporations, schools, universities, news outlets, online businesses, and more. This helps them have several websites with similar themes yet keep them as individual sites.
As a blogger, you can even create your own network of blogs on a single multisite installation. This is great if you run a large portfolio of informational or affiliate sites.
10+ Best WordPress Multisite Plugins You Need to Consider (Our Expert Picks)
Running a multisite network of WordPress sites can be quite a daunting task. However, with the right plugins, it becomes much easier. Here's our expertly curated list of the best WordPress multisite plugins that can make it easy to manage your network:
AIOSEO is hands down the best WordPress SEO plugin on the market. It's trusted by over 3 million savvy marketers to help boost their rankings and drive traffic to their sites. The plugin has many powerful SEO features designed to help you optimize your website and to dominate the SERPs.
For detailed instructions on installing AIOSEO, check out our step-by-step installation guide.
AIOSEO was built with multisite networks in mind, which is why it includes a revolutionary WordPress multisite module to simplify setting up SEO on your network of sites.
A small sampling of the features in that module include:
Activate Multiple Licenses From a Single Dashboard
One of the time-saver features we've added to our multisite module is the Domain Activations box.
This is a dashboard that makes it easy for you to activate or deactivate your AIOSEO license on any subsite in your network with a simple click of a button. It's a huge time-saver as you can now manage all your license activations on a single screen.
Easily Edit and Manage Robots.txt Files
Another powerful change we've made to our multisite support is the capability to edit the robots.txt file of every subsite individually or corporately right from the network admin panel.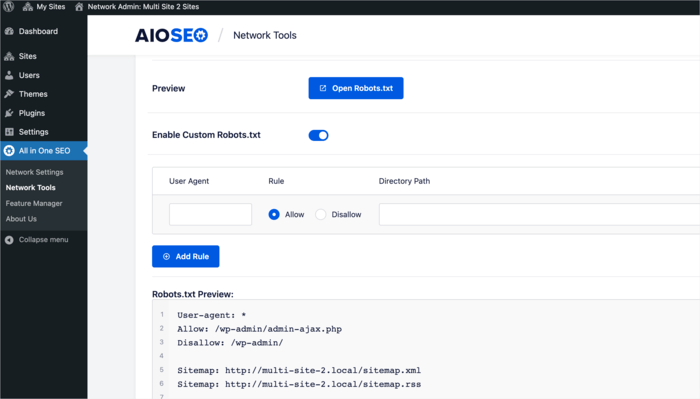 This makes it easy for you to control how search engines crawl your websites and allows you to ensure your most important content is given priority.
As a result, the content that matters to your business will stand a better chance of ranking.
Import and Export SEO and Plugin Settings
Setting up a single website's SEO can be quite a task. The challenge is only compounded when you're running a multisite setup.
That's why we've made it easy for you to import and export SEO settings from one site in your network to another.
You can do that by clicking on the Import/Export tab in the Network Tools section.
This makes it easy for you to replicate your winning SEO settings on all your sites, even on a fresh build.
As a result, you save precious resources like time and effort and get to rank your sites much faster.
Managing your SEO across your network of sites is super easy with a powerful SEO plugin like AIOSEO. The best part is that you don't need any coding or technical knowledge to use the plugin, even for code-heavy tasks like adding schema markup to your sites.
Pricing: Starts at $49.60/year. A free version is also available.
MonsterInsights is another excellent plugin to add to your multisite network. This is easily the best Google Analytics plugin for WordPress, with over 3 million websites using it.
MonsterInsights lets you easily add Google Analytics to WordPress and view the traffic data from your sites directly in your WordPress admin dashboard. You can use this data to grow your traffic, email list, and revenue.
The best part is that on a WordPress multisite network, all your subsite analytics are available in one place. This makes it easy for you to see which sites are performing well at a glance.
Also, when you set up MonsterInsights, you can select which sites you want to enable or disable the analytics feature, all from the same dashboard.
Pricing: Starts at $99.50/year.
Lead generation is an essential part of growing your sites and business. And there's no better tool to help you do this than OptinMonster. Over 1.2 million websites trust the plugin, including big brands like Pinterest, Patreon, ClickBank, and more.
OptinMonster is a powerful tool that enables you to easily create high-converting popups and lead generation forms across your network of WordPress sites.
Like AIOSEO, OptinMonster also has a network activation feature that lets you create and manage campaigns for every site in your network. With a multisite installation, all your campaign data is readily available in one central place. This lets you see the performance of your lead generation efforts and helps you improve your conversions across your network.
The plugin also has an extensive library of templates and a powerful drag-and-drop builder to help you build campaigns faster. You can easily create custom popups, slide-ins, content upgrades, and more.
Plus, the proprietary Exit-Intent® technology helps convert visitors who leave your sites into subscribers and customers.
Pricing: Starts at $9/month.
WPForms is undoubtedly the best WordPress contact form plugin in the market and is used by over 4 million WordPress sites.
One reason for the plugin's unrivaled success is that it's easy to use, despite having many features. The plugin makes it easy to create simple contact forms, user registration forms, multi-page forms, survey forms, and more. This is thanks to the powerful drag-and-drop builder and large template library that make creating any type of form a breeze.
And if you're running a multisite network, you'll probably have various form needs across your network of sites. WPForms helps you meet all of them.
WPForms is definitely a great plugin to complement lead-generation tools like OptinMonster.
Pricing: Starts at $49.50/year.
WP Mail SMTP is clearly the best WordPress SMTP plugin in the market and is used by over 2 million WordPress sites. The plugin was designed to enable users to send emails through WordPress and to ensure optimal deliverability. It's a powerful plugin that helps you reach users' inboxes, so your email marketing campaigns are more impactful.
With WP Mail SMTP multisite, you can easily specify different email accounts for each site in your network. This enables you to track your emails and view the email logs and reports for each of your subsites right from your Network Admin dashboard.
One thing that makes WP Mail SMTP stand out from similar plugins is that it's super easy to set up and use.
Pricing: Starts at $49/year.
InfiniteWP is an invaluable tool if you run a multisite network or manage several WordPress sites. It was designed to let you easily manage essential components of your WordPress site, such as plugins, themes, and core updates, all from a single dashboard.
In essence, InfiniteWP is a plugin that helps you manage all your sites from a single dashboard. It gives you ultimate control over all the sites in your network.
While the free version comes with a few features (like controlling updates), going premium unlocks beast mode. You get features like on-demand backups, site migrations, staging, post and page publishing, malware scanning, and more.
Pricing: Starts at $147/year for 10 sites.
With over 1 million users, SeedProd is one of the best drag-and-drop website builders on the market. It's a versatile builder that easily enables you to create custom themes, landing pages, coming soon pages, sales funnels, maintenance mode pages, and more.
With its easy drag-and-drop builder, SeedProd makes it easy to create and customize any type of page on your network of sites. And if you don't have any designing chops or simply don't have the time to create custom pages, you can use any 200+ templates to make your job easier.
Pricing: Starts at $39.50/year.
WP Rocket is one of the best caching plugins for WordPress.
Because running multiple sites on a single installation can negatively impact site speed and performance, optimizing for speed is crucial. WP Rocket helps you do just that without you having to hire professionals.
One element you'll love with WP Rocket is that it goes to work as soon as you install and activate it. All you have to do is configure your caching options according to your needs, and you're good to go.
What makes WP Rocket one of the best WordPress caching plugins apart from other caching plugins is that it comes with advanced features. Examples include page caching, cache preloading, static file compression, browser caching, and more.
Pricing: Starts at $49/year.
Duplicator is a WordPress plugin designed to make migrations easier. You can use it to move your WordPress site from one server (or hosting account) to another. The plugin is super easy to use as it facilitates the easy downloading and uploading of your website files. It lets you easily download all of your website's files and upload them to your new server.
There is a free version of Duplicator that you can use to copy your entire multisite network. However, to completely migrate a network of sites (re-install the sites on a new server), you'll need to unlock more features by upgrading to the premium version. In most cases, migrating an entire WordPress multisite network can be a nightmare, but Duplicator takes the stress out of the process and simplifies it.
Pricing: Starts at $69/year.
Members is one of the best WordPress multisite plugins when it comes to user role administration. Created by the team behind MemberPress, the best WordPress membership plugin, you can rest assured this is a quality plugin.
The plugin enables you to easily create, manage, and change user roles across your network of WordPress sites. In addition, you can use the plugin to create custom user roles and grant them specific permissions to enhance security.
If you're running a network of WordPress sites with many users, then Members is definitely a plugin to consider.
Pricing: Free.
Multisite Language Switcher is an essential multisite plugin that adds multilingual capabilities to your multisite network. While there are many plugins that can help you create multilingual WordPress sites, Multisite Language Switcher was developed specifically for WordPress multisite.
The plugin allows you to handle translations easily across your multisite network. You can manage translations for pages or posts, taxonomies, tags, and more. You can do this for individual sites or across your entire network of sites.
Pricing: Free
The Best WordPress Multisite Plugin: Our Top Pick
If you're looking for the best WordPress multisite plugin to boost your visibility on SERPs and improve your organic CTR, then AIOSEO is it. The plugin is super easy to use and has many SEO features to help you rank your website. Plus, you don't need any technical or coding skills to know how to use it.
However, if you're looking for a WordPress multisite plugin designed to help you manage your network of sites, then InfiniteWP could be it. And for lead generation, consider OptinMonster and WPForms.
We hope this post helped you find the best WordPress multisite plugin. Once you've installed and activated the ones you need, you may also want to check out other articles on our blog. An excellent example is our expertly curated list of the best WordPress schema generator plugins. You may also be interested in our tips for boosting Multisite SEO.
If you found this article helpful, then please subscribe to our YouTube Channel. You'll find many more helpful tutorials there. You can also follow us on Twitter, LinkedIn, or Facebook to stay in the loop.