Would you like to know how to do WordPress multisite SEO correctly?
If you run a network of WordPress sites, managing their search engine optimization (SEO) can be pretty challenging and time-consuming. But, with WordPress multisite, you can manage all your websites from a single dashboard.
In this article, we'll show you how to ensure your WordPress multisite SEO is on point. And that's minus the sweat.
What is a WordPress Multisite?
Multisite is a feature of WordPress that enables you to build and run multiple websites using the same WordPress installation. This feature allows you to manage several different WordPress sites from a single dashboard. This is a huge time-saver as it would take you forever to install themes and plugins and manage other essential aspects of each website individually.
Why Use WordPress Multisite?
WordPress multisite networks are an excellent option for those who want to manage separate sites from one dashboard. This network of sites can be used by corporations, schools, universities, news outlets, online businesses, and more.
As a blogger, you can even use multisite to create your own network of blogs on a single WordPress installation. This setup is especially great for affiliate marketers who run informational blogs, as it helps streamline the process of adding and managing sites to their portfolio of sites.
Guide to WordPress Multisite SEO
One of the most important questions people ask when considering a multisite network is whether this makes SEO more complex.
Of course, one of the biggest concerns is that WordPress multisite SEO will become more complicated with each new site added to the network.
However, this doesn't have to be the case if you know how to manage WordPress multisite SEO. Here are a few tips to help you do just that:
Use the Right Multisite SEO Plugin
One of the most important steps to proper WordPress multisite SEO is installing the right SEO plugin to help manage SEO across your network of sites.
And one of the best WordPress multisite SEO plugins on the market is All In One SEO (AIOSEO).
AIOSEO is undoubtedly one of the best WordPress SEO plugins on the market. As a testament to that, the plugin has been downloaded over 100 million times. It's trusted by millions of savvy marketers to help them rank their sites and drive targeted traffic. The plugin has many powerful SEO features designed to help you optimize your website to dominate the SERPs (Search Engine Result Pages) and grow your web presence.
For detailed instructions on installing AIOSEO, check out our step-by-step installation guide.
AIOSEO is the perfect plugin for WordPress multisite because it was built with multisite networks in mind. And that's why it includes a revolutionary WordPress multisite module to help you simplify setting up SEO on your network of sites.
The plugin also comes with a powerful Domain Activations box that makes it easy to manage your AIOSEO license across all the different sites in your network.
You can activate or deactivate AIOSEO on any site from the Domains Activation box, saving you time as you won't have to visit each individual site.
With AIOSEO, WordPress multisite SEO becomes much easier. Plus, the plugin is super easy to use, even on a multisite network.
Besides an SEO plugin, ensure you get the right WordPress plugins for multisite installations. These will make all aspects of running your multisite network much easier.
Implement the Right Site Structure
Another essential aspect of winning at WordPress multisite SEO is to set up your multisite network the right way. If you haven't set up your network of sites yet, you can choose whether to use subsites as subdomains or subdirectories. Each has its SEO advantages and disadvantages.
Subdomains
A subdomain can be considered a child of the root domain. It's considered a part of the primary domain, and the URL structure has the domain name of the site in front of the URL.
site1.primarydomain.com
While your main site is:
www.primarydomain.com
Despite the primary domain being the same, search engines see these two sites as separate entities. As a result, even though there may be links between them, their backlink profiles are also considered separate. This can usually result in backlink dilution.
The advantage of subdomains is that they make it easier to manage many sites and make for a more positive UX.
Subsites
A subdirectory is a pathway to another website that resides within your primary website. As such, while a subdomain precedes the root domain in a URL, a subdirectory follows it.
www.primarydomain.com/site1/
One of the most significant SEO benefits of using subdirectories is that they consolidate all your SEO efforts, as each individual site's gains contribute to the entire network. However, URL structure can get quite complicated as the network grows.
So, between subdomains and subdirectories, which structure is best for WordPress multisite SEO?
Unfortunately, the answer isn't clear-cut. It all depends on your website's needs.
However, here's an interesting video by John Mueller, Google's Search Advocate, explaining the difference between the 2 and the SEO implications:
Custom Domain Names
Besides the 2 site structures above, you can also create a multisite network using custom domain names. This is sometimes referred to as domain mapping.
When you create a WordPress multisite network by creating custom domains, search engines will treat each subsite as a separate website. Fortunately, you can still manage your SEO from a single dashboard, as AIOSEO also supports multisite networks that use custom domains.
Edit and Optimize Your Robots.txt Files
Getting your content crawled and indexed by search engines is a crucial part of ranking. That's why you must give your important sites and pages the best possible chance to get into Google's index.
To do that, you must optimize your robots.txt files.
Optimizing all your site's robots.txt files can be a huge time suck if you run an extensive network of WordPress sites. It would be best if you had a tool that enables you to do all the heavy lifting from a single dashboard.
Thankfully, this is super easy with AIOSEO. Our multisite feature enables you to edit the robots.txt files of all your sites individually or corporately.
To do that, go to your Network Admin Dashboard » AIOSEO Dashboard » Network Tools.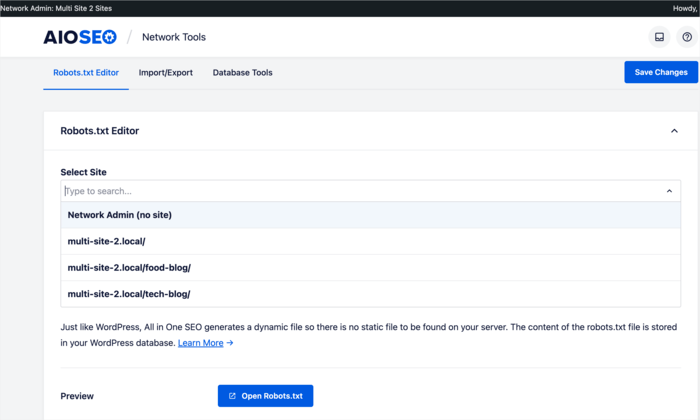 Here, you can select a site and instantly see a preview of its robots.txt file. You can also change the robots.txt rules for that site right from the network admin area.
To set rules that affect all the sites in your network, select Network Admin instead of one particular site.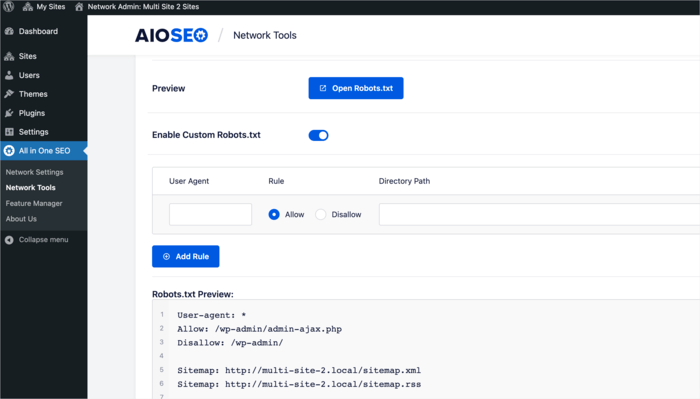 For detailed instructions on how to edit a robots.txt file in WordPress, check our step-by-step guide.
Replicate Winning SEO Settings from Other Sites
Another hack to getting quick SEO wins when running a multisite network is to replicate the SEO settings of your best-performing sites.
Again, this is an easy task with a plugin like AIOSEO.
To do this, click on the Import/Export tab in the Network Tools section.
This feature lets you easily download a file with SEO settings you want to replicate so you can upload them to any of your other sites.
Besides importing and exporting SEO settings, you can also import settings from other plugins and export them to any site in your network.
And if you're adding a new site to your network, importing the SEO settings of an already optimized site is also easy. Simply add a new site as you usually would, then select the site from which you'd like to import the settings.
The SEO settings will be automatically replicated on your new site. This helps your site gain traction on SERPs (Search Engine Result Pages) faster.
Avoid Duplicate Content and Keyword Cannibalization
One of the biggest SEO dangers of running a WordPress multisite network is duplicate content. This is content search engines think appears on multiple web pages, either exactly the same or closely similar.
Another issue to watch out for if some of your sites publish similar content is keyword cannibalization. The first step to ensure this does not happen is to be extra careful when doing keyword research for your sites. Make sure no site targets a keyword other sites are targeting.
Both duplicate content and keyword cannibalization can cause serious SEO issues for your sites. Examples include indexation issues, diluted rankings, and poor organic CTRs, among others.
That's why it's important to watch out for duplicate content and keyword cannibalization when creating your content strategy.
Follow WordPress SEO Best Practices
Despite multisite being different from a single WordPress installation setup, both follow the same SEO principles. Some of the most important ones include the following:
Create XML Sitemaps for each site and submit them to Google Search Console
Optimize your SEO title tags and meta descriptions
Add schema markup for featured and rich snippets
Create high-quality, helpful content
Get the right Web hosting for multisite installations
If you have different website admins for each website, make sure they're familiar with SEO best practices. This helps ensure each website is optimized correctly and stands a better chance of ranking in search.
WordPress Multisite SEO: Not As Difficult As You May Think
When people hear about WordPress multisite, they usually think that optimizing their network of sites for SEO becomes even more complicated.
But that's not the case.
WordPress multisite SEO isn't something to be afraid of. If you cover all the bases we mentioned above, you should get good results for your SEO. Plus, most tasks should be much easier with the right WordPress multisite SEO plugin.
We hope this article has helped you learn how to do WordPress multisite SEO. You may also want to check out our guides on how to add FAQ sections in WordPress or how to add emojis to your SEO titles and meta descriptions.
If you found this article helpful, then please subscribe to our YouTube Channel. You'll find many more helpful tutorials there. You can also follow us on Twitter, LinkedIn, or Facebook to stay in the loop.