We're thrilled to announce the launch of AIOSEO's non-profit license!
This dedicated nonprofit license is feature-packed, and you'll gain access to everything you need to supercharge your WordPress website.
At AIOSEO, we hold the value of giving back to our community. While we have always extended a special discount to nonprofits, we are excited to launch a dedicated AIOSEO non-profit plan to push the boundaries further.
So if you're a nonprofit looking for an SEO toolkit for your WordPress website or collaborating with nonprofit clients, you'll love this new offering.
In this blog, we'll introduce you to the new AIOSEO Nonprofit plan and share more details on how it can help your organization work more efficiently.
Let's dig in!
AIOSEO Non-Profit Plan: Here's Everything You Get
AIOSEO is the most powerful and easy-to-use WordPress SEO plugin, and we're extending it to nonprofits across the globe. This Nonprofit License gets you access to all AIOSEO's built-in features for one low, flat price!
We'd like to offer you a significant discount on the 2 most powerful plans, so you have all the tools to succeed and successfully carry out your cause.
AIOSEO Pro plan would be $99 / yr (5 site limit) – 80% OFF normal pricing
AIOSEO Elite plan would be $199 / yr (5 site limit) – 73% OFF normal pricing
Let's take a closer look at what you can expect with our new license:
Price: The Nonprofit License will cost you $99/yr for Pro Plan (80 % OFF) and $199/yr for the Elite Plan (73% OFF).

All Built-in Features: All the features of the AIOSEO Pro and Elite plans can be accessed via the AIOSEO non-profit plan.

Customization for your organization: AIOSEO is highly customizable to suit your non-profit organization's specific needs and goals. We understand that every organization is unique, and we have designed AIOSEO with flexibility in mind.
Our plugin offers a wide range of settings, features, and options that can be tailored to align with your non-profit organization's specific requirements. You can customize various aspects of SEO, such as meta tags, titles, descriptions, URLs, and more, to reflect your non-profit's branding and messaging.
Support Scope: The Nonprofit License includes standard support. We always try to respond to all support queries within 48 hours.
To learn more and apply, head over to the AIOSEO Nonprofit License page.
How AIOSEO Can Help Your Nonprofit Organization
AIOSEO is a powerful yet easy-to-use SEO plugin that has been downloaded over 100 million times. Millions of smart business owners and marketers use it to help them boost their search engine rankings and drive qualified traffic to their sites.

Here are some features that'll help you boost your search visibility:
Track SEO Rankings and See Helpful SEO Metrics in One Place with Search Statistics
Search Statistics is part of an integration with Google Search Console, a tool provided by Google to track and analyze the performance of websites in search engine results.

With this integration, you can easily access and monitor your keyword rankings and important SEO metrics. This information can help you understand how well your website performs in search results and identify areas for improvement.
This feature is only available in the Elite plan.
Boost your Search Visibility with Rich-Schema Markup Generator
Schema markup is a structured data format that helps search engines understand the content of web pages more effectively. It provides additional context and information about the content on your site, such as product details, reviews, events, and more.

The Next-gen Schema Generator makes it simple to add schema markup to your website without requiring extensive coding knowledge. By utilizing schema markup, you can enhance the visibility of your website in search results and improve the chances of attracting relevant traffic.
Get Rid of Broken Links and 404 Redirects with AIOSEO Redirection Manager
When you make changes to your website, such as deleting a page or changing its URL, it can lead to broken links and 404 errors. These errors can negatively impact your website's user experience and search engine rankings.

The Redirection Manager feature helps you manage and handle these redirects effectively. It allows you to set up redirects from old URLs to new ones, ensuring visitors and search engines can access the correct content seamlessly. By eliminating 404 errors and properly managing redirects, you make it easier for search engines to crawl and index your site, improving your overall SEO performance.
Optimize Website Structure and User Experience with Link Assistant
Internal linking is crucial in optimizing your website's structure and improving its search engine visibility.
The Link Assistant feature automates building internal links between different pages on your website. It analyzes your site's content and suggests relevant internal links to help users navigate related pages and improve their overall experience.
Additionally, it provides an audit of outbound links, helping you ensure that any external links on your website are working correctly and not leading to broken or irrelevant pages.
Improve Website Visibility and Discoverability with Sitemap Generator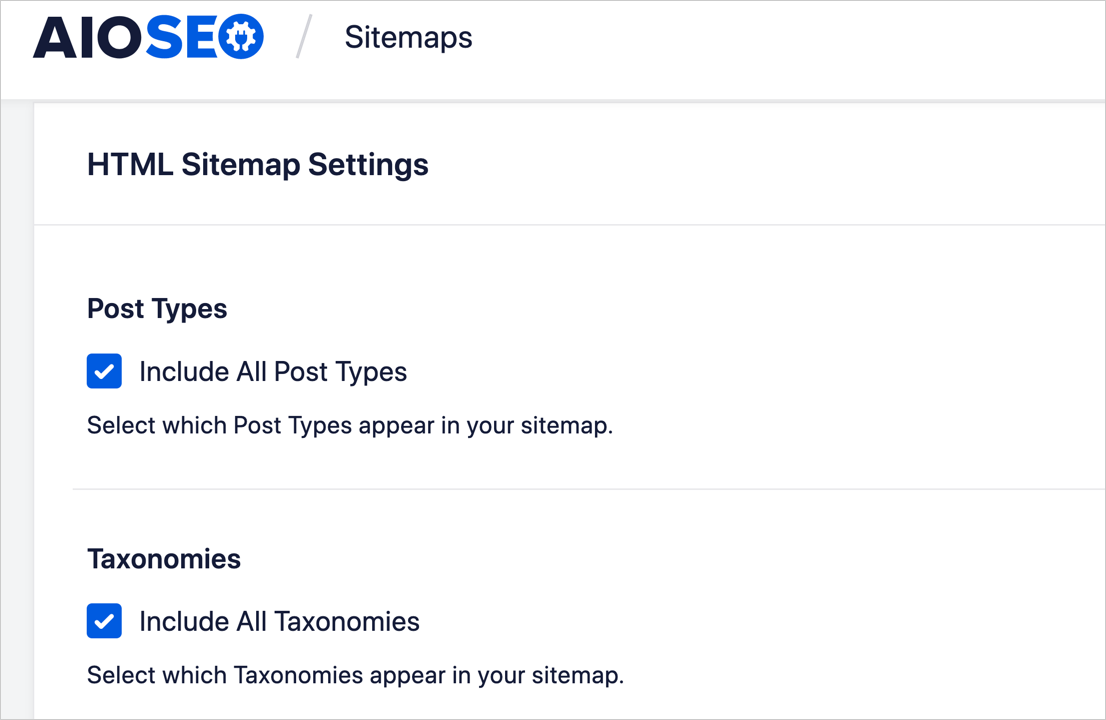 A sitemap is a file that lists all the pages of your website and provides valuable information about their organization and relationship. It helps search engines understand and crawls your site more efficiently.

The Sitemap Generator feature automatically generates different sitemaps, such as XML sitemaps, HTML sitemaps, or image sitemaps. These sitemaps can be submitted to search engines to notify them of any updates or changes on your site, ensuring they know your latest content and can index it accordingly. By regularly updating and submitting sitemaps, you can improve the visibility and discoverability of your website in search engine results.
Supercharge Your Website With the AIOSEO Nonprofit License
Are you ready to take your nonprofit's online presence to new heights?
Take advantage of this remarkable opportunity! Apply for the AIOSEO Nonprofit License today and embark on a transformative journey of maximizing your website's SEO potential, ranking higher in SERPs, and making an even greater impact in the digital landscape.
To apply for a nonprofit license, head over to the AIOSEO Nonprofit License page.
And if you have questions about the new plugin, don't hesitate to contact our customer support team. Alternatively, you can drop a comment below.