Are you looking for the best WordPress FAQ plugins?
FAQ sections and pages help you improve the overall user experience, and they can also boost SEO by helping you land the featured snippet. Unfortunately, as powerful as WordPress is, it doesn't have an FAQ option by default.
In this article, we'll share our expert picks of the best WordPress FAQ plugins to help you easily add FAQ sections to your site.
What are WordPress FAQ plugins (And Why Are They Important for SEO)?
FAQ plugins are specialized plugins built to make placing FAQ sections on pages or blog posts easy. While you can add an FAQ section using the default content block in WordPress, those methods are not properly SEO optimized.
FAQ plugins remove the hard work of adding FAQ sections and save you time.
Why Are FAQs Important for SEO?
FAQs are common questions that many readers have about a particular topic or service. Addressing these topics makes it easy for your users to find the answers they want. It also helps you handle common objections they may have before purchasing your product.
FAQs are an essential addon to your site as they can help boost your SEO rankings. For one, they help you improve search intent for users and search engines. As a result, your content ranks better in search.
Another reason FAQS are important for SEO is that they can help you rank for the featured snippet, especially if your site outputs proper FAQ schema markup for that page.
Recently, search engines are giving a lot of prominence to sites with FAQ schema, and those websites get rich snippets that increase clicks and overall organic traffic.
Now that you know what FAQ plugins are and why you need them, let's quickly dive into our expert picks.
10 Best WordPress FAQ Plugins to Know
Choosing an FAQ plugin for your site can be challenging, as there are thousands of them on the market. To help make it easier for you, we've carefully curated a list of FAQ plugins we know are reliable and easy to use.
All In One SEO (AIOSEO) is a powerful WordPress SEO plugin and toolkit. Over 3 million websites use it to improve SEO rankings and increase site traffic. The plugin boasts many powerful features, including advanced SEO modules, a sitemap generator, a table of contents block, Link Assistant, and many more.
Aside from those powerful SEO features, AIOSEO has a FAQ block that works seamlessly with WordPress's Gutenberg editor and most page builders. The best part is that it also has proper schema support. This means adding FAQs using the AIOSEO FAQ block will properly output the FAQ schema in JSON format to help your site rank higher.
All of this happens without any coding work required on your end, making this one of the most user-friendly WordPress FAQ plugins on the market.
You can create a new FAQ page or add FAQ sections to existing blog posts or pages to outrank your competitors.
The AIOSEO – FAQ block also enables you to hide entire FAQ sections or individual FAQs while still outputting the FAQ schema. This functionality means you can hide the FAQs on the front end of your site but still have them appear on search engine results pages (SERPs).
AIOSEO's FAQ block is versatile and allows you to change the FAQ layout to suite your needs.
Features
Customization options
Automatically outputs JSON schema markup
Built with SEO in mind
Translation ready
The biggest advantage of using AIOSEO's FAQ block is that once you've installed AIOSEO, you don't need another plugin to be able to add FAQs to your site.
Pricing: Pro versions start at $49 for an annual plan of the SEO plugin. A free version is also available.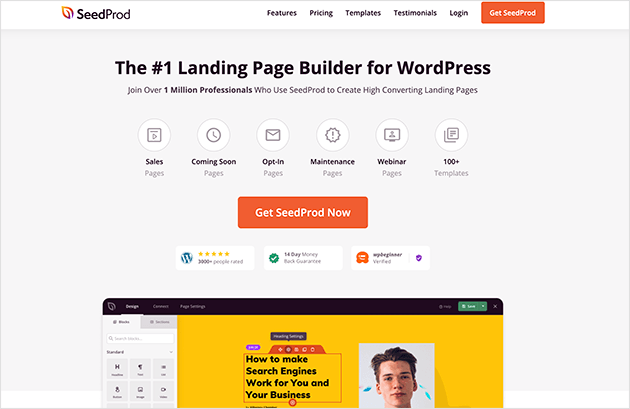 SeedProd is the best drag-and-drop WordPress site builder, and is used by over 1 million websites. The plugin allows you to easily customize your website design and create custom page layouts without writing any code.
One of SeedProd's many page builder blocks is the Accordion block. This block lets you add text sections that expand and collapse on any page or post. The best part is this block can be added with a single click.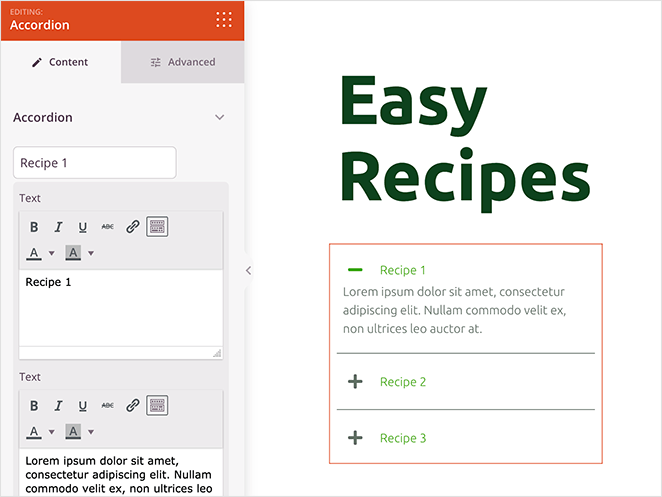 Adding the Accordion FAQ block to your page is as easy as dragging it from the left-hand panel to your live preview on the right. From there, you can add new accordion sections and give each accordion an icon.
The Accordion block can be used as an FAQ block that can be customized to match your WordPress theme and branding. Customizations include fonts, colors, spacing, and more.
Features
SEO-friendly
Visual editor for easy use
Many templates to choose from
Responsive and mobile-friendly
SeedProd's accordion-style FAQs are super easy to use and help boost user engagement. As a result, they help boost conversions.
Pricing: Paid plans start at $39.50.
Heroic WordPress FAQ is another plugin you should consider for adding FAQs to your site. Because it's a no-code plugin, it's super easy to use. With the Heroic WordPress FAQ plugin, you can create custom FAQ sections for your blog posts in a few minutes using the plugin's drag-and-drop builder.
Features
Intuitive interface
Visual editor
Responsive
Another big advantage of Heroic is that, unlike many FAQ plugins, it supports images, videos, and animations. These can be helpful when explaining difficult concepts.
Pricing: Starts at $49 for an annual license.
Tribulant WordPress FAQ is a fantastic plugin with a full-featured administrative dashboard that allows you to manage your FAQs easily.
A handy feature you'll love is that Tribulant WordPress FAQ allows you to collect user FAQs via a form. You can choose to auto-approve the questions or manually go through them to select the ones you want to feature on your site. This helps ensure that your FAQ sections answer your users' exact queries.
Features
FAQ search functionality
Dashboard widget
Multilingual
Accordion slider
The Tribulant WordPress FAQ plugin should be high on your list for an FAQ plugin that gives you total control over how you handle FAQs on your site.
Pricing: Starts at $34/year.
FAQ by 10Web is an amazing FAQ plugin you should definitely check out as you shop around for the best WordPress FAQ plugins. It's feature-rich and SEO-friendly, ensuring you get the most mileage from your FAQ sections.
An interesting feature that makes this FAQ plugin stand out is that it allows you to categorize your FAQs. This makes it easier for your visitors to find them quickly. FAQ by 10Web also gives you the flexibility to allow users to add comments as well as share your FAQs on social media.
Features
Responsive and mobile-friendly
Display FAQs in an accordion view
Add author and category tags to each FAQ
Theme library for easy customization
Add to all this the ease of use and FAQ by 10Web easily ranks as one of the best WordPress FAQ plugins on the market.
Pricing: $85 for a bundle of WordPress plugins + lifetime usage on all of them.
Helpie FAQ is a powerful FAQ plugin built by the Helpie WP team. Helpie WP is a knowledge base wiki plugin designed to help customer support teams be more efficient in retrieving answers to customer questions and delivering them.
The Helpie FAQ plugin was also built with customer support in mind, in this case, to reduce the instances that customers reach out. This FAQ block is designed to help you answer user questions in FAQ format and even has a section where site visitors can post their questions for you to answer.
Features
Compatible with Gutenberg blocks
Automatically adds FAQ schema
WooCommerce and Elementor integration
Basic FAQ shortcode builder
Responsive accordion layout
Whether you run an online store or content site, Helpie FAQ is a versatile WordPress FAQ plugin that can help you boost customer satisfaction and increase your conversions.
Pricing: $38.99 for an annual single-site license.
Ultimate FAQ is another top contender that deserves to be on any list of the best WordPress FAQ plugins because creating custom FAQ sections is super easy with this plugin. You can also add unlimited tags and categories to help users quickly find the answers they're looking for.
One nifty trick the Ultimate FAQ plugin has is enabling users to download your questions and answers in PDF format.
Features
Bulk import FAQs from a spreadsheet
Customize your FAQs using the Custom CSS block
Responsive accordion layout
Ultimate FAQ has a powerful free version that can help you easily add an FAQ section to your site or pages in a few minutes.
Pricing: Starts at $67 for a single site license.
Quick and Easy FAQs is one of the best free WordPress FAQ plugins on the WordPress repository. As the name suggests, the plugin makes adding FAQs on your site super easy. For example, it allows you to add FAQs using a custom post type. These FAQs can then be added to pages or blog posts using shortcodes.
Features
Display FAQs in filterable groups
Easy FAQ section customization
Translation ready
For a free plugin, Quick and Easy FAQs packs quite a punch. However, it still lacks some advanced features. The developers are also inconsistent in rolling out updates.
Price: Free.

Accordion FAQ is another popular accordion-style WordPress FAQ plugin you can consider for your site. It has an easy-to-use drag-and-drop accordion builder that makes adding FAQs to your site a breeze. You can also add accordions anywhere on your WordPress site using shortcodes.
Customization is also easy, as you can drag accordion tabs to any position on your site to organize their placement. And since the plugin is designed to be fully responsive, your FAQs will look great on any device. Accordion FAQ also has many pre-made layouts to help you get started quickly.
Features
Unlimited color options
Font Awesome icons support
SEO-friendly
If you're looking for the best free WordPress FAQ plugin, this is undoubtedly one to consider.
Pricing: Free.
10. Easy Accordion
Easy Accordion is one of the best free WordPress FAQ plugins in the WordPress repository. Because it's responsive, it displays beautifully on any device. And because it outputs schema markup, your FAQs will be SEO-friendly.
One of the plugin's superpowers is that it's straightforward to use, thanks to the drag-and-drop editor. Plus, with unlimited color and styling options, your FAQs can blend with your WordPress theme.
Features
Create unlimited FAQ accordions
Lightweight and easy to use
Widget supported
Schema markup
With Easy Accordion, you can create eye-catching and functional FAQ sections with just a few clicks of a button.
Pricing: Free.
The Best WordPress FAQ Plugins: Frequently Asked Questions
How Do I Add FAQs in WordPress?
The easiest way to add FAQs in WordPress is to use an FAQ plugin.
How Do I Add FAQ Schema in WordPress
To add FAQ schema in WordPress, use an FAQ plugin that outputs FAQ schema. Alternatively, you can use a schema generator (like AIOSEO's next-gen Schema Generator).
Can I Manually Add FAQs in WordPress?
Yes, you can. But it will take you longer to create FAQ pages or sections than it will with a plugin.
The Best WordPress FAQ Plugin: Our Expert Pick
Undoubtedly, AIOSEO is the best FAQ plugin, thanks to its ease of use, advanced features, and reliable support. Also, with AIOSEO, you don't have to add extra plugins, keeping your site lean and fast. It also saves you the extra cost of purchasing another plugin.
However, if you're looking for the best free WordPress FAQ plugin, Quick and Easy FAQs would be it.
We hope this article helped you pick the right WordPress FAQ plugin for your site. Once you're done setting up your FAQ, you may also want to check out our articles on how to add a table of contents to your blog posts and our tutorial on setting up multilingual SEO.
If you found this article helpful, then please subscribe to our YouTube Channel. You'll find many more helpful tutorials there. You can also follow us on Twitter, LinkedIn, or Facebook to stay in the loop.