Yoast vs Rank Math vs All In One SEO: which is the better SEO plugin?
If you're looking for a WordPress SEO plugin, then you've probably come across the most popular WordPress SEO plugins: Yoast, Rank Math, and All in One SEO.
And we bet you feel slightly overwhelmed trying to figure out which one is better. Don't worry because we're here to help you make your decision easier.
So in this post, we'll compare Yoast vs Rank Math vs All in One SEO and show you their major differences and where they break even. We'll also give you our verdict on which of the three is the best SEO plugin for WordPress.
Since this is a comprehensive post, feel free to use our table of contents to jump to the sections you want:
To begin, let's give you a brief introduction to our contenders.
Introduction Yoast vs Rank Math vs All in One SEO
Our three contenders are all complete SEO plugins for WordPress, which offer basic and more advanced SEO tools and features.
Yoast SEO started out as WordPress SEO by Yoast in 2010, and it was created by Joost de Valk. It offers a Lite (free) version and a Pro version, as well as several addons.
Rank Math is a relative newcomer compared to Yoast and All in One SEO, but has quickly grown in popularity. The plugin was launched in late 2018 by the developers behind MyThemeShop. It offers a Lite version and a Pro version.
All in One SEO (AIOSEO) is one of the original WordPress plugins on WordPress.org with over 3+ million active installations. The plugin is trusted by millions of savvy marketers to rank their sites and drive targeted traffic, thanks to its powerful SEO features. It offers a Lite version and 4 paid versions.
Alright, let's get started and take a look at the similarities and major differences between Yoast vs Rank Math vs All in One SEO.
Getting Started: Yoast vs Rank Math vs All in One SEO
To get started with any of these SEO plugins, they have set up wizards that'll help you configure your SEO settings. And they're all more or less beginner-friendly, so you don't have to be an SEO expert to use any of these plugins.
Setup Wizards Compared
In contrast to both Rank Math and All in One SEO, Yoast's installation wizard is the least beginner-friendly of them all. Its 12 configuration steps may feel a bit more complicated and technical than necessary when just starting out.
Let's show you why.
After installing and activating Yoast, you'll first see an overview of the Yoast SEO Dashboard. In General settings, you can find the First-time SEO configuration wizard, which makes it easy to get started.
However, you may feel a little discouraged after clicking on it and seeing all the configuration steps you have to go through.
While we've seen worse, Yoast SEO's configuration wizard feels slightly overwhelming and technical, which isn't optimal for someone just starting out.
As opposed to Yoast SEO, Rank Math's installation wizard is easy to follow and you go through it rather quickly.
Once you've installed and activated Rank Math, you'll see the Dashboard with different Lite or Pro modules. You need to navigate to the Setup Wizard tab to start the configuration process.
The setup wizard comes with 5 +3 configuration steps depending on if you're installing the Lite (Easy) or Pro (Advanced) version of the plugin.
What may feel like an initial roadblock is that it asks you to connect your Google Analytics account already in the second step.
The Google Analytics integration is a great feature in itself. But most website owners who track their website stats use an advanced Google Analytics plugin like MonsterInsights anyway.
All in One SEO's setup wizard is the most beginner and user-friendly of them all. It comes with 4 simple steps that quickly help you configure your SEO settings.
After installing and activating AIOSEO, you'll see the General Settings tab where you can launch the Setup Wizard with a single click.
It even offers a video to help users understand the setup process before they start.
In the next step, it lets you categorize your site and set up the home page title and meta description. And to make the setup process super easy, it has preinstalled smart tags with different variables you can use.
For example, if you'd choose the Site Title smart tag, the name of your site will be added to the SEO title.
Compared to Yoast and Rank Math, All in One SEO has the most straightforward and easy setup wizard. It helps beginners as well as SEO experts to get started optimizing their websites at rocket speed.
Yoast vs Rank Math vs AIOSEO: On-Page Optimization
On-page optimization is a crucial SEO factor for ranking your content in search engines, which we'll look at for our three contenders next.
SEO Meta Box
All three plugins come with an SEO meta box to edit your SEO title, description, and keywords on individual posts and pages.
The SEO meta box in Yoast does the job, but the interface feels a bit outdated and cramped up.
Also, the Lite version only has variables for the title, page, separator, and site title to optimize your title and meta description. Besides, the focus keyphrase is the least important for your optimization, which Yoast still puts first.
Contrary to Yoast and All in One SEO, Rank Math's SEO meta box is located in the WordPress block editor. This isn't optimal since it makes it difficult to view and manage your on-page SEO.
You have to click on the Edit Snippet button to get a less cramped-up screen where you can edit the title, permalink, and meta description.
Even though Rank Math offers many more variables than Yoast SEO to help you optimize the title and description, it still can't compete with All in One SEO's meta box.
The AlOSEO General settings starts with a nice-looking Snippet Preview of how your post's title, description, and the permalink will look in search results.
You can choose between 22 smart tags or type in your title and meta description manually to optimize your post or page.
Overall, AIOSEO's meta box is beginner and user-friendly and lets you easily manage your SEO.
On-Page Content and Readability Analysis
Content and readability analysis are great SEO features that analyze your content against SEO best practices.
For instance, it checks the readability, number of internal and external links, and keyword density. It also checks if you've used your focus keyphrase in the SEO title, meta description, and first paragraph of your content.
Yoast SEO provides a fairly detailed analysis of the page content and readability, and gives recommendations on how to improve your SEO.
Rank Math takes the content analysis feature one step further and also includes an Additional tab, which checks more advanced SEO metrics.
But All in One SEO tops both contenders with a quick and easy overview of your overall SEO score at the top right corner of your page.
This, together with the Basic SEO and Readability features, quickly tells you how well you've optimized your page. As well as what you need to improve to get your visitors glued to your content, which ultimately will boost rankings.
On top of that, AIOSEO even analyzes your title and offers immediate results on what you need to improve to increase click-through rates.
Rank Math also offers a title readability feature, but then again, the interface isn't as user-friendly as in All in One SEO.
Breadcrumbs Navigation
Breadcrumbs navigation is a second form of navigation that helps both users and search engines to better navigate your website.
Even though both Yoast and Rank Math offer basic breadcrumbs, All in One SEO's Pro version gives you access to fully editable breadcrumb templates for content types, archives, and taxonomies.
You can easily customize the templates by using either smart tags or directly editing the HTML code. This gives you full control over how your breadcrumbs will appear on your site and in search results.
And it also gives you access to more advanced breadcrumb features, such as displaying paged breadcrumb navigation and editing the format before the page number.
AIOSEO makes customizing your breadcrumbs easy and pain-free so that you can improve the user experience and boost your SEO in no time.
XML Sitemaps
The deal is that if search engines can't index and crawl your site, no amount of SEO will save you. That's why sitemaps are so important because they help you with just that and also provide Google with all your new updates.
All three contenders offer built-in XML sitemap functionality. But Yoast and Rank Math don't offer RSS sitemaps or the option to disable and enable your sitemap for certain content like All in One SEO.
Let's take a closer look…
As mentioned, Yoast SEO has XML sitemap functionality but the Lite version comes with limited options to customize it.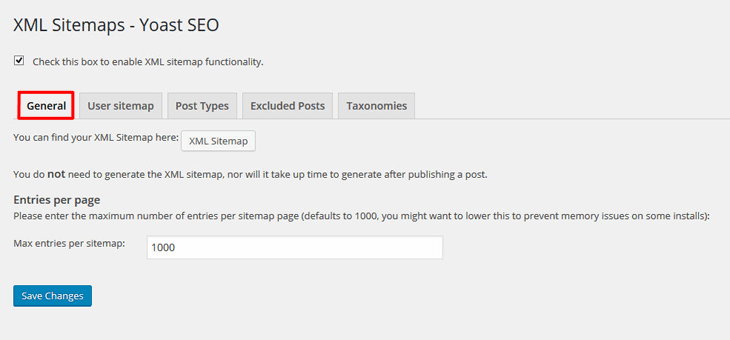 Rank Math lets you edit more variables in your sitemap, such as references to images and featured images, excluding posts and terms, etc.
Even better, All in One SEO lets you customize all your sitemaps and offers an RSS sitemap.
This is a great feature since all your latest updates and author credits are automatically sent to search engines, and much faster than a regular XML sitemap.
AIOSEO also lets you exclude individual posts and terms from your sitemap, which you can't do in either Yoast or Rank Math. And the Pro version includes automatically generated video sitemaps, news sitemaps, image sitemaps, etc.
Alright, let's move on to comparing social media integration for all plugins.
Yoast vs Rank Math vs AIOSEO: Social Media Integration
Integrating and optimizing your social media is important because it can strengthen your brand and increase your referral traffic. You'll gain more visibility online and can use social proof to generate more sales for your business.
Social Settings
Yoast SEO's Social settings offer Open Graph metadata and the option to upload a featured image for Facebook and Twitter, as well as adding your own title and description.
Unfortunately, the free version doesn't show previews of what your content will look like when shared. This function is only unlocked on the paid plans.
Rank Math comes with similar social settings, but you can only edit them from your individual posts and pages.
In contrast to both Yoast and Rank Math, All in One SEO lets you set the default Twitter image for your posts.
This removes the extra work of ensuring that the right image is displayed for each post when your content is shared on Twitter.
And if you don't want to upload a specific image, you can choose to add it from a default post image source.
That way, AIOSEO offers quick and easy optimization of your social media. If you want to learn more, please visit our guides on how to add Twitter Cards in WordPress and how to fix the wrong Facebook thumbnail.
Social Media Profiles
By getting your visitors to follow you on different social channels, you can stay in touch with them and easily bring them back to your site.
Rank Math is limited in regards to this feature and only lets you link your Facebook and Twitter page. And Yoast SEO lets you add up to 8 social media profiles.
With AlOSEO, you can add as many as 11 profiles and let Google know about them.
In the Social Profiles section, you can simply paste in the links to your social networks.
This will help you stay connected with your social media audience and increase referral traffic and shares. For more details, please visit our post on how to integrate social media into your website.
Besides helping you easily connect with your audience on social media, AIOSEO also outputs social schema. This helps boost your entity SEO, improve your E-A-T score, and much more.
Now, let's take a look at more advanced SEO tools for these WordPress SEO plugins.
Advanced SEO Tools
Advanced SEO tools help you further optimize your site for search engines without having to install any additional plugins.
All three WordPress SEO plugins offer key features like:
Built-in robots.txt and .htaccess editor
Import and export SEO data
Canonical links
Image SEO
WooCommerce SEO
Redirection Manager
Custom SEO user roles
Advanced schema markup
These are all great SEO features, that will help take your SEO to the next level. However, we feel that we need to look a bit closer at the redirection manager for our contenders. That's because redirecting your 404 pages is crucial if you want to maintain your rankings on Google.
Redirection Manager
Yoast SEO offers 5 ways to redirect your 404 errors, while Rank Math only supports 3 redirect types.
All in One SEO's Redirection Manager offers 6 different redirect types you can choose between.
More importantly, it lets you add redirects on a server level to speed up your redirects. And also gives you the option to not store IP addresses for GDPR (General Data Protection Regulation) reasons.
What's even more unique with All in One SEO's Redirection Manager is that you can filter your redirects by type.
This helps you manage and keep track of your redirects.
In addition, it also comes with a Check Redirect button, which makes it quick and easy to test if your redirects are working.
And if your redirects wouldn't work properly, you can edit them straight from the Redirect Table.
And that's not all!
AIOSEO's Redirection Manager comes with a URL Slug Monitor that detects any changes to a URL or if a URL has been deleted. When this happens, the Slug Monitor prompts you to add a redirect. This helps you prevent 404 errors.
Finally, the Redirection Manager also enables you to automatically redirect some pages to the homepage if there are no relevant pages to redirect to.
Pretty cool!
Next-Gen Schema Generator
Another powerful advanced SEO tool you'll find in AIOSEO is the Next-Gen Schema Generator.
The Schema Generator is a revolutionary tool that makes it super easy to add schema markup in WordPress. This used to require a level of coding and technical knowledge. But with AIOSEO's Schema Generator, you can add any type of schema, even if you have no coding knowledge.
All you have to do is go down to the AIOSEO Settings section at the bottom of the page and click on the Generate Schema tab. This will open up the Schema Catalog where you can choose the schema type.
For detailed instructions on how to use this powerful tool, check out our step-by-step guide here.
Let's take a look at paid plans and pricing for our WordPress SEO plugins next.
Yoast vs Rank Math vs AIOSEO: Paid Plans and Pricing
While the free versions come with many great features, premium versions give you more ways to improve your SEO and increase your organic search traffic.
However, deciding on a plan can be confusing, and we'll try to help make your decision a bit easier.
Free Plans for a Single Website
When you're just starting out, you can start with the Lite (free) version of your SEO plugin of choice to try it out. All plugins offer a Lite version.
For instance, AIOSEO's Lite version has over 3+ million active installations and over 2225 five-star ratings. This means that over 3 million smart website owners use All in One SEO to improve their rankings in search engines.
Paid Plans for Several Websites
If you want to get access to more advanced SEO tools, you can start with AIOSEO's Basic plan for $49 per year for a single site.
However, if you want to take your SEO efforts to the next level, you should consider buying the Plus version for $99.50 per year (up to 3 sites). Or the Pro version for $199.50 per year (up to 10 sites).
Better yet, the Elite version is for business owners with up to 100 sites. Both the Pro and Elite versions offer 1 year of professional priority support.
Yoast is priced higher than All in One SEO for all its versions. Pricing for a single site license starts at $99 per year and moves up to $445 per year for 5 sites. And yet, these plans don't even include many of the advanced SEO tools that AIOSEO offers.
Instead, you need to buy the different SEO features separately, which gets quite expensive since they start at $79 per year. If you want access to all features, the price increases to $1087.75 for 5 sites.
Rank Math starts at $59 per year for unlimited personal websites. But if you want support for client and business sites it goes up to $199 per year. Agency pricing starts at $499.
So we think that All in One SEO should be the obvious choice if you want to take your SEO to the next level. But if you're still not convinced, AlOSEO also offers a 14-day no-risk money-back guarantee. Meaning that if your plan isn't a good fit, you can get your money back. Best of all, you don't even need to give a reason for the refund.
Finally, let's take a look at the support you'll get from the Premium and Pro versions of our contenders.
Support: Free and Paid Versions
Although all three plugins are quite easy to use and come with extensive free documentation and video tutorials, your free support options are somewhat limited.
However, they do offer support for free users through WordPress forums.
Support for Paid Versions
For the premium versions of these WordPress SEO plugins, you can get ticket support as well. And you can expect a response on the support tickets within 1 business day.
On top of that, All in One SEO provides extensive documentation on how to configure all its SEO tools and features on the website, in Documentation.
Yoast vs Rank Math vs All in One SEO: Which Is Better?
We're finally at the verdict of this review and the answer to the question: is Rank Math better than Yoast?
Or is All in One SEO simply the best SEO plugin for WordPress?
We'd say that Rank Math is better than Yoast since it has further developed its SEO features. The plugin's lite version also offers more advanced tools for optimizing your website.
Although Yoast manages your optimization fairly well, it becomes quite costly if you want access to advanced SEO tools. You have to buy several addons, which will add up. Especially if you have several websites.
If you want to dig in deeper and fine-tune your SEO without needing to be an SEO expert, then All in One SEO should be your #1 choice. Not only is it a powerful no-code SEO plugin, but it's also the best when it comes to value for money.
So if you're looking for the best SEO plugin for WordPress, you should definitely get AIOSEO! It can't get much easier to manage your SEO and boost your rankings on Google.
We hope this comparison of Yoast vs Rank Math vs All in One SEO helped you find the best WordPress SEO plugin for your website. Once you're done installing and activating the plugin, you may also want to check out our guide on improving your organic CTR. You may also be interested in our tutorial on adding a table of contents in WordPress.