Would you like to learn how to submit a sitemap to Bing?
Sitemaps can help search engines crawl and index your website. So they're considered a best practice in SEO.
In this step-by-step tutorial, you'll learn how to submit a sitemap to Bing in just a few steps.
How do I Create a Sitemap?
If you still need to create a sitemap for your WordPress site, you can do that easily with the All in One SEO (AIOSEO) plugin.
AIOSEO is an established plugin with thousands of 5-star reviews on WordPress.org. Currently, over 3 million people are using the plugin.
Download and Install All in One SEO Plugin
Simply download and install the plugin. It will automatically create your sitemap.
In fact, AIOSEO will create 2 sitemaps for you.
An XML sitemap: This complete sitemap contains all of your pages.
An RSS sitemap: This small map contains your recently published and updated content.
What's the difference? RSS sitemaps are crawled more frequently by search engines. And search engines can crawl them quickly because they're limited to recently published or updated content.
By contrast, an XML sitemap is a complete sitemap of all indexable URLs on your website.
XML stands for Extensible Markup Language. It's similar to HTML. And RSS stands for Really Simple Syndication. RSS sitemaps, also called RSS feeds, provide users and search engines with updated content from websites and podcasts.
URLs of your sitemaps
Once you've installed the plugin, you can find your sitemaps at
yourdomain.com/sitemap.xml
yourdomain.com/sitemap.rss
You'll use these URLs to submit your sitemap.
Now, let's walk through the submission process.
How to Submit a Sitemap to Bing
Step 1: Log Into Bing Webmaster Tools
First, go to Bing Webmaster Tools and click the Get Started button.
You can log in with your Microsoft, Google, or Facebook identity.
Step 2: Add Your Site
Next, you'll add your site to Bing Webmaster Tools.
There are 2 ways to do this:
Import your site from Google Search Console.
Add your site URL manually.
Choose the import option if you have already submitted your sitemap to Google Search Console.
The import option will save you time since you won't need to verify your domain name ownership to Bing.
If you haven't submitted your sitemap to Google Search Console, manually add your site URL here and follow the domain verification instructions.
Once you've completed this task, you'll see a success message.
Google Search Console was formerly called Google Webmaster Tools.
Step 3: Add Your Sitemap(s)
Now, click Sitemaps in the left sidebar of the Bing Webmaster Tools dashboard.
That will open a popup window with a field to which you can add your sitemap URL.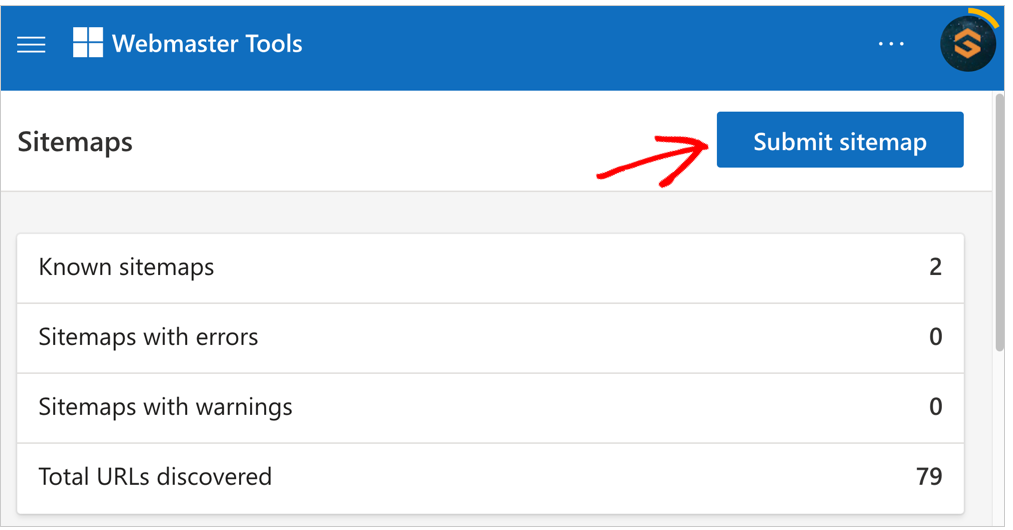 Add your XML sitemap URL to the field.
And click Submit.
In our example, we'll use a site called "signalfox."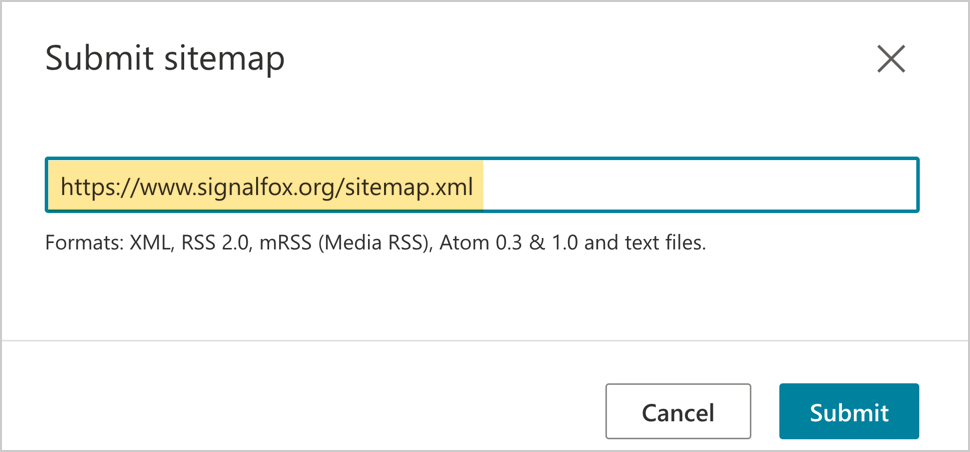 Caption: Enter the URL of your sitemap and click the Submit button.
Next, add your RSS sitemap URL.
And click Submit.
Now you'll see both sitemaps listed in Bing Webmaster Tools.

Step 4: Add Specialty Sitemaps
Next, you may want to add a couple of other sitemaps to Bing.
All in One SEO (AIOSEO) offers 2 optional sitemaps.
If you're using these sitemaps, then follow the instructions in Step 3 to submit them to Bing.
The video and Google News sitemaps are available in the Pro version of AIOSEO.
Q&A on Submitting Sitemaps
How do I know if my site is indexed by Bing?
To find out if Bing has indexed your site, go to Bing.com and type site:yourdomain.com into the URL field. If the Bing search engine lists pages on your site, it's indexed. If no pages are listed, follow the instructions on this page to submit a sitemap to Bing.
If, after submitting your sitemap to Bing, you recheck the indexing and see some of your web pages are missing, you can manually submit these in Bing Webmaster Tools.
What sitemap file formats does Bing accept?
Bing accepts the following sitemap file formats:
Text files
XML
RSS 2.0
mRSS (Media RSS)
Atom 0.3 and 1.0
Is robots.txt the same as a sitemap?
No, robots.txt is not the same thing as a sitemap. The robots.txt file tells search engine crawlers to ignore or index certain pages of your website. And sitemaps provide crawlers with a list of complete content along with modification dates and newly published URLs.
Also, while robots.txt is a text file, sitemaps are HTML or XML files.
By default, WordPress creates a robots.txt file for your site. And it automatically omits /wp-admin/ but allows /wp-admin/admin-ajax.php. This rule allows you to log in but prevents search engines from crawling code files irrelevant to your rankings.
Your WordPress site may also automatically list your sitemap URLs in the robots.txt file as "allowable" for indexing.
All in One SEO (AIOSEO) provides a user-friendly Robots.txt Editor to edit the rules contained in that file.
The Robots Exclusion Protocol is also referred to by its filename: robots.txt.
Not Using WordPress?
Don't have a WordPress site? Most content management systems (CMSs), like Drupal, Shopify, and Squarespace, will generate an XML sitemap for you.
Themes from static site generators, like Eleventy, Hugo, and Gatsby, also typically include XML sitemaps.
You can check if you already have an XML sitemap by entering your domain name into your browser, followed by /sitemap.xml. Then follow the steps above.
Q&A on How to Submit a Sitemap to Bing
Do I need to submit sitemap to Bing?
It's not necessary to submit a sitemap to Bing, but if you want to be found by Bing users, it's a good idea.
According to StatCounter, Bing has around 3% of the global market share for search engines, while Google has over 91%. So submitting your sitemap(s) to Google is more important, but to maximize your traffic, submit to more than one search engine.
Why has Bing de-indexed my site?
To find out why Bing has deindexed your site, log into Bing Webmaster Tools and look for recent notifications.
A common reason why Bing may de-index a site is violation of their guidelines including publishing spammy or malicious pages, such as those that contain malware.
Resources on Sitemaps
What's Next?
You've learned how to create a Bing Webmaster Tools account and how to submit a sitemap to Bing. And we've covered how sitemaps help crawlers speed up their work.
Next, explore these DIY SEO projects for beginners and learn how to generate leads.
If you found this article helpful, please subscribe to our YouTube Channel. You'll find lots of simple search engine optimization tutorials there. You can also follow us on Twitter, LinkedIn, or Facebook to stay in the loop.