Do you want to know how to start a small business blog?
Blogging is a powerful marketing channel that can drive organic traffic to your site. As a result, you'll be able to generate tons of inbound leads without spending a fortune on customer acquisition costs.
In this article, we'll show you how to start a small business blog the right way.
What is a Blog?
A blog is a type of website (or section of a website) used for sharing informational content with website visitors. This content is written in a conversational style designed to engage with users to build a relationship with them.
Business blogging, therefore, is a marketing strategy that uses blogging to drive your business goals forward. Your blog would be a marketing channel similar to email marketing, social media marketing, pay-per-click (PPC) ads, etc.
Because of this, every small business should add a blog to its website to help bolster its marketing efforts.
Why is Business Blogging Important?
There are several reasons, besides traffic generation, why you should invest time and resources in starting a small business blog. Below are the top ones:
Helps You Showcase Your Expertise
One of the most significant benefits of starting a small business blog is that it helps showcase your expertise. This is important as it gives customers confidence in your product, resulting in more sales.
Boost Your Brand Awareness
With the right SEO strategy, your blog can gain visibility on search engine results pages (SERPs). As a result, you'll enjoy a boost in brand awareness, an important element of business growth.
Helps With Product Education
Product education involves helping users get the most out of your product by teaching them how to use your product. This important marketing strategy enables you to convert high-value bottom-of-the-funnel (BoFu) customers. It's also an excellent way to increase your customer retention rates.
Increases Authority and Boosts Rankings
Blogging is a perfect way to build backlinks to your website, which leads to an increase in your domain authority (DA). It also results in a boost in rankings. Both lead to more traffic to your site and faster business growth.
How to Start a Small Business Blog in 5 Easy Steps
Ready to start your small business blog?
Let's get to it.
1. Lay the Right Foundation
If you don't have a website yet, one of the first steps to starting your blog is to choose the best blogging platform. And WordPress is by far the most powerful and easiest to use.
Apart from a blogging platform, you also need to choose the right web hosting service. While they are many on the market, our top recommendations for a small business blog are:
You can check out our complete list of reliable WordPress hosting platforms here.
Besides blogging platforms and hosting, you'll also need a WordPress theme optimized for SEO and a powerful page builder.
These will help ensure that your small business blog follows technical SEO best practices.
2. Install the Best WordPress SEO Plugin
One of the primary reasons to start a small business blog is to increase your visibility online. To do that, you need to install the best WordPress SEO plugin on your site. SEO plugins help you optimize your website and content for search engines and people.
When it comes to WordPress SEO plugins, it doesn't get any better than the original WordPress SEO plugin — All In One SEO (AIOSEO).
AIOSEO is the best WordPress SEO plugin on the market and is trusted by over 3 million savvy website owners and marketers to help them dominate the SERPs and drive relevant traffic to their sites. This is because the plugin has many powerful SEO features and modules to help you optimize your website for search engines and users. Examples of said features include:
Next-gen Schema Generator: This makes adding any type of schema markup super easy.
Redirection Manager: Helps you manage redirects and eliminate 404 errors, making it easier for search engines to crawl and index your site.
Link Assistant: Powerful internal linking tool that automates building links between pages on your site. It also gives you an audit of outbound links.
SEO Preview: The SEO Preview tool gives you an overview of your search and social snippets and general SEO so you can improve your optimization.
IndexNow: For instantaneous indexing on search engines that support the IndexNow protocol (like Bing and Yandex).
Robots.txt editor: Gives you full control over the instructions you give web crawlers about what folders and files to crawl on your WordPress site.
For step-by-step instructions on how to install AIOSEO, check out our installation guide.
3. Design an Impactful Content Calendar
Once you've set up the technical aspects of your small business blog, the next step is to design a content calendar. A content calendar is an editorial calendar containing the keywords and topic ideas for the content you'll be publishing on your blog.
The foundation of a successful content calendar is keyword research, and there are many tools you can use for this. Some of our favorites are Semrush and Ahrefs. As for the calendar itself, you can use tools like Google Sheets, Asana, Trello, and Airtable.
Ensure your keywords and topics match your target audience's search intent. Doing so will help you rank and ensure high engagement rates.
4. Create the Best Piece of Content
Now that you have a content calendar, it's time to start creating and publishing content on your blog. And with the competition being so stiff, you'll have to create better content on your topics than there currently is on the web. A few tips for doing that include:
Don't just re-hash what others are writing. Instead, create unique, helpful content that adds value to your readers.
5. Optimize Your Blog Posts for Search
Once you've got your content calendar to guide your content creation, it's time to start blogging. But ranking your content is not automatic. You need to optimize your blog posts for visibility and engagement on SERPs. A few ways to do that include:
Implement Schema Markup
Schema markup, also called structured data, is a piece of code you can inject into your posts or pages to help search engines better understand your content.
Thanks to its next-gen Schema Generator, AIOSEO enables you to add any schema type to your website without needing technical or coding skills. All you need to do is open your target page, scroll to your AIOSEO Settings, and then click on Schema.
The default schema type is set to article, but you can remove it by clicking the trash can icon. Alternatively, you can add another schema type by clicking on the Generate Schema button. Doing so will open the Schema Catalog, from which you can choose the schema you want to add.
For step-by-step instructions on adding schema to your posts, check out our detailed guide here.
Add Internal Links
As you publish more content, you should build internal links. This is important because it helps you build topical authority and rank your content higher on SERPs.
Thankfully, AIOSEO takes out the time-consuming task of manually searching your blog for articles to link to and from. This is thanks to Link Assistant, a feature that automates internal link building.
Link Assistant also helps you find and fix orphan pages. These are pages on your blog that have no links to or from other pages on your site. Unfortunately, they can also negatively impact your SEO.
Create a Sitemap
An XML sitemap is a list of your content in a machine-readable format. It helps search engines navigate through your blog content easily.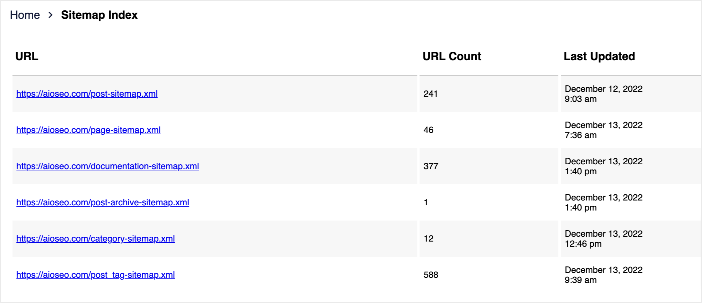 Sitemaps also help search engines know when a post was last updated. This helps them know if your content is relevant to current users.
While sitemaps won't directly boost your rankings, they allow search engines to crawl your website better. This means they can find more content and start showing it in search results, leading to higher rankings and more traffic to your site.
You can get detailed instructions for creating an XML sitemap here.
Optimize for Local Searches
If you're a small business that relies on foot traffic, you'd want to optimize your blog for local searches. To do so, you must follow local SEO best practices.
To help you better dominate local search, you can also use AIOSEO's Local Business SEO module. This allows you to easily set up your local business schema in just a few clicks, with no code needed.
The Local Business SEO module also increases your visibility on Google Maps, enhancing the chances of searchers finding you when they perform local searches based on your target keyword.
Start Your Small Business Blog Today and Boost Your Online Presence
We hope this post helped you learn how to start a small business blog. You may also want to check out other articles on our blog, like how to set up SEO for different languages and how to use a WordPress FAQ block to boost SEO.
If you found this article helpful, then please subscribe to our YouTube Channel. You'll find many more helpful tutorials there. You can also follow us on Twitter, LinkedIn, or Facebook to stay in the loop.