Do you have a site built using Divi and want to know some of the best Divi SEO tips?
With over 2 million sites built using Divi, a product of Elegant Themes has proven to be one of the most popular WordPress themes and page builders around. One reason for its popularity is the builder's flexibility and the way it enables users to easily build websites using the visual builder. It marries ease-of-use and functionality so well.
Is Divi Good for SEO?
With all its fantastic features, is Divi good for SEO?
That's one of the most commonly asked questions by those in the early stages of web design or looking to shift to a different theme. After all, having a gorgeous website is meaningless if it can't rank well in search.
Back to our question — is Divi good for SEO?
The simple answer is yes. Divi is a fantastic theme designed to be fast, lightweight, and more. However, as with all page builders, there's much to be done to ensure your website is properly optimized for search.
This post will look at how you can improve your Divi site's SEO.
What is Divi SEO?
Before we dive into the tips you can use to improve your website's performance in search, let's quickly define what Divi SEO is.
SEO (search engine optimization) is the practice of improving your website's performance for better visibility in search. This includes fine-tuning the three pillars of SEO:
On-page SEO
Off-page SEO
Technical SEO
Divi SEO, therefore, refers to the implementation of these practices on a Divi-built site.
With that out of the way, let's dive into the 10 Divi SEO tips to help you rise to the top of the search engine results pages (SERPs).
10 Divi SEO Tips to Help You Rank High
Are you a Divi user and looking for ways to nail your SEO?
Here are some tips and strategies to give your Divi website a better chance of ranking.
1. Install an SEO Plugin
One of the first things to do when looking for ways to boost your Divi SEO is to install an SEO plugin. And we're proud to say (All In One SEO) AIOSEO is one of the best on the market. That's especially since it seamlessly integrates into Divi, allowing you to implement most of its SEO features right from within your favorite page builder.
If you have AIOSEO version 4.1.7 or newer, you can access AIOSEO right from within Divi. This will help you optimize your pages and posts as you build them. To access AIOSEO from Divi, click on the AIOSEO icon next to your Divi settings icon:
Having AIOSEO baked into the Divi builder results in a seamless user experience when creating optimized posts and pages. Examples of what you can do with the AIOSEO/Divi integration include:
Optimize your meta title and description tags
Configure your structured data for rich snippets
Determine how your social media images will look when users share your content
Define link attributes for internal and external links
Set custom canonical URLs
Edit your robots.txt files
With so many SEO options right within your page builder, Divi SEO has never been easier!
Combining your favorite page builder and the best WordPress SEO plugin makes creating optimized websites so much easier.
Besides an SEO plugin, use analytics tools like Google Analytics or MonsterInsights to track your performance.
2. Create SEO-friendly Content
Content plays a central role in SEO.
If you want to boost your Divi SEO, you must invest in creating content that ranks. Not only that, but your content must provide value to readers. To create content that's both SEO and user-friendly:
Start with keyword research
Ensure your content meets user intent
Craft content that's easy to read
Use your keywords in your headline, HTML headers, image alt text, and content
Avoid duplicate content
Apart from these on-page SEO strategies, you should also follow Google's E-A-T standards.
What is Google E-A-T?
To ensure content on the internet is not just spammy, Google published its content quality guidelines. Of particular note in the guidelines are their E-A-T guidelines.
In short, Google E-A-T refers to creating content that has the following hallmarks:
Expertise
Authoritativeness
Trustworthy
Creating E-A-T-worthy content is essential to gaining favor with Google's algorithm. It also ensures that you serve your visitors with high-quality content.
3. Optimize for Speed
Speeding up your site is crucial to your Divi SEO as search engines favor websites that load fast over those that don't. This is especially after the page experience signals. These are a set of signals that measure how users experience your page as they interact with it.
Page load speed is one of them.
Speed is one area where Divi sites can suffer as the page builder uses a lot of shortcodes that can slow your site down. Here are a few tips to help you optimize your Divi site's speed:
Use a performance-optimized hosting provider
Use a lightweight theme
Minify CSS and JavaScript files using a plugin like Perfmatters
Compress your images
Limit the number of plugins to only necessary ones
Use a content delivery network (CDN)
Leverage caching
Speeding up your site requires you to pay attention to many details. This can be made easier by using tools like Pingdom and GTMetrix to monitor your site's speed. These will measure your site speed, give you a report, and provide suggestions to improve it.
4. Watch Your Site Architecture
Site architecture refers to how you structure and organize the pages on your website. It's a crucial element of your technical SEO because it contributes to users' overall experience on your site. Other reasons include:
Improves crawlability: Site architecture plays a huge role in the crawlability of your website, or how easy it is for search bots to discover content on your site. The easier it is for search bots to crawl your site, the easier it is for your content to be indexed.
Makes navigation easy: A proper site architecture makes it easy for users to find what they're looking for on your site. This helps improve your engagement metrics like dwell time, page views, e.t.c.
Link equity: Proper linking helps pass link equity strategically on your site, boosting the SEO of the pages you're linking to.
As you work on your site architecture, make sure to find and fix all 404 pages on your site. Broken links make for a poor UX and negatively impact your SEO. You should also implement breadcrumb navigation on your site. Here's a detailed guide on how to use breadcrumb templates to make the implementation of breadcrumbs easier.
5. Build Quality Backlinks
One of the most effective ways to boost your Divi SEO is to build quality backlinks. These are links from another site to yours. Backlinks are crucial to optimizing your Divi pages for SEO because search engines regard them as votes of confidence in your content.
As you build your backlinks, focus on quality over quantity. Doing so may mean taking the slower approach. However, the boost in your domain authority (DA) is worth it as it leads to higher chances of ranking.
What are Quality Backlinks?
These are backlinks from authority sites in niches relevant to your topic. Search engines are so advanced they can tell whether a backlink is from a relevant niche/topic or not. Here are a few tips for building quality backlinks:
Guest posting
Fixing broken links
Running outreach campaigns
Getting listed on partner pages or business directories
Pages with high-quality backlinks rank higher in search, so invest time, effort, and resources into creating and executing an effective link building campaign.
6. Build Internal Links Strategically
Since the introduction of PageRank in 1998, search engines have used links as one of the most important ranking factors. That's why part of your Divi SEO strategy must include internal link building.
FYI, internal links are links pointing to or from one page on your website to another. To build them strategically, your internal links must be relevant. As you can imagine, this can be laborious — especially if you have many pages on your site.
That's where Link Assistant comes to the rescue.
Link Assistant is one of the most loved features in AIOSEO as it helps users like you quickly build internal links.
With Link Assistant, you can build your links fast. The best part is you can do it without opening the individual pages you're building links to. A robust internal linking strategy is vital to your on-page SEO and overall SEO strategy. You can find Link Assistant in the General AIOSEO settings in the Divi menu:
7. Optimize Your Robots.txt File
Your robots.txt file is a file that gives search engines instructions on how to crawl your website. For example, you can configure it to specify which pages they should crawl and which to ignore. This has a huge impact on SEO as it helps ensure your priority pages are crawled and indexed. If you're a Divi and AIOSEO user, you can easily optimize your robots.txt file right from within Divi — no coding or technical knowledge is required. You can find this under the Advanced Features tab under the AIOSEO settings in Divi:
Note, however, that pages you exclude from being crawled won't be de-indexed. This is because the main purpose of the robots.txt file is to prevent low-value pages from being crawled.
8. Implement Schema Markup
Schema markup, also known as structured data, is a semantic language search engines use to understand your page's content better. When you implement this code, it gives search engines more information about your content. This enables them to display more informative results on SERPs. These results are called rich snippets:
Rich snippets indirectly help your SEO by increasing your clickthrough rate. They give more detailed information about your content and help prove that it meets search intent. When users engage with your content by clicking on it, search engines take this as a vote of confidence that many searchers find your content valuable.
How do you implement schema markup on your Divi site?
Implementing schema markup is easy with the Divi/AIOSEO integration. You can do it right from within the page builder with just a few simple clicks.
All you have to do is choose the schema markup type you want to use on that page, and AIOSEO generates it for you.
9. Use SEO-friendly URLs
URL structure is another critical element that must be on every SEO checklist. It helps boost your technical SEO and, thus, overall SEO strategy. That's why you must use the right permalink structure for SEO.
URL structure is important because your URLs tell search engines and users what your page is about. To ensure your URLs are SEO-friendly, customize them to be:
Logical
Short and descriptive
Easy to read
Intelligible to readers
Include your focus keyword
Avoid using the default URL WordPress assigns to your posts at all times. Instead, use AIOSEO to customize them to be SEO-friendly.
10. Optimize Your Metadata
While metadata is not a direct ranking factor, it indirectly impacts your SEO. This is because well-optimized metadata helps improve your clickthrough rates. Some of the metadata you must optimize on your Divi pages includes:
SEO title: This is the title of a web page and is displayed as part of the snippet on SERPs.
Meta description: The meta description summarizes your post and shows users that your post contains the information they're looking for.
Optimize your metadata by including your focus keyword, preferably as close to the beginning as possible. Another tip is to stick within the prescribed character limits. Otherwise, some words may be cut off on SERPs. Finally, don't forget to optimize the metadata for important pages like the homepage and other static pages.
Again, optimizing your metadata isn't complicated, especially if you have AIOSEO baked into the Divi theme builder. Within Divi, head over to your AIOSEO settings and click on the Edit Snippet button.
A window will open where you can edit your SEO title and meta description. And that's it. You've optimized your metadata — right from within Divi.
11. Create a Sitemap
Another way to boost Divi SEO is to create an XML sitemap. This is a file containing the important pages on your website. A sitemap also helps search engines understand your site structure.
The primary purpose of an XML sitemap is to ensure that search engines can easily find and crawl your essential pages.
Setting up an XML sitemap is easy, especially with the AIOSEO as your SEO plugin.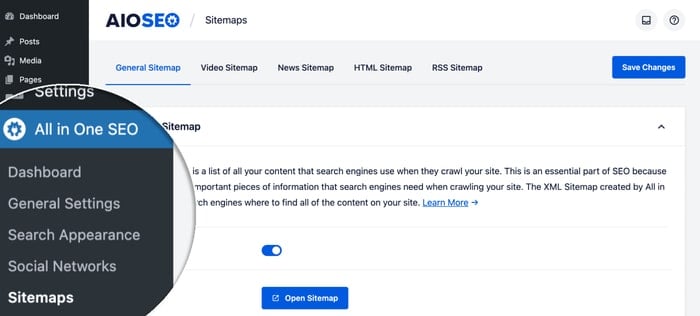 Here's our detailed guide on how you can create a sitemap for your Divi website.
Divi SEO: Super Easy with the Divi/AIOSEO Integration
SEO doesn't have to be hard, especially if you have the right tools.
Our mission is to make it easy for everyone, even beginners without any technical knowledge, to rank their websites. One way we're doing that is by making AIOSEO easily accessible from other platforms you use to develop and manage your WordPress site.
That's why we integrated it into page builders like Divi.
This makes website design more efficient as you can build your pages with SEO in mind right from the start.
Right from within your favorite page builder, you can use AIOSEO to work on most on-page SEO, off-page SEO, and technical SEO elements on your website.
If you're not using AIOSEO yet, download the plugin today.